With their U.S. reputation for stable returns and a growing worldwide need for infrastructure, master limited partnerships (MLP) are luring foreign entities hungry for capital from distant shores.
At the beginning of May, a dozen energy-focused MLPs were listed on U.S. exchanges. Until last year, the asset class had increased at a steady clip of one or two foreign-owned shipping MLPs each year. Inside the last six months of the year, however, three new non-U.S. based MLPs came on the scene.
Since that point, others have taken notice and energy bankers and analysts expect a rush of them this year. So far, three foreign-domiciled have filed S-1s with the U.S. Securities and Exchange Commission announcing their intent to create U.S.-listed MLPs. Others, including the Mexican state-owned Petroleos Mexicanos (Pemex), are expected to file MLPs in the United States by the end of the year.
What's driving the interest is that capital for the midstream – long the dominant asset class of MLPs – is still raising capital and generating cash for investors in a low commodity price environment. Their secret, in many ways, is the long-term contracts that define business in the infrastructure business.
"There is a lot of capital chasing infrastructure and happy with low returns because when you look at the interest rates, you see these are stable returns. As far as we see, the midstream has hardly been impacted," said Marcel van Poecke, managing director for Carlyle International Energy Partners, during an IHS CERAWeek 2015 panel.
Van Poecke said that while 80 percent of the capital needed for energy projects is raised in the United States, roughly 20 percent of the need is in North America.
At First Reserve, Gary Reaves, a managing director, said his group expects the interest from abroad to continue.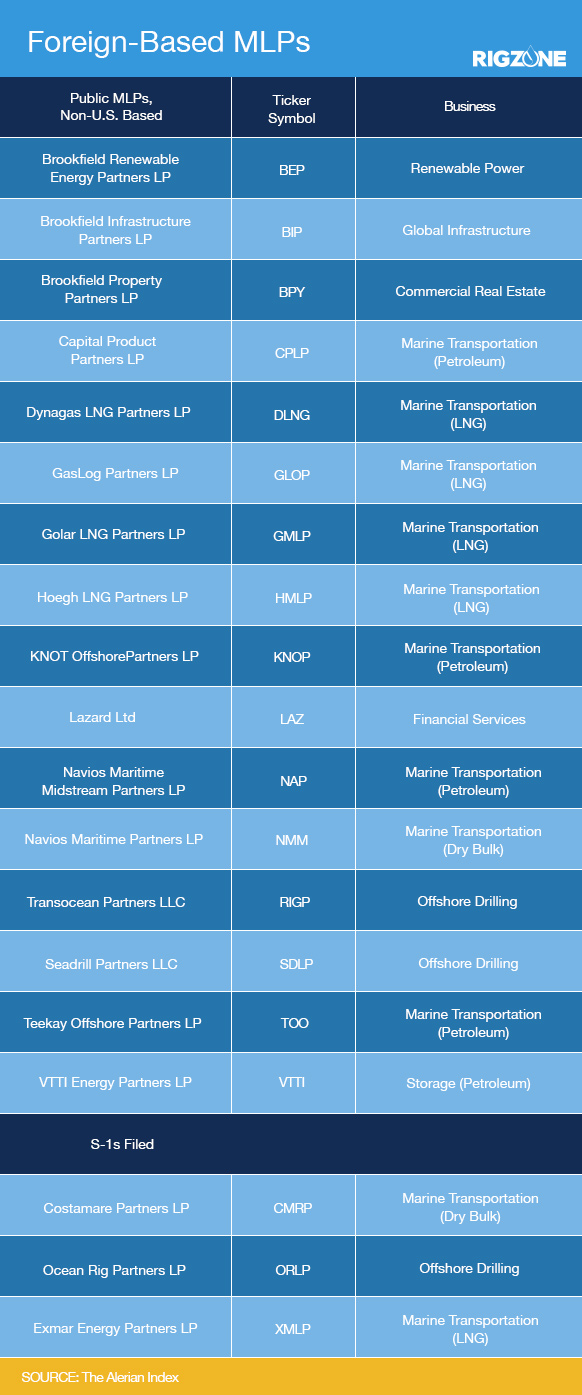 Foreign-Based MLPs. Source: The Alerian Index
"You'll continue to see MLPs move into the international arena and the proliferation of the MLP model will likely be through the U.S. capital markets structure given the fact they are so mature versus developing an MLP model on one of the European stock exchanges," he told Rigzone.
Based in The Netherlands, VTTI Energy Partners made the decision to forgo the conventional route last summer when it listed on the New York Stock Exchange. And it's paid off.
Units of VTTI have increased in value by almost 20 percent to $25 each by late April. VTTI owns, operates and develops energy storage terminals and related infrastructure. The partnership currently owns storage capacity for 35.5 million barrels of crude in 396 tanks. Assets are located at six hubs around the world, including Rotterdam, Malaysia and Seaport Canaveral, Florida.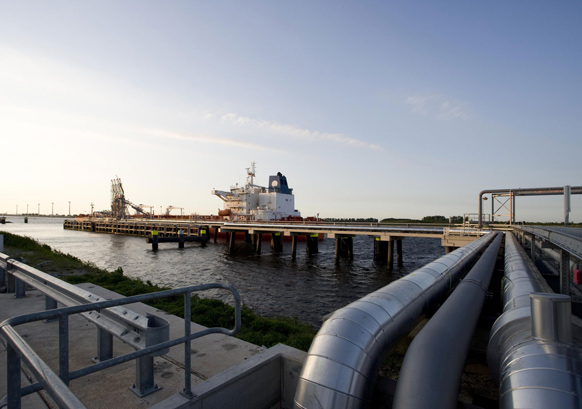 VTTI's ETT Rotterdam terminal in The Netherlands has 28 tanks and specializes in fuel oil and middle distillates. Source: VTTI Energy Partners
As an MLP, the company's profit comes from long-term, fee-based contracts, which limits its exposure to commodity volatility.
Rob Abbott, VTTI's CFO, told Rigzone filing in the United States as an MLP made sense because the group's terminal and storage assets seemed ready for the structure: low-risk assets based in the United States and Europe, where the geographies are familiar to investors. 
ACCESS TO EQUITY
But the decision to actually file an MLP IPO was based on VTTI's interest in obtaining additional funding to grow via access to North American equity markets, he said.
VTTI's success in the United States is based largely on a strategy to emphasize their similarity to a typical U.S. MLP, which is asset-heavy with long-term contracts. But the differences are also a selling point, he said.
"The difference is we're more diverse. We're in multiple geographies, in hub locations where in any price environment, there is a huge amount of product flow. Our business model is based on supply-demand imbalances from one region to another," Abbott said.
He also noted that with its geographic diversity, VTTI can fill needs as they emerge in Europe and the Middle East.
"That's very different from North America, where growth is driven by interest in unconventional oil and gas. Their business model is more core to the oil prices. If oil prices drop, investment in upstream drops and at some point in the future, the price on products will also be reduced," he said. "For us, that's not the case."
When VTTI initially climbed into the U.S. market, oil prices were near the $100 per barrel level, and given the health of upstream investment, it would've been hard to show a need for diversity, Abbott said.
However, with falling rig rates, the distinction is very clear – and it can motivate U.S. investors.
"It means our business model will insulate VTTI from oil price [instability], whereas in North America, that's not the case," he said.
A GROWING TARGET
The space for U.S. investors to targeting the global infrastructure market is growing, Hinds Howard, vice president and senior financial analyst at CBRE Clarion Securities, told Rigzone.
Howard said VTTI was unusual because it was the first traditional terminal/midstream asset filed by a foreign company. He agreed it was more typical of a U.S. MLP, and as such, it was well-received by investors.
"I think that is leading some others to consider the structure," he said. "It's been proven on a small scale within larger companies and with VTTI, it's clear it can be successful" as a stand-alone entity, Howard said.
Dutch floating production storage and offloading vessels company, SBM Offshore N.V., is another potential MLP opportunity. CEO Bruno Chabas told investors in its 2014 annual report the companies intend to develop a U.S.-listed MLP, "which will improve our competitive advantage in the short, medium and long term."
And, Pemex executives have expressed interest in an MLP, Howard noted, but said it's unclear where the entity would list, in the United States or in Mexico, what specific assets would be involved and whether it would be modeled as a high-growth dropdown vehicle, like MLPs created by Royal Dutch Shell plc and Phillips 66.
"There are questions marks, but that seems like the next big one, and it would probably the biggest foreign MLP simply because it's a gigantic company," Howard said.
Still, foreign companies don't get all the tax advantages of a U.S.-based MLP because the tax is based on U.S. assets. Federal taxes still apply to assets abroad.
"It's the yield plus growth approach, and the marketplace of [U.S.] investors that they're trying to tap into," Howard said. "Maybe the tax benefits don't matter as much if put together steam of consistent distributions over time and that gives you a better valuation."
Kenny Feng, founder of The Alerian Index, which ranks large and mid-cap MLPs, explained there's nothing in the U.S. Tax Code that says a company can't be structured as a partnership and own foreign assets. These MLPs elect to be taxed on their U.S. assets, similar to corporations. However, Feng explained, companies outside of the United States are willing to endure the hassle of filing as a partnership to get the benefits of IDRs and capital from investors who are familiar with the MLP structure. While they have to pay taxes on their U.S.-based assets, they don't have federal taxes on other assets.
The diversity offered by foreign-based MLPs may be especially attractive when commodity prices cut the market.
"If the United States is in a bear market for energy, then that's got to benefit somebody somewhere else. It's nice to have the option to invest in that somebody who's somewhere else," Howard said. "The United States can be in its own secular decline, but somewhere else, there is buying going on."