With less than a decade of identified use in the United States, digital badges, simply defined as "validated online indicators of accomplishments, skills, qualities or interests," are still a relatively new concept in the workplace and almost unheard of in the oil and gas industry. The term "badge" is often associated with Girl Scouts and Boy Scouts, and generally speaking, it's a similar concept. But they're not the same. Digital badges can be created by anybody (educational institutions, professional organizations, cultural institutions, etc.), can be earned by anybody and can be shared anywhere online. Used more frequently in gamification and the IT sector, how can the emergence of digital badges eventually reshape the hiring and job application process, or can it? Rigzone takes a look at the possibilities.
DIGITAL BADGES BY DEFINITION
Though first introduced in 2007, it wasn't until 2011 that digital badges really began to take shape as credentials, thanks largely to the nonprofit Mozilla Foundation, which promotes openness, innovation and participation on the internet. The Mozilla Foundation created an open badging system to align with the changing ways people learn – which no longer takes place just in a classroom. The idea of "open badges" is to engage learners, remain innovative with technology and provide meaningful learning. The Mozilla Foundation provided the software and technical capability for anyone to earn, issue and display badges, hence the open concept.  
Proponents of digital badges believe they're a way to transform learning – making it more transparent and innovative and encourages lifelong learning that goes beyond test scores and grades.
And according to Carey Hamburg, a doctoral student at Louisiana State University with a background in training and development, digital badges have an added value for employers.
He said the badges "are difficult to fake, verifiable and clickable back to the issuer," offering a quick and efficient way for employers to check for specific competencies in potential employees.
"Metadata can be built into each badge and with a well-designed search engine, employers could search for employees with particular skills they need," he said.
And while Hamburg commends Mozilla for "opening digital badges to the outside world," he believes it's still going to take a major player or company to begin issuing their training in the form of digital badges for it to become more widespread.  
Digital credentialing is the response to the understanding that the lifecycle of skills have shrunk, said John Colborn, director for Skills for America's Future, an initiative of The Aspen Institute.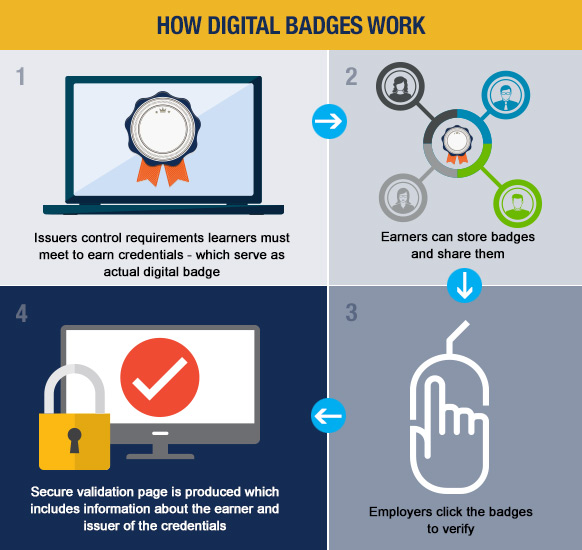 How Digital Badges Work, Source: Pearson IT Certification
"It used to be that you would get four years of education when you're 18 and it would last you for 30 years," Colborn told Rigzone. "Today, you need to constantly learn new things to advance in your role and because we can't all drop everything and go back to college every year, there need to be new ways to deliver these skills and credentials."
Could the advent of digital badges do this? Some seem to think so.
"What I like about the badges is it takes away the notion that I have to go back to school for four years," said Colborn. "The fastest-growing area of post high school education is the certificate – surpassing the associate and bachelor's degree."
But while Colborn said the market is moving in the direction of digital credentials, one of the main roadblocks is getting them accepted and recognized by the industry, which involves branding, investment in infrastructure to deliver the credentials, government regulations and distribution mechanisms.
"I believe people are seeing the value of these credentials, but what's lagging now is how the marketplace among employers starts picking up on and recognizing this work," he said.   
DETERMINING VALUE
Those who support digital credentials have already found great use for them, but in order to become widely accepted, specifically in oil and gas, it's going to require a lot more branding and awareness.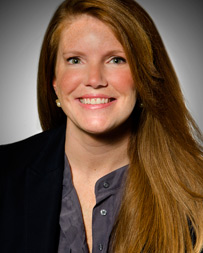 Manager, Global Talent Acquisition – Strategic Programs, Halliburton
According to Hamburg, digital badges have the potential to give an added edge to HR professionals who use them to find employees with specific skills that other recruiters may not find. This could be especially useful, given the energy industry's current condition.   
But first, the industry must see the value.
Michelle Williams, manager, global talent acquisition – strategic programs, for Halliburton Co., said she "wasn't quite sure" how an individual displaying a badge on their online profile or resume rather than just specifying that they have certain competencies on their resume "would provide significant value."
However, she did say someone just calling themselves an expert without proof of validation would be hard to accept.
Williams said Halliburton's field workers are exposed to the company's internal competency program and when getting employees from another large company, the assumption is that their previous employer had a similar program.
"I would assume those people would then have the skills we need," she said. "But if they are coming from a smaller company that may not have a robust competency program, I could see us finding value [in the badging system] as a way to validate."
Hamburg hopes to see digital credentials reshape the job search and hiring process and provides a hopeful outlook: "I foresee in five to 10 years, any time you apply for a professional job, a potential employer will look for your digital identity – your professional record."
But this will take time and branding. While Williams didn't rule out the possibility of digital credentials reshaping the industry, she said "we have a long way to go."