Working offshore involves many privations for oil and gas workers. Long work shifts, very little social time and restrictions on how you spend that time are par for the course. Another hardship is the difficulty that many offshore workers have staying in touch with friends and family. In the age of social media, most busy professionals are only a few clicks away from being in contact with their loved ones, wherever they might be in the world, but for offshore workers things aren't so simple.
The mobile communications industry has been specifically developing technologies that enable offshore workers, and other remotely-located oilfield professionals, to connect with both the home and the office via their satellite networks.
Not surprisingly, companies that have long served the voice and data communications needs of the maritime sector are leading the way. On-Waves is part of a company that was the very first Maritime GSM mobile technology provider in the world. Today it provides GSM (Global System for Mobile Communications) and CDMA (Code Division Multiple Access) coverage, via the existing VSAT satellite communications infrastructure, to more than 650 vessels. These include offshore installations, as well as cruise ships, cargo ships, fishing vessels and private yachts.
Services for crew and passengers on vessels using On Waves include the ability to make calls to and from any fixed or mobile phone in the world as well as send or receive text messages anywhere at any time. Meanwhile, users can also hook up their smart devices to Wi-Fi Internet.
WINS Limited – a company whose acronym stands for Wideband Interactive Network via Satellite – is part of the Eutelsat satellite communications service. This company also markets its services to the offshore industry and offers similar services: voice calls, SMS texting and web browsing via smart phones.
Another firm targeting the oil and gas sector with its satellite communications services is Globalstar, which provides one of the more cost-effective solutions according to Director of Marketing EMEA Gavan Murphy.
"Being able to stay in touch with home boosts morale and welfare among crew who are away for extended periods of time. They need an easy way to call friends and family, which is low-cost, so they don't feel they need to wait for a special occasion to make contact," Murphy explained to Rigzone.
Globalstar uses what it describes as a "constellation" of Low Earth Orbiting (LEO) satellites to pick up signals from more than 80 percent of the Earth's surface. An advantage of using LEO satellites is that the Globalstar communication system includes no perceptible voice delay.
Globalstar's Sat-Fi satellite hotspot, which it claims is the world's most powerful in its class, means crew members can make and receive voice calls and email using an app that runs on any Wi-Fi enabled device including tablets, smartphones and laptops. Up to eight users can use their own phones to make and receive calls and get online over Globalstar's next-generation satellite network, even if they are in remote waters.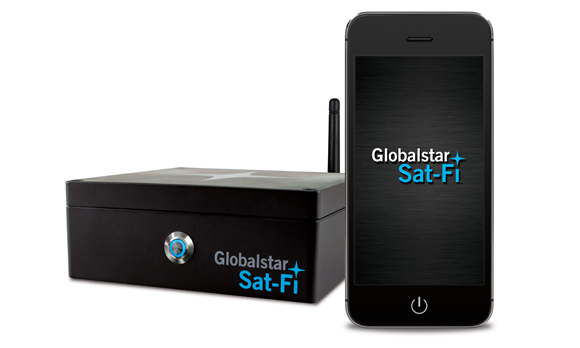 Pictured is Globalstar's Sat-Fi hotspot box and a smart phone with the Sat-Fi app. Source: Globalstar
"A Sat-Fi satellite hotspot offers connectivity up to 100 feet from the antenna," Murphy said. "It's also easy to set up. Users simply download the Sat-Fi app from Apple iTunes or the Google Play store and the app connects to voice and data services. It also provides access to emergency services, providing valuable reassurance when you're offshore."
Of course, not all offshore facilities allow the use of personal phones and other kinds of smart devices depending on local laws and operators' rules, and some require that such devices are handed in before coming aboard. However, that a few upstream oil and gas operators and oilfield services firms are beginning to sign up the likes of On Waves, WINS and Globalstar is a good sign for offshore workers who like to stay in touch with home.