When BOE Midstream began operations at its Bakken Oil Express Rail Terminal in Dickinson, N.D., in November 2011, crude production from the Bakken shale play in the Williston Basin was approaching 450,000 barrels per day (bpd) and steadily increasing. Less than 3 years later, in June of this year, production crossed the 1 million bpd mark, based on figures from the North Dakota Oil & Gas Division.
Two months after daily Bakken production hit seven figures – on August 21, to be exact – Denver-based BOE achieved a milestone of its own: loading its 1,000th unit train from the Dickinson terminal.
"As the second rail terminal in the Bakken, Bakken Oil Express is proud to be one of the leaders in the historic change the Bakken has created in the North American crude oil industry," said John Wadsworth, BOE's chief operating officer. "We are excited about the opportunities ahead."
Growing production from the Bakken, coupled with the region's lack of refineries and pipeline takeaway capacity, have resulted in a more than five-fold increase in Williston Basin rail loading capacity since Bakken Oil Express began operations – from 245,000 bpd at the end of 2011 to 1.26 million bpd currently. Pipeline and, to a lesser extent refining, capacities are on the increase as well. The graph below, created with figures from the North Dakota Pipeline Authority, highlights the changing crude oil export options from the Williston Basin.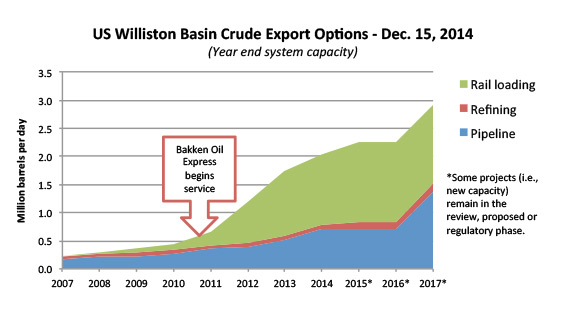 Despite the increasing variety of takeaway options for Bakken oil producers, Wadsworth is confident that crude-by-rail will continue to be an export mainstay in the region for the long haul. Read on for his impressions of the evolving transportation story underway in North Dakota.
Rigzone: Let's go back to Nov. 3, 2011, and only the second crude-by-rail facility in the Bakken is open for business. What adjectives would you use to describe the operating environment and why?
Wadsworth: Exciting and pioneering describe our feelings as the Bakken production continued to grow and crude-by-rail was just starting to be a substantial option for moving Bakken oil to markets. At that time, many people were just beginning to understand crude-by-rail, in terms of optimizing design and operation of the facilities, best practices for ensuring safety, interfacing with Class 1 carriers, and the market implications on the new channels of flow for crude.
Rigzone: Since then, many other unit train facilities have sprung up to serve Bakken producers and shippers. As the competitive environment has changed over the past three years, what sort of niche has BOE carved out to differentiate itself?
Wadsworth: We have the largest rail terminal in the Bakken, with four distinct advantages, including our (1) inbound capacity of 350,000 barrels of oil per day (BOPD) by pipe and truck, (2) interconnection with Tesoro and Belle Fourche, (3) 10 miles of track with the ability to hold up to four unit trains at once, and (4) the ability to load two trains simultaneously. Plus, of the 350,000 BOPD of inbound capacity, approximately 80 percent is by pipeline. This benefits the State of North Dakota and its citizens, especially those in Dickinson, by lowering the volume of truck traffic and decongesting local roads, thereby enhancing road safety and decreasing road maintenance requirements and associated taxes.
Despite the increased number of crude-by-rail terminals, BOE also has continued to offer customers consistent, safe, and dependable operations, which is increasingly important to customers who need reliable flow of crude from the Bakken. If train service becomes bunched up or erratic, we can handle train repairs on-site, which diminishes delays. We can also source barrels from almost anywhere in the Bakken to get our customers what they need, when they need it. This level of service and capability is our niche and it has generated loyalty from long-term customers who demand safety, service, and flexibility. Smaller facilities simply cannot offer customers the same level of service.
Rigzone: Because you were only the second such facility in the region, you had little to go by in terms of how to operate a crude-by-rail terminal in the Bakken. What are some of the key lessons you've had to learn along the way?
Wadsworth: There have been a few. Integrating the operations of two industries, oil and rail, has been a learning curve, and logistical expertise is key to making everything work smoothly. Of course, safety has always been the first priority for everyone in the value chain, but operating in an environment of increased scrutiny and regulatory uncertainty has been challenging and required even more attention in this area. Continuing to focus on the highest quality operating standards has served us well, as has employing high-quality engineering, design, and construction to provide one of the most advanced facilities in North Dakota. As we get more clarity on regulatory requirements, we will be able to provide even more efficiency and quality service to our customers. And, not a lesson exactly, but we've benefitted from making sure that we understand our customers' business objectives and being flexible in how we serve them. These have remained key considerations throughout our work in the Bakken.
Rigzone: Rail has been the primary option for shipping Bakken to crude to market, but pipeline companies such as Energy Transfer Partners and Enbridge Energy Partners are making inroads in the region. How well do you see crude-by-rail coexisting with pipelines, and how can crude-by-rail remain an attractive shipping option as pipeline capacity increases?
Wadsworth: Crude by rail will continue to be part of the takeaway capacity in the Bakken for shippers for the foreseeable future for a number of reasons. The pipeline projects you reference won't be in service until 2017 at the earliest, and will require significant financial commitments from the shippers. We welcome these projects as they ensure the long term role of the Bakken in the North American crude supply. However, crude-by-rail is available today, and it is flexible in terms of commitments, with access to markets that even the new pipelines will not reach. Several coastal refiners have built crude-by-rail unload facilities and prefer the crude supply that rail provides. Long-term, we believe there will be roles for both pipe and rail, and we intend to be an integral part of the overall Bakken infrastructure.
Rigzone: What do you consider the major trends on the Bakken crude-by-rail scene?
Wadsworth: Increased scrutiny to ensure the facilities and operations meet the continually changing regulatory requirements is a major trend. Both federal and state agencies are actively involved with the crude-by-rail industry. Managing rail service volatility and congestion, as oil competes with other industries for rail service, is another ongoing trend. This makes terminal capabilities even more critical. Lastly, the ongoing investment by BNSF Railway in its infrastructure and support staff is set to drive major service improvements going into 2015. These improvements will help railroad customers across all industries safely deliver their goods on time to North American markets.
Rigzone: When BOE loads and ships its 2,000th unit train from its Bakken Oil Express Rail Terminal, what do you think will have changed about operating in the Bakken?
Wadsworth: Hopefully we will have greater certainty on the regulatory front by that time. Producers will be developing their acreage positions with even greater efficiencies, and will have the benefit of multiple export options, as well as greater local demand. In essence, the Bakken will be a much more stable operating environment. It's important to acknowledge, too, that those 2,000 trains represent over $12 billion of crude oil exports facilitated by BOE, with funds undoubtedly being reinvested by oil companies in support of further resource and community development in North Dakota. And this trend will continue.