Uncertainties stemming from more than half a year of low oil prices have made job security a niggling issue facing most employees worldwide, including Asia's oil and gas industry. Such concerns, frequently exacerbated by headline news reporting rounds of industry layoffs, have made employment at national oil companies (NOC) a desirable option for existing employees or potential candidates.
The downturn in the petroleum industry has already prompted many firms to reduce their capital expenditures (CAPEX) as global oil prices – which declined by more than 50 percent since the second half of 2014 after breaking through the psychologically significant $100 a barrel mark – showed little signs of recovery. 
Several independent oil companies (IOC), including the oil majors, who are accountable to shareholders through their quarterly financial reports, were among those that wielded the axe on CAPEX budgets as they announced their spending plans in recent months.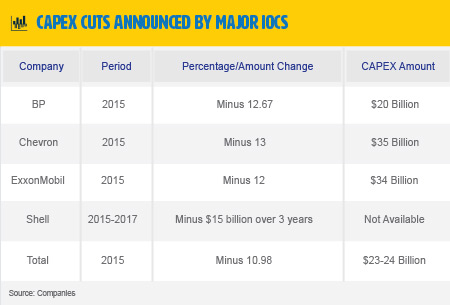 CAPEX Cuts Announced by Major IOCs
The oil majors, including BP plc, Chevron Corp., Exxon Mobil Corp. and Total S.A., slashed their investment spending by 12 percent, while Royal Dutch Shell plc cut CAPEX by $15 billion over three years from 2015 to 2017, company data showed.
NOCS AND IOCS OPERATE DIFFERENTLY
Like IOCs, low oil prices also hurt Asian NOCs, especially petroleum producers, prompting them to cut CAPEX budgets.
Malaysia's Petroliam Nasional Berhad (PETRONAS) – one of the world's more successful NOCs – shaved 10 percent off its capital spending this year, while China National Offshore Oil Corp. and Indonesia's PT Pertamina trimmed their investment expenditures by 31 percent and 37.14 percent, respectively.
Over in South Asia, India's state-owned Oil and Natural Gas Corp. Ltd. (ONGC) moved against the current trend by budgeting a 4.1 percent increase in CAPEX for financial year 2015 to 2016.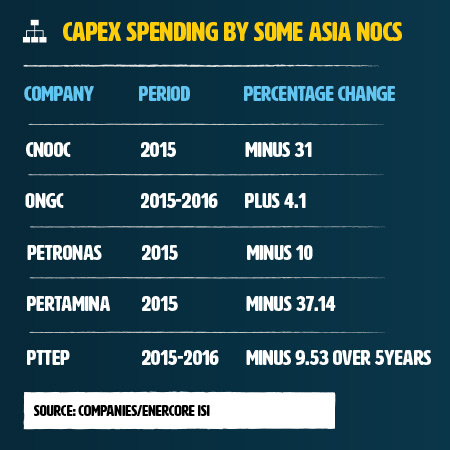 CAPEX Spending of Some Asia NOCs
"Most of Asia Pacific is NOC-operated and NOCs are very different than IOCs. NOCs have a mandate to serve the people in the country and then make money. IOCs have a mandate to serve shareholders … [On] plans by IOCs for projects going forward, certainly we can see some drawback or slowdown. But they are two different animals," Jason Waldie, an associate director of Douglas-Westwood Pte. Ltd., told participants at the Singapore Offshore Finance Forum in February.
PERTAMINA STILL HIRING
Over in Indonesia, Pertamina appears to be the only bright spark for oil and gas employment. The company posted job vacancies online and invited experienced hires to apply for positions in the upstream sector. These posts, as listed on Pertamina's website in mid-March, covered:
Geology

Geophysics

Reservoir & Production

Enhanced Oil Recovery

Process & Facilities
"Pertamina is still hiring. If you look at online job vacancies, I don't see any [other] company in Indonesia that is hiring," Sartika Abidin, chief Human Resources for PT Energi Tanjung Tiga (ETT) told Rigzone.
But she noted that some of these vacancies could have arisen as Pertamina needs to replace staff whose contracts at the NOC, which has a workforce of 25,650 in November 2013, had expired or are expiring.
As a nationally recognized business entity, Pertamina is an obvious choice for new job applicants, including candidates from top universities in Indonesia.
"It's not difficult for Pertamina to get fresh graduates, who are willing to take modest salaries. Pertamina will send them for on-job training in the fields" to gain experience, Sartika said. 
ETT operates brownfields in South Sumatra in a 25:75 partnership with Pertamina EP, the upstream arm of Pertamina.
NOC OFFERS OPTION IN MALAYSIA
PETRONAS, ranked 69 on the list of the world's top 500 companies in Forbes Global 2014 by revenue and 18th among its petroleum refining cohort, cited in its mission statement that a key "objective is to contribute to the well-being of the people and the nation."
It was therefore no surprise when PETRONAS described a Jan. 17 article published by Malaysian newspaper New Straits Times in which the NOC indicated plans to cut its workforce by 10 percent as "misreported and inaccurate".
"If PETRONAS takes on a longer term view, the company will have to hire people currently seeking jobs again. It takes time to train, especially as oil and gas talents are in short supply," Arhnue Tan, an analyst with Malaysia's Alliance Research explained to Rigzone.
However, lower oil prices did result in layoffs in Malaysia's oilfield services sector, with some redundancies made in early 2015 as companies intended to trim CAPEX and operating expenditures (OPEX) – a move that affected a few large companies, like France's Technip and Italy's Saipem S.p.A.
"I saw the trend [on job cuts] coming for engineering services companies like Technip and Saipem," an industry professional who left Technip to join an NOC, told Rigzone.
In the current industry climate, job security appears high on the agenda of existing and potential employees, who are now more willing to accept a moderate change in their wage demand.
"NOCs are not cutting but holding on for now. I see an opportunity there and they want skilled labor. Personally, I received a small increase in my salary when I changed jobs, but I heard there are others that do not mind taking a small cut" to secure a job, the former Technip employee, who has asked to remain anonymous, explained to Rigzone.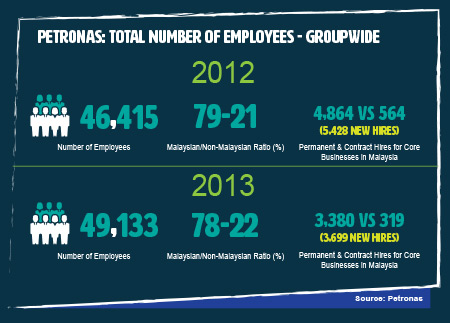 PETRONAS – Total Employees
Still, there were indications that some expatriate staff were made redundant by PETRONAS. In 2012 and 2013, contract staff – that possibly included expatriate workers – accounted for 8.6 percent and 10.3 percent of the 5,428 and 3,699 new hires at the Malaysian NOC, respectively. 
"PETRONAS cuts a lot of its expatriate contractors … and there is no news on their hiring plan for this year," Ross Gregory, team manager of Oil & Gas Practice at Hydrogen Group plc in Singapore, commented to Rigzone.
ONGC BUCKS TREND ON CAPEX
In contrast to IOCs and many Asian NOCs, ONGC, India's largest upstream oil and gas producer, has bucked the global trend among petroleum firms.
Instead of responding to the oil price downtrend by reducing CAPEX, laying off staff and adopting other cost-cutting measures, ONGC announced plans to raise its capital spending. In February, the Indian upstream player announced it will raise its CAPEX to $5.8 billion (INR 3.625 trillion) for fiscal year 2015-2016, commencing April 1, up from $5.57 billion (INR 3.481 trillion) in the previous year.
"All development projects in ONGC are evaluated, considering post discount prices available to ONGC and there is no issue of viability at existing prices. We are also going for exploration as per our approved work programs. We envisage this as an opportunity to get more competitive rates for oilfield services," ONGC told Indian daily The Economic Times March 10.
PTTEP SEES MANPOWER AS KEY SUSTAINABILITY ISSUE
Oil and gas consumption in Thailand, like in most growing Asian economies, has risen steadily in recent decades. While the Southeast Asian country has local sources of petroleum, consumption has constantly outstripped production.
In 2013, Thailand imported 797,610 barrels of oil per day and 338.11 billion cubic feet of natural gas to meet domestic consumption, figures from the U.S. Energy Information Administration showed.
"As the flagship company of national oil company PTT Public Company Ltd., our mission is to ensure the energy security in Thailand," PTTEP said in an email response to Rigzone.
The company has no intention of stopping exploration for new upstream opportunities and will proceed with its existing projects.
"These [upstream] activities absolutely need skilled manpower and we have to be very careful in retaining our employees and sustaining the competency improvement amid the industry malaise as we have to maintain the stability of our long-term growth," PTTEP explained.
PTTEP's Total Employees in 2014
With the Thai upstream firm considering manpower as one of the crucial factors in sustainability of its businesses, "cutting jobs will be the last measure we will take," PTTEP told Rigzone.
Last year, PTTEP had approximately 4,000 employees working at its operating assets domestically and internationally.
Meanwhile, NOCs elsewhere such as Saudi Arabian Oil Co. (Saudi Aramco) began recruiting staff recently laid off by U.S. shale oil companies as the Kingdom attempts to grow its unconventional sector, a March 17 Bloomberg News report said.
"To support the implementation of our strategy and continued growth, Saudi Aramco continues to hire expertise in a number of technical areas across the unconventional gas resource value-chain," Saudi Aramco spokesman Nigel O'Connor told Bloomberg News.
LOOKING AHEAD
With Asia's energy consumption projected to rise in the foreseeable future, this is expected to translate into strong demand for oil and gas. But with hydrocarbons located in increasingly inaccessible environments, extracting hydrocarbons will require a highly skilled workforce. As such, demand for skilled professionals will continue to be high on the agenda for most Asian NOCs – although this may not happen in the near term due to the current price of oil.
"Not in the short term, but NOCs will definitely come in to hire some good people. The national companies don't face the same financial pressure that the junior explorers do … [On the other hand] the priority for people now would all be around job security," Kevin Gibson, Asia Pacific managing director at recruitment specialist Earthstream Global, told Rigzone.