Smartphones, tablet computers and other mobile devices are ubiquitous in today's world, and their ability to run specialized software applications – better known as "apps" – enable users to do tasks ranging from performing engineering calculations to watching cat videos. The app-based approach to doing things has become particularly popular among those seeking work as well as workers. Certain employment apps focus on finding someone to perform temporary jobs such as helping you to get organized, painting your house or even driving you to the airport. The multitude of workers and employers connecting via apps to fill such short-term jobs make up what has been dubbed the "gig economy."
The 'Gig Economy': An App-based Spin on an Old Idea
Matthew Veazey, senior editor with Rigzone.com and DownstreamToday.com, chats with gig economy expert and author Robert Dickie, III about how to transition into what Dickie calls a "full-time career in our part-time economy."
"The 'gig economy' is a relatively newly coined phrase for a way of working that has existed for many years: contracting," said Rebecca Cranston, principal client services consultant with the recruiting firm Yoh. "It's a phrase taken from the music industry, describing each contract or statement of work job as a gig. The concept is not a new one although the rate of adoption by employers is certainly increasing."
"What's new is that technology has enabled workers to efficiently find non-permanent work," added Jon Osborne, vice president of strategic research with Staffing Industry Analysts. "Until recently looking for work of any kind, temporary or permanent, took a great deal of time."
"The way it works is employers who want to provide certain services to the market seek to be connected with workers who can provide that service on a contract or temporary basis," explained Richard D. Slack, president and CEO of Oildex, an oil and gas industry software provider. "The workers do not become employees of the company, nor are they promised long-term job security, they simply fill a need for the period of time determined by the employer."
Read on for more insights from Cranston, Osborne, Slack and others regarding the potential implications of this new spin on contracting.
Rigzone: How is the gig economy changing the worker-employee relationship, and what are some key trends that are emerging as a result of this new way of sourcing workers?
Slack: We can see benefits of the gig economy on both the worker and the employer side of things. Workers who can participate in this kind of "opt-in" employment have flexibility that few other kinds of jobs can offer. For those available outside of the regular "9 to 5" schedule, it can be a great way to earn supplemental income. It's also beneficial for those who want to be their own bosses. For employers, it certainly helps to lower personnel-related costs, related to benefits in particular. It also allows employers in volatile businesses access to workforce without having to worry about layoffs if their business begins to fail. Finally, it allows them to provide workers that provide a specific skill that they have already been trained for, without having invest in any training themselves.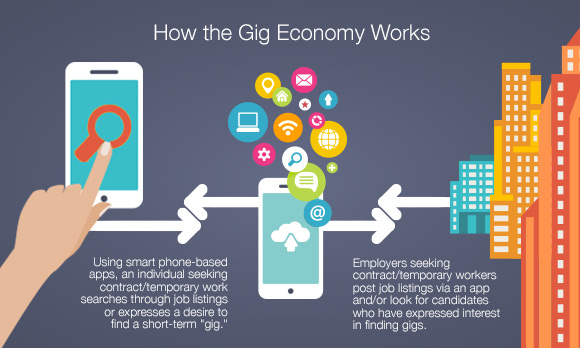 How the Gig Economy Works
Osborne: It's a loosening of the worker/employer relationship. It's resulting in more working from home, more flexibility in the economy – companies can scale up and scale down faster, and greater independence for workers – it's a lifestyle for many: work a few months, take some time off and travel, work again, etc. It's also challenging some traditional businesses, such as taxi services which are now under siege from Uber and Lyft.
Cranston: The gig economy should see employers treating contractors as they should always have been seen: independent, flexible resources that bring a specific skill set to deliver a specific project. Without the requirement to pay the contractors holiday pay, sick pay, benefits and of course the savings from employment taxes such as Employer NI (Employer's National Insurance in the U.K.), it's obvious to see why they would be an attractive financial option for some employers. They offer the flexibility for immediate resource in peak times without the cost during the quieter times.
On the flip side temporary resource may not solve all of their problems. As the demand for contractors increases, so will their rate. Contracts will be started and sometimes not completed, should a higher paid or longer-term project become available. For an employer this could spell disaster, with key personnel – who have no real loyalty to the company or the project – potentially leaving mid-project, the company will be forced to hire as quickly and often as expensively as the project demands, damaging their profit margins or, in the worst cases, delivering the project late or not at all. None of these problems are new, as much as their tax status may imply otherwise: independent contractors are more often just individuals, not "companies," and people change their mind, people get sick, people get bored and people can be unreliable.
The main challenge with the shift moving towards gigs will be the volume of contractors available and how sustainable the levels of work are in the long term. Take the recent challenges in the oil and gas industry: rates have been pushed very high over recent years, when a contract gets ended due to a struggling economy and falling oil price. As we've seen recently, the contractor will simply be unable to maintain anywhere close to the level of income that they have previously made, levels of income that they have based their lifestyle, mortgage payments, schooling for their children etc on. Without the security of a permanent position, contracting can be a risky business, especially if your skills are specifically tailored to one or two industry.
Diego Lomanto, marketing vice president Work Market: It's optimizing the experience on both ends. The worker gains the potential to control their own destiny, setting their own price, selecting the assignments that add value to their career development, and striking a work/life balance that suits them. The employers are able to scale the workforce to demand which allows them to respond more swiftly to the opportunity when it arises.
Dennis Cassidy, managing director, AlixPartners: The relationship has changed, as have many of our relationships with modern technology. The employer now has access to instantaneous information regarding their contractor's productivity and value-add. In the same regard, contractors, too, have a greater insight into the jobs being requested and where these jobs are being performed. The technology allows the contractor to tailor their specific service offerings to the current market needs. In the end it should result in better matching of supply and demand, resulting in better utilization of people and assets.
Rigzone: Which industries or businesses have been the clear leaders in embracing the gig economy? Do you have any idea why certain industries or businesses have been more receptive to sourcing workers than others?
Osborne: The technology industry has generally been in the lead. In some large tech firms, permanent employment is now only half of total employment. The reason for this is twofold: the nature of tech work is project-oriented – has a beginning and an end, not an ongoing unlimited obligation – and there is an extreme labor shortage that has driven innovation.
Slack: From what we've seen, any company that offers an on-demand service benefits from having a contract-based workforce. Companies like Uber and Lyft are especially well-known for making this model work. It seems to have taken off in areas where companies offer a service but are unsure of the demand for that service, so there's a need to be flexible in how they supply it. I've also read that this trend has taken off in higher education as a way of keeping down costs associated with tenured professors, and responding to fluctuating demand for certain classes. With more higher education being offered online, I can see how it would make sense to hire professors who don't need to physically be on campus, in the classroom. 
Cranston: Companies that require a "flexible" workforce will always be inclined to hire a higher level of contractors. Companies whose workloads are unpredictable or ad-hoc with projects starting and stopping on a regular basis. Companies whose workload is seasonal will always be inclined to hire on a contract basis. Take the ROV (remotely operated vehicle) industry, for example. The number of contractors far exceeds the permanent work force, mainly because around four months of the year there is simply no need to have a large number of permanent employees on the books without the levels of work to keep them busy.
From a management perspective, I think where you have workers that have already been trained and can provide a service that requires little training, like driving, this type of sourcing works as long as you have a good screening process that ensures that you are contracting people that are providing a service at consistent level of quality.
Cassidy: Clearly the leading industry to embrace the gig economy is the transportation industry with the likes of Uber and Lyft. The development of these apps has brought along significant distribution to taxi/ car service providers. Now, anyone with a car can compete for work alongside the established service providers. Another such app is Handy, which finds its customers self-employed home help in the right place and right time. These types of businesses are more receptive to this type of sourcing because it gives the user a quick and easy way to get a somewhat annoying task done, like trying to get a cab in the snow in New York City. Wait in the cold no longer, Uber is here.
In oil and gas many of the roles require specialization or certifications so companies prefer to have references or "know" the employees or contractors they are bringing on site or using to provide a service. So the technology has to accommodate some additional functionality to help employees list their references, qualifications, skills, etc. and tools to help companies filter to find the key capabilities they need or the job. Today most companies are using traditional phone calls to friends and word of mouth vs. more modern apps.
Lomanto: Certain industries have led the pack in terms of this trend. For example, publishing and advertising – freelance writers and designers – have operated under this model in order to accommodate the ebbs and flows in the business. We're now seeing talent with sought-after technical skills – such as computer networking and telecommunications – operate as freelancers. This freelance economy resonates most profoundly with companies seeking a blend of fixed as well as variable labor in order to meet their business objectives, without sacrificing customer satisfaction and revenue expectations.
Rigzone: How have the types of gigs, and the skill sets necessary to perform them, evolved?
Lomanto: The "gigs" have evolved. There are other sites where you can hire someone for a distinct consumer-oriented task – such as mowing your lawn, moving furniture or walking your dog. At Work Market, we're working with companies that see freelancers as strategic talent. It's a fundamental shift from the task-based freelancer to the skilled, specialized freelancer. More work is being arranged to fulfill a critical portion of a business process – such as client implementations – or in the context of complex, multifaceted initiatives that achieve specific results.
Osborne: I wouldn't say the gig economy is evolving so much as it is simply spreading, mostly just as a learning curve. Everyone is learning from the example of the early innovators in this space.
Rigzone: Do you see the gig economy – specifically, sourcing workers via apps – as a genuine threat to permanent employment?
Cassidy: It is a tough question and probably too early to say for sure as the adoption rates are still relatively modest for these tools. We would expect that the ratios of contractors vs. full-time employees will stay the same. We do think these tools will help speed up employment searches, hiring, screening applicants, etc. as this cycle time has been historically high, especially when times were good in the oil patch.