With the sweep of his pen, Texas Gov. Greg Abbott signed into a law legislation Monday that effectively wipes out individual city rules on hydraulic fracturing.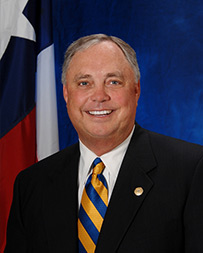 State Rep. Drew Darby, R-San Angelo
Roughly, one-third of Texas' 950-plus cities have passed some measure to contain – or outright ban, in the case of Denton – fracking within their city limits. House Bill 40 by state Rep. Drew Darby, R-San Angelo, designed a four-prong test to determine whether those ordinances are in line with state intent. If they fail the test, the city rule is pre-empted by the new state law. The bill passed both the House and the Senate with the bipartisan support from more than two-thirds of state lawmakers. HB 40 is the third House bill the governor has signed this year; it becomes effective immediately.
Darby told Rigzone the bill simply clarifies the role between cities and the state "to resolve ambiguity regarding oil and gas activity without harming or taking property rights." Without the Legislature's intervention, he said, the oil and gas industry – a mainstay of the Texas economy – is "hamstrung." Local regulations differ widely, with some cities prohibiting wells within 150 feet of residences to others that prohibit wells within 1,500 feet of private property.
HB 40 won't harm the Texans it's designed to protect, he said. As such, under the new law, a city ordinance would be pre-empted by the new state law unless it:
regulated only aboveground activity

was deemed "commercially reasonable"

didn't effectively prohibit an oil and operation conducted by a reasonably prudent operator

wasn't otherwise pre-empted by other state or federal law
Above-ground issues of traffic and noise generated from hydraulic fracturing will remain in the jurisdiction of local authorities. The courts would likely clear up any questions on "reasonable" and "prudent."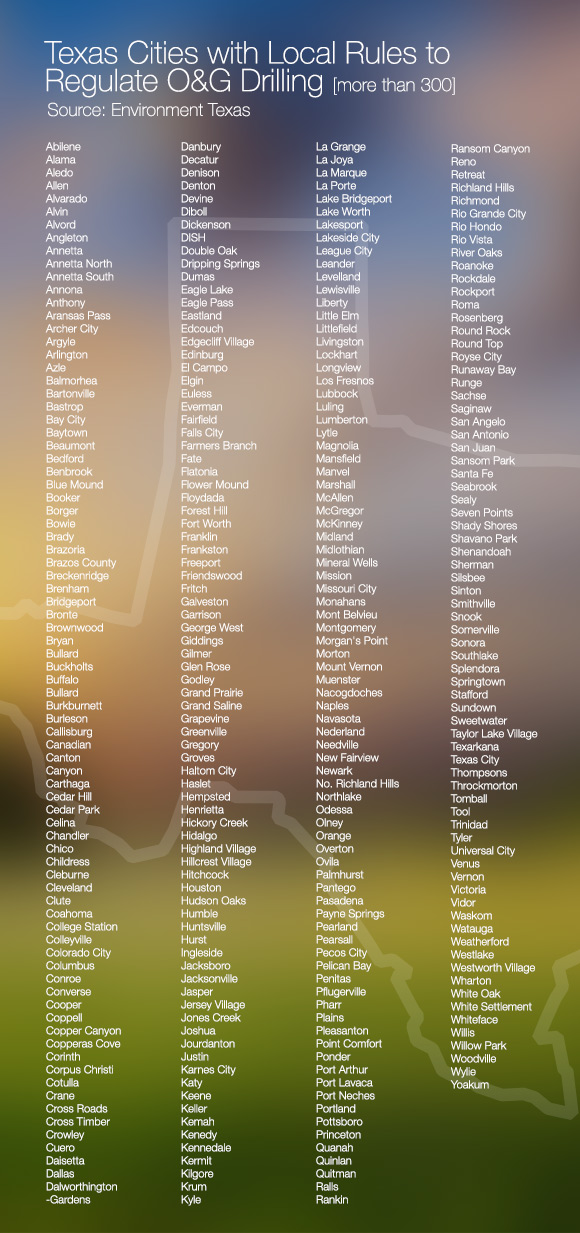 Texas Cities with Local Rules to Regulate O&G Drilling [more than 300]
Ed Longanecker, president of the Texas Independent Producers and Royalty Owners Association, said in a statement supporting the bill that the regulatory certainty it would provide is crucial for producers in the state.
"A patchwork effect of local ordinances creating inconsistent regulations, some of which are intentionally onerous in nature, is the wrong path forward, and if left unchecked, could negatively impact investment, tax revenue, employment and lead to additional legal challenges over property rights," he said.
That patchwork of city laws is part of the local control that many Texans hold dear. Aaron Leal, first assistant city attorney in Denton, told Rigzone the new law doesn't necessarily delete the ordinance, but it would be moot.
"The problem is, we can't enforce it," he said.
In November, 59 percent of Denton voters approved the fracking ban. Leal said the primary concerns are with the state law's erosion of local control in which the state steps in and takes away power traditionally held at the city level. In response to the city ordinance's passage, the Texas Oil and Gas Association and the General Land Office filed legislation against the city. With the new state law on the books, municipal leaders must now decide what will be their next step.
Dallas Democrat Sen. Royce West, a lawyer who voted against the state measure when it reached the Senate floor, told the chamber, "The government closest to the people is the government best for the people. What you're about to see is a lot of litigation between cities and state government."
Shanna Igo, deputy executive director at the Texas Municipal League, which lobbies the Legislature on behalf of most cities in the state, told Rigzone the group is neutral on the bill.
REGULATING THE WEST
Texas isn't the only state looking for unification in its regulation of hydraulic fracturing.
Colorado Gov. John Hickenlooper has pushed for a regional set of oil and gas regulations for western states. After a series of local bans on hydraulic fracturing passed in 2014, Hickenlooper called for a legislative time out to activate a citizen task force to review hydraulic fracturing.
He told Oil & Gas 360 in April that he's discussed the need for a regional set of regulations on hydraulic fracturing regulations with fellow governors of western states from both parties.
"If we can do that, I think that takes a lot of the burden off the (Bureau of Land Management). I think if the states can agree … the soles of our boots are right on the ground. If we can agree among ourselves then I think we have a stronger case to go back to the BLM and say, 'You don't need to regulate methane emissions or fugitive emissions of any kind; you don't have to regulate all these impact assessments they make – the states are already doing that to a large extent,'" he said.
The mechanics of uniform regulations would be coordinated through the Western Governors Association. And it might mean that some of the states would have to increase their guidelines.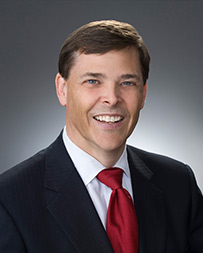 Jim Smith, Partner, Porter Hedges
"Most states will only have to come up a little bit, and I think the overall benefit of having one system of western state regulation would greatly outweigh the small regulatory changes between states," Hickelooper said.
TEXAS DOES ITS OWN THING
Houston environmental lawyer Jim Smith, a partner at Porter Hedges, said Texas doesn't need to act in concert with other states for a regional set of guidelines on hydraulic fracturing. The state itself is quite diverse, he said, and the Texas Railroad Commission historically has worked with its different regions.
"The Texas Railroad Commission understands that different things happen in different regions, and I don't see any need for separate regulatory bodies. I don't see a big problem of any set of regulations that may be applied in one area with its particular geology, but because of different in geology doesn't fit – I think the state can handle those regional differences; we are a big state, regulatory agencies have an understanding that what happens in Brownsville might not work in Lubbock," he told Rigzone.
HB 40 was one of about a dozen bills to address local bans on hydraulic fracturing. RRC Chair Christi Craddick has testified to the U.S. House Committee on Science, Space and Technology to address the concerns of state regulators regarding local bans on fracking.
"Without clearly defined regulatory roles for cities, oil and gas development – and its ability to anchor the Texas economy – is in jeopardy," she said. "In a world where misinformation and sensationalism too often drive the public discourse, we must embrace the truth and adopt reasonable approaches to the challenges we face so that we have the opportunity to share in the prosperity that follows."
Smith said the new law is clear enough that he doesn't anticipate significant backlash in the courts.
"The majority of the ordinances will see very little effect because most of those don't have outright bans on either oil and gas development or development using hydraulic fracturing. Obviously, the ordinances that do have the outright bans will no longer be enforceable," he said.
What's more, Smith said, the legislation is unlikely to lead to additional litigation.
"The legislation is pretty clear," he said. "Municipalities can regulate surface activities to address things like noise, safety, and other [qualities] that are traditionally regulated by municipalities, and regulation has gone on for five years and seems to work and balance the needs of producers with the cities is presumed to be appropriate."
The day after the Texas Senate sent the bill to the governor May 6, a gas well in Denton caught on fire when lightning struck at the intersection of the Interstate 35 frontage road and Windsor Drive. No injuries were reported and no evacuations were deemed necessary. The well was shut in within a few hours of the fire.