So far, 2015 has proved to be a tough time for workers in the upstream industry, particularly oil workers who are directly involved in drilling operations.
Oilfield services companies focused on drilling have been laying off workers. The early months of this year saw Halliburton Co., Schlumberger Ltd., Weatherford International and Helmerich & Payne Inc., among other drilling firms, announce plans for significant job losses at their operations around the world. Meanwhile, the stock prices of companies involved in deepwater drilling – such as Transocean Ltd. and Seadrill – fell sharply between the summer of 2014 and spring of this year.
"The market right now is quite slow for the obvious reasons," Paul Mazalov – team leader for Drilling and Completions at recruitment agency Spencer Ogden – told Rigzone recently.
"Generally, the main thing that's ceased is deepwater drilling activity purely for the reason of cost. If you think about it from a cost perspective, companies right now are trying to reduce that. A lot of organizations are finding it very hard just to break even. It costs more money for them to drill and produce oil than they can sell it for."
Mazalov said that a lot of deepwater projects need more than $90 per barrel in order to break even, which means many companies that have invested in such projects "are hurting".
"There are companies that are right now scrambling around to find out what their hottest assets are that are actually making them money and investing more time into those," he said.
"Unfortunately, what that causes from a recruitment perspective is that they have had a lot of staff sitting there twiddling their thumbs and so they are now moving those staff to the operations where they are needed."
REGIONAL DIFFERENCES
Where you are in the world can make a big difference to your fortunes as a drilling professional at the moment, according to Mazalov.
"An offshore drilling rig in deepwater in the Gulf of Mexico or West Africa, if it's a good solid semisubmersible rig, might cost a company $1.5 million per day just to run. A jackup might cost only $300,000 to $400,000, but still if the company drills one dry hole, it's in trouble," Mazalov said.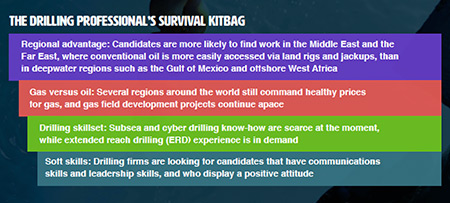 The Drilling Professional's Survival Kitbag
But companies drilling for oil on land in low labor-cost regions can still make a healthy profit. For example, the Middle East is still a hot region right now.
"The Middle East is booming. It's full-steam ahead purely due to the fact that labor is cheap out there and they've got lots of it," Mazalov said.
"The other good thing about the Middle East is that they are quite lucky because the nature of the geology is pretty straightforward and simple. A lot of the wells they drill are vertical, shallow wells. There may be some horizontal wells but they're still shallow, so each well can take just 14-to-20 days to drill, which is very good. And land rigs cost more like $30,000 per day."
Asia Pacific is a region that is not immune to the suffering being experienced by drilling companies elsewhere around the world, but drilling professionals located there benefit from the fact that it is the largest jackup market in the world.
"Because deep-water is suffering from the massive drop in the oil price, we've received more CVs from drillers who work on drillships and semisubs compared to those who work on jackups," Mike Guo – Spencer Ogden Regional Manager for Asia-Pac – told Rigzone, pointing out that a lot of shallow-water drilling is still going on in Asia-Pac.
Yet, even in mature basins such as the North Sea, there is still plenty of activity going on. For example, Norway intends to press ahead with development of the Statoil and Lundin Petroleum-led Johan Sverdrup field in its part of the North Sea in spite of the low oil price environment. This is targeted to produce up to 380,000 barrels of oil equivalent per day after phase one production begins in 2019.
GAS VERSUS OIL
Analysts and industry executives that Rigzone has talked to in recent months believe that energy companies exposed to gas development projects are in better shape than most, particularly if they are located in areas of the world where natural gas is relatively expensive compared to North America and where gas can be easily transported to where it is needed, e.g. Western Europe, North Africa and the Far East. So, focusing on getting employed on gas projects in these regions might be an option for energy workers with drilling skills.
One such project being developed in the UK is GDF Suez's Cygnus project in the North Sea's Southern Gas Basin. At peak production, this will produce enough gas to meet the demand for nearly 1.5 million homes.
Meanwhile, China has been very keen to increase its use of natural gas and has set a target for 2020 that gas should make up 10 percent of the energy it consumes from a current level of about 5 percent.
Spencer Ogden's Guo says that drilling activity on gas fields in Asia-Pac should continue to be strong "because lots of LNG project developments are budgeted, which means there are sufficient funds to support it".
In terms of unconventional gas drilling outside of the now well-developed shale gas industry in North America, some shale gas exploration activity is beginning to take place in Argentina and European countries such as the UK. In the UK, a study by Ernst & Young suggests that the number of new jobs that could result from a shale gas industry in the country might be as high as 64,000. However, it is likely to be some time before such an industry is properly established, particularly in the face of strong objection and action (legal and otherwise) from the UK's environmental lobby.
WHAT DRILLING SKILLS ARE IN DEMAND RIGHT NOW?
In terms of drilling skills that are still very much in demand right now, Vibeke Sam – Head of Learning at Maersk Drilling – told Rigzone that people with suitable subsea drilling and cyber drilling skills have been hard to find for some time.
Meanwhile, there remains a lot of demand for engineering professionals with extended reach drilling (ERD) experience, according to Spencer Ogden's Mazalov. ERD is the directional drilling of very long horizontal wells and it is particularly in demand in parts of the world where oil companies want to access offshore reserves from onshore locations.
"What extended reach drilling allows companies to do is reach reservoirs offshore by drilling onshore and having horizontal wells stretch for miles underneath the ocean floor, therefore eliminating the need for offshore rigs," Mazalov said.
"That's a technology that's up and coming. If you look at places like California, which has only a handful of offshore platforms, they will not allow any more large metal structures in the sea to spoil the view. I work with Occidental and they've got quite a large operation at Long Beach, California, where all they do is have onshore rigs sitting there and they do extended reach drilling. Apparently, there are quite a lot of reserves offshore California but for obvious reasons they won't let them stick a rig out there in the ocean."
There is also a lot of demand for ERD drillers from companies involved in Arctic operations.
"If you look at Alaska they can only technically drill offshore for three months per year, which is not a lot of time bearing in mind that an average offshore well takes three-to-six months to drill and complete. So, it doesn't give companies a lot of time to actually mobilize, get a rig out there, set it up, start drilling and then demobilize everything. It's just not possible. So companies operating in Alaska use ERD as a technique in a lot of their operations."
Yet, what is most important for drilling professionals looking to secure a job is proof that they possess the right skills and evidence that they have the right attitude towards their work.
"They need to be able to demonstrate their competency level by having the right certificates, good work experience and good appraisals of both their professional skills and behavioural skills," Maersk's Sam told Rigzone.
"After having been through many years of the 'what's in it for me attitude?' from some offshore employees we are looking for drilling professionals who also have the perspective of 'how can I contribute to make this company succeed?'"
Indeed, a more flexible attitude is likely to be a fact of life for anyone who wants to work offshore in a mature basin like the North Sea at the moment. For example, according to unions that represent energy workers, a number of oil and gas firms in the North Sea region are now expecting their employees to work extended shift patterns and even see paid leave sacrificed due to the low oil price environment.
Sam said that social skills – communication skills, leadership skills and conflict management skills – are also very important for anyone working on a rig.
"And within all positions: ambition, a positive attitude, enthusiasm and motivation, a stable career and so on weighs in the candidate's favor as well," he added.