To better promote the oil and gas industry as a place to work, and to better prepare students for an energy career, the University of Wyoming (UW) is ramping up its energy-related offerings, and has recently acquired a new oil and gas rig simulator to train students on, the school said.
UW joins a growing list of colleges and universities that realize the importance of a strong energy sector and are expanding their curriculum in oil and gas-related programs and coursework. At UW, the focus on energy is an outgrowth of the increased collaboration between industry and academia as oil and gas companies work to develop a pipeline of qualified students, particularly those with an educational background in the STEM (science, technology, engineering and math) disciplines
One of the proposed changes in the way energy is presented to students at UW is to separate the school's Department of Petroleum Engineering from the Department of Chemical Engineering, making each a stand-alone department, Dr. Vladimir Alvarado, associate professor of Chemical and Petroleum Engineering, told Rigzone.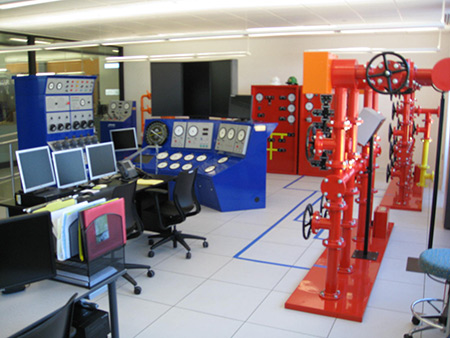 The University of Wyoming's Drilling Simulator Source: University of Wyoming
The department has been through the same cycles as the industry itself, Alvarado said.
"The Petroleum Engineering Department was once the largest department in the College of Engineering and Applied Science at UW, but it was merged with chemical engineering when enrollment fell due to a slow-down in the industry. Finally, the undergraduate program was shut down," Alvarado said.
When the energy industry began to be revitalized through the combination of horizontal drilling and hydraulic fracturing, it made sense to offer an undergraduate program in petroleum engineering again. So, it was restarted, and again shared a department with chemical engineering, Alvarado said.
"At the time, we had about 40 students in petroleum engineering. Eight years later, we have about 400 undergrads, and about 40 graduate students in petroleum engineering. Now, petroleum engineering dominates in terms of enrollment. With the growth, it now needs its own identity. Making it a separate department will allow each department to grow its own focus and gain more of an identity."
Another change that UW made to help prepare the growing number of energy students at the university was to acquire a new DrillSIM-5000 drilling and well control simulator. The simulator, which is in the Drilling Simulator Teaching Lab in the university's new Energy Innovation Center, is expected to help students become familiar with an oil and gas rig's mechanical operation. It also helps prepare students to handle well blow-outs and other potentially dangerous situations, according to the WyoFile, a non-profit news service focused on Wyoming.
The drilling simulator was funded in part by a $1 million dollar donation from WPX Energy Inc., and by $1 million in matching funds from taxpayer money.
"We received donations from companies that wanted to contribute, including WPX. They wanted to know what the best way to contribute to the energy department was. We decided the best way would be to enhance the school's drilling courses. We need to train good engineers. The drilling simulator will allow us to give students the closest experience to a real field situation, so they are not only better engineers, but also become more aware of the health, safety and environmental demands." Alvarado said.
Still another energy-related change at UW is the organization of something called the Engineering Initiative, which is still being developed, Alvarado said.
"The Engineering Initiative is not finalized yet, but it will have some indicators in several aspects of engineering, such as research, publications, graduate student programs, funding, and other areas. It is organized to create drivers in niche areas, including energy, energy conversion, computational science and engineering, and a few other niche areas. This will lead to research clusters that are intended to be multi-disciplinary, allowing for growth through the synergy of the various disciplines. There will be three clusters in energy, and one in computational science, as well as some other focus areas," he said.
THE SCHOOL OF ENERGY RESOURCES
UW's School of Energy Resources (SER) is funded by the state of Wyoming, and by the private sector. The mission of the SER is to "promote development of the human resources and know-how required to solve critical energy challenges faced by society," the school said. The SER places a strong emphasis on fossil fuels.
The three core objectives of the SER are:
To provide nationally competitive undergraduate and graduate instruction in energy-related disciplines, particularly those of importance to develop Wyoming's energy resources

To advance state-of-the-art, Wyoming energy-related science, technology and economics research

To support scientific and engineering outreach though dissemination of information to Wyoming's energy industries, companies, community colleges and governmental agencies
One of the focus areas of the SER is to exploit unconventional reservoirs that contain oil and gas resources that do not flow at economic rates, or that do not economically produce adequate volumes without stimulation or other recovery processes.
CHALLENGES FOR ACADEMIA AND INDUSTRY
While the energy industry has recovered from the recession and is now achieving record or near-record production levels, the academic institutions that educate students about the industry face challenges, Alvarado said, adding that despite the push to do cutting-edge research, the school must remember its core function.
"It's a real balancing act between conducting research and educating the students. We're strong in terms of research and funding, but we have to have the time to prepare undergrads to become the next strong generation of engineers. We cannot neglect this mission. Teaching is not just an instructional thing. We need to teach students to become ethical engineers, so they can make decisions that are safe for people and the environment, not just because the law requires it, but also because the students become aware of the need of having what we call sustainable development," Alvarado said.
It's not about being philosophical, but rather, pragmatic, Alvarado said.
"For example, the idea that we can produce a zero footprint is unrealistic, but what we are trying to do is to have economic projects while also restoring as much as we can. We have to think in terms of our own communities and our own environment, and making them as safe as possible, while being aware that there are always risks. We need to help students to keep all these considerations in mind. It is difficult to do that, and to also increase the attention of the students, but we need this, so they can become self-learners and realize what they need to do when they join the workforce."
The rapid growth in the oil and gas industry has created some challenges for the industry, too, Alvarado noted.
"The growth in the industry was hard to predict. It has been explosive. I hope it's sustainable. Having the high enrollment helps the industry, but there is still a gap in experience, and some of the more experienced workers in the industry are needed to stay on and help train and mentor the new workers," he said.
UW places a high priority on sustainability and leaving a small footprint, Alvarado said. The way the oil and gas industry is presented to students "is not all driven by a mindless bottom line. When we simulate a blowout, it's not just teaching about the limits of technology. It's also about people, the infrastructure and the environment. Doing the minimum that the law requires is not acceptable; we want the students to do more than that when they're out in the field."