As the downtrend in oil prices that began sliding in the third quarter of last year shows little signs of recovery, many companies in the petroleum industry are looking into ways of reviving their business fortunes.
Drilling contractors are among those hurt by the downturn in the oil and gas industry as field operators, including independent oil companies and national oil companies, have scaled back on drilling activities, particularly for exploration. Still, some drilling contractors in Asia are scouting for opportunities to carve a niche for themselves in the present industry environment.
Spending cutbacks by the industry are likely to exacerbate the woes faced by drilling contractors, including those in Asia, as dayrates are already under pressure due to an oversupply of rigs, including newbuild jackups from China.
"A number of offshore rigs … delivered in past months have not secured contracts for lease yet," Captain Wu Zi Heng, vice chairman and president of Cosco Corp. (Singapore) Ltd. said in a Feb. 16 press release announcing the Chinese firm's 2014 financial results.
Waldie agreed that the glut of rigs on the drilling market has seen "dayrates going down these days … we are seeing some cold-stacking as well."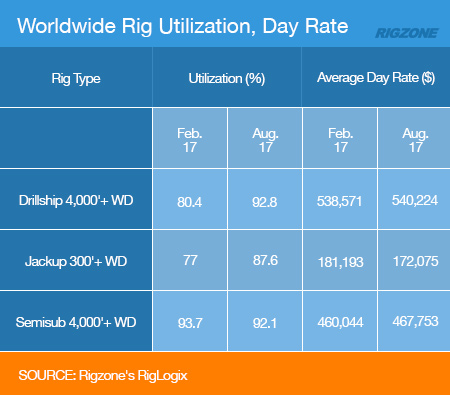 Worldwide Rig Utilization, DayRate
Prospects for dayrates for jackups are not rosy, according to DVB Bank's Vice President for Offshore Finance Sidat Senanayake, as approximately one third of the rig market is working in the exploration space, which has been affected by the industry's cost-cutting exercise.
Dynamic Drilling Pte Ltd., an Indian company based in Singapore with a focus on Southeast Asia, Indian Ocean, Middle East, Africa and Mexico, noted that drilling contractors are used to the ups and downs in the market as this is a cyclical industry.
Seen in that light and in spite of the current pressure on dayrates, Dynamic Drilling is optimistic about securing a contract for its jackup Dynamic Momentum (350' ILC), which is due for delivery in the fourth quarter of 2015 from Cosco Dalian's yard in China.
"We are already discussing contracts with the oil companies. The pricing is going to be low for the contract, but that is OK," Manav Kumar, director at Dynamic Drilling said at the Singapore Offshore Finance Forum.
Still, Dynamic Drilling is looking ahead to a more efficient rig industry, following the run-up in costs in recent years.
"We can tighten our belts … last 3 to 4 years have been great [for dayrates] but it has been a headache for drilling contractors because costs keep on rising. We were looking at between a 50 and 70 percent rise in manpower costs every year," Kumar explained.
With the current downturn in the market, "drilling contractors' rates are going to come down and the costs for drilling contractors are going to come down. This may be a good thing," he added.
Like Dynamic Drilling, Opus Offshore Pte Ltd. – another Singapore-headquartered drilling services provider – is currently holding discussions with oil and gas companies to secure contracts for its Tiger 1 (DW drillship) and Tiger 2 (DW drillship) that are being constructed in China.
Opus appeared confident about securing drilling assignments for the two conventionally moored drillships which can operate in water depths of up to 5,000 feet as they are more cost effective than their ultra-deepwater counterparts working in the mid-water segment.
"The oil price environment … is actually helping us because when we started [to build the Tiger drillships] our thesis was always that the market cannot sustain the capex that has been put into ultra deepwater and the accompanying operating cost. We are a fit-for-purpose company that actually reduces the cost of our clients significantly," Lau Chiat Siang, Opus Offshore's chief financial officer told forum participants.
Opus is trying to market its two Tiger drillships for work in Australia, India, Myanmar, Vietnam as well as East and West Africa.
"Indonesia is also going to have some new projects starting up and that probably would start in end 2015/2016," the Opus executive said.
The cold stacking of older rigs may generate some interest in the mid-water drilling space as "older capacity gets phased out and the low oil price may encourage oil companies to relook their capex plans and encourage potential investors that might see opportunities in a mid-water fleet refresh cycle that we have seen in the jackup space in 2008 and 2009, when the oil price dropped to $33 a barrel," Lau commented.