Deviating from its previously rosy outlook, the oil and gas industry within the past year has taken a more cautious view toward pursuing mega-LNG export projects in regions such as the U.S. Gulf Coast, Western Canada and Australia.
"The global collapse of LNG prices is the primary driver" behind the dampened enthusiasm for investing in multibillion-dollar, world-scale liquefaction projects, said Rick Margolin, senior natural gas analyst with Genscape, pointing out the price of LNG is tied to that of crude oil.
A combination of supply and demand factors has suppressed the momentum behind mega-projects, Margolin noted. On the supply side, Australia has brought on some very large projects and Qatar is angling to bring more LNG into the market, he explained. In terms of demand, a relatively mild summer last year has left Asian customers with healthy LNG storage inventories, he added. Furthermore, talk in Japan and South Korea of re-commissioning nuclear power plants idled in the wake of the 2011 Fukushima disaster has stifled expectations that the major LNG buyers will take on larger volumes of the fuel.
Not all investors are shying away from liquefaction projects amid the current slump, however. In fact, some are downright enthusiastic about the outlook for certain types of LNG export facilities. Take Martin Houston, for instance. The chairman of Parallax Energy and retired executive with BG Group plc is leading the charge to build the mid-scale Live Oak LNG project in Lake Charles, La.
"We are well positioned to succeed," Houston told Rigzone. "Our project is well researched, we are fully funded through to final investment decision, and we are supported by world-class experts and suppliers."
Less Than World-scale
Here is a list of several sub-world-scale projects dotting a growing LNG export landscape.
FOCUS ON RESULTS RATHER THAN SIZE
Multiple LNG industry professionals told Rigzone that there are no universally accepted size ranges that designate whether a liquefaction terminal belongs in the small, medium or large category.
"It's not clear-cut," said Jorge Ferreiro, LNG and floating storage and regasification unit (FSRU) specialist with the Uruguay-based oil and gas firm ANCAP. 
A "small-scale" facility may produce just 0.025 million tons per annum (MTPA) of LNG or it may produce 2 MTPA, noted John Hritcko, Houston-based senior vice president for oil and gas with TRC Companies, Inc. Liquefaction capacity for a "mid-scale" facility may range from 1.5 to 3 MTPA, he said, cautioning that that some in the industry simply disregard the term and classify terminals as either "small-scale" or "large-scale."
Parallax's Houston noted that it is preferable to focus on the function – rather than size – of a liquefaction project. A more apt description of the size of smaller projects may be "right-sized," he suggested. "Size doesn't matter – only results do."
"We think that the distinction between 'small-' and 'medium-' sized projects is somewhat overstated," Houston continued. "Today, the conversation should really be about who can effectively and efficiently deliver low-cost LNG, incrementally, to the market. Given the world's increasing demand for natural gas and the market's structural supply gap, all energy projects, regardless of size, are necessary to fulfill the world's growing energy needs."
"We are providing what the market is asking for; that is, smaller amounts of LNG that buyers can purchase incrementally and at lower cost," he explained.
REALIZING THE 'GOLDEN AGE' ONE CAPILLARY AT A TIME
Adding to Houston's "right-sized" descriptor, Ferreiro pointed out that smaller projects complement mega-sized liquefaction terminals.
"Small-scale is flourishing and filling in the vast capillaries of the small-scale value chains," he said.
Noting that LNG is one key enabler of the much-heralded "golden age of gas," Ferreiro said that smaller projects must become the norm before that vision can become a reality.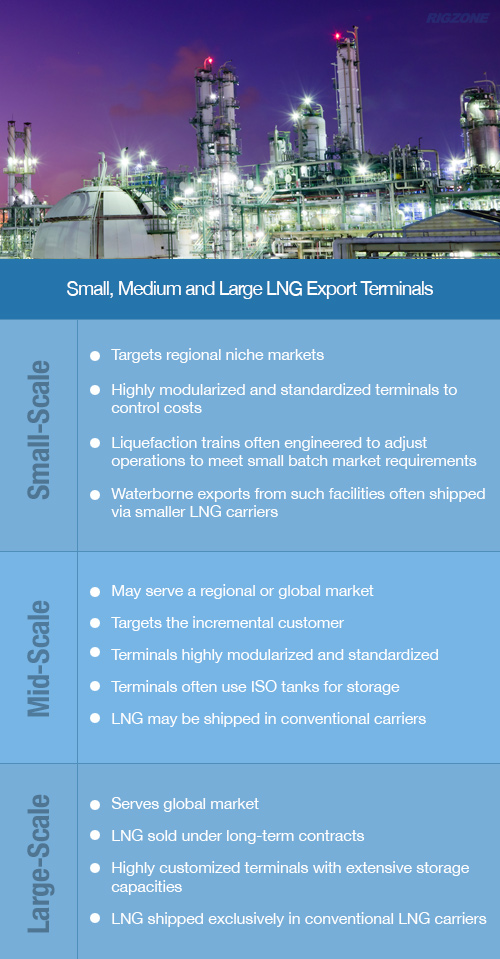 "Small-scale LNG will extend the breadth and depth of natural gas penetration with plentiful producers – not just big international oil companies and national oil companies but independents as well – and a plethora of consumers – not only big combined cycle gas turbines but also captive fleets of buses, trucks, taxis, ferries, tugs, and barges; industries and villages, etc. – connected through a dense mesh-like distribution network," he explained. "This will see the rapid expansion of related activities like LNG bunkering and the fleet of small LNG tankers."
Perhaps the most telling sign that a veritable democratization of LNG is underway is that compiling a list of smaller projects is much harder than it used to be, Ferreiro added.
"Keeping track of small-scale LNG developments, which was quite possible until now, is gradually becoming a huge challenge with all kinds of projects from small liquefaction plants, to service stations, to truck fleets, to bunkering mushrooming in every corner of the world," he said.
A key reason why smaller projects are becoming so numerous is that developers can leverage existing technologies, he noted.
"Small-scale facilities use well-known and proven technologies for LNG liquefaction, storage and transfer," said Ferreiro. "The margin for cost-effectiveness lies in the amount of modularization and standardization – that is, design one, build many. Conventional LNG, on the contrary, is always tailor-made – that is, design one and build one."
Parallax's investment in Lake Charles embodies the standardization and modularization approach. "The Live Oak LNG project uses a simple LNG facility design and proven technology," said Houston. "Remember, we are simply building a refrigerator – albeit a very large one. With Bechtel, we have selected one of the very best and experienced strategic partners to assist us in delivering this innovative LNG facility."
Smaller project developers' reliance on tried-and-true technologies does not apply in the case of floating LNG (FLNG), however, said Ferreiro. "While extensively researched, floating liquefaction is still quite new, with the first facility yet to come on-stream this year," he said, referring to Exmar and Pacific Rubiales' Caribbean FLNG project.
'ROOM FOR EVERYONE'
Smaller liquefaction projects may be more attractive to investors given the current oil and gas industry downturn, but experts interviewed for this article cautioned against assuming that large-scale facilities will somehow surrender their critical role in the LNG sector for the long term.
"As I've consistently said, the world continues to be structurally short of LNG despite indicators to the contrary," pointed out Houston. "As a result, we believe there is room for everyone is this marketplace."
"There's a lot of pessimism in the present market with how prices have collapsed, but those lower prices tend to inspire more confidence in consumers," added Margolin. "We still remain pretty bullish on demand growth for Asian markets. It's not just the U.S. and Canada. It is possible some U.S. and Canada projects with longer in-service dates – 2020 and beyond – will drop off the books, but some with nearer in-service dates have good prospects behind them. The terminals are well-located to get product out. Many of the U.S. projects have good infrastructure already in place, and our long-term North America supply/demand balances support the notion that U.S. and Canadian projects can provide cost-competitive supply into the global marketplace."
"The LNG business has weathered past industry downturns, but the market has matured, it's more interconnected and equipped with new technologies that have broadened our commercial capabilities," said Hritcko. "I have no doubt that we'll once again see a growing demand for natural gas driven by commercial, environmental and political considerations that take full advantage of innovative LNG solutions across the entire spectrum of applications from small- to large-scale."
"The perfect world of long-term contracts at oil-linked prices, high oil prices and financing largesse is over – presumable for some years, meaning fewer mega-projects will make it to the final investment decision stage," concluded Ferreiro. "However, they are still needed to fill in the bulk of the projected demand-production gap."