Singapore's two major offshore players manage to keep themselves busy in the second half of this year after a fairly slow first half, with orders for newbuild rigs trickling towards the total received for 2013.
While Singapore's Keppel Offshore & Marine (Keppel O&M) – a unit of Keppel Corp. Ltd. – and Sembcorp Marine Ltd. have been dealing with stiff competition from Chinese yards for quite some time, established China's shipyard Cosco Corp. is now feeling the strain posed by a more challenging business environment created by its domestic rivals. 
SINGAPORE YARDS EDGE NEARER TO 2013 RIG ORDERS
Both Singapore yards, Keppel Offshore & Marine (Keppel O&M) – a unit of Keppel Corp. Ltd. – and Sembcorp Marine Ltd., bagged 13 newbuild orders, consisting of 11 jackups and 2 drillships, by the end of November, according to Rigzone's RigLogix database. Last year, these companies secured 17 newbuild orders, comprising 15 jackups, 1 semisubmersible and 1 drillship.
Keppel O&M managed to match last year's total of eight jackup orders, while Sembcorp Marine received only three jackup orders in the same period, four less than in 2013 although it bagged $1.08 billion orders for two drillships from a subsidiary of Transocean Ltd. earlier this year.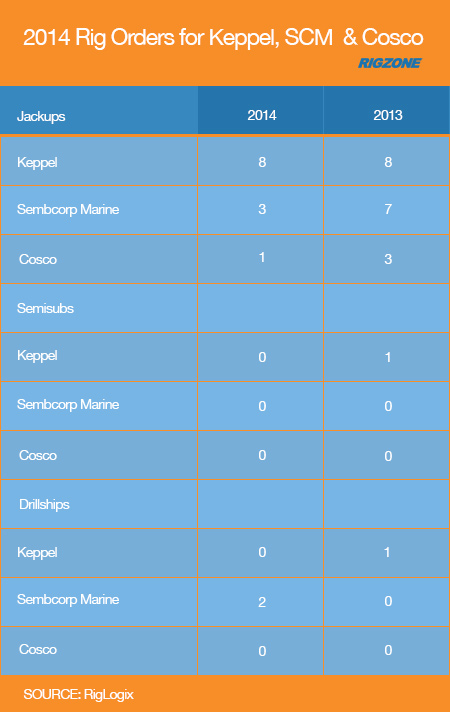 2014 Rig Orders for Keppel, Sembcorp Marine & Cosco
Qatar's Gulf Drilling International Ltd. ordered a KFELS B Class jackup – named Halul (300' ILC) – from Keppel for $227 million in September. In November, BOT Lease Co., Ltd. (BOTL) – an affiliate of the Bank of Tokyo-Mitsubishi UFJ – contracted the yard to build a Keppel Super B Class jackup Hakuryu 15 (400' ILC), which will be operated by Japan Drilling Co., Ltd. for $240 million.
China Oilfield Services Ltd. (COSL) is understood to have ordered a KFELS N Class jackup from Keppel for delivery in June 2016, according to RigLogix.
Meanwhile, local rival Sembcorp Marine secured only a single newbuild jackup order even as it won contracts for other offshore fabrication and conversion projects. The firm received its sole jackup contract from BOTL, which ordered a PPL Shipyard's Pacific Class 400 jackup – named Hakuryu 14 (400' ILC) – for $240 million.
Over in China, Cosco's appeal as a rig fabricator has slid further, with the firm managing to land only a single order to build a LeTourneau Super 116E Class design jackup for Switzerland-based Foresight Group International AG's unit Derwent Ocean Ltd. S.A. for $184 million. While other Chinese yards made inroads into the newbuild rig construction market, Cosco's attractiveness in the sector has declined despite the firm being an early mover in China's offshore marine segment.
"The Group now faces greater competition from an increasing number of players in the offshore marine engineering segment amidst sliding crude oil prices," Captain Wu Zi Heng, vice chairman and president of Cosco Corp. (Singapore) Ltd. said in a Nov. 3 press release.
Industry watchers noted that many Chinese shipyards have moved into the offshore segment in recent years to diversify their revenue streams due to an overcapacity in shipbuilding. While such development created intense rivalry between Chinese yards and their counterparts in South Korea and Singapore, it has now generated competition within China itself.
Prospects for firms like Cosco, despite its longstanding presence in the sector, are coming under pressure.
Such companies tend to suffer from "weak execution hiccups, longer-than-expected man hours, and underestimation of project costs … [In addition] Chinese offshore yards are more susceptible to deferment and cancellations risks in the light of weaker customer profile towards less established players/speculators, and balloon payment term of at least 90 percent upon delivery," Singapore's DBS Vickers Securities analyst Ho Pei Hwa said in a Nov. 4 investor report.
NON-RIG SEGMENTS SUPPORT SINGAPORE YARDS' ORDERBOOKS
While there was fairly lackluster demand for newbuild rigs, the order books for both Singapore shipyards were shored up by the offshore fabrication and vessel conversion segments as they closed several deals for these businesses.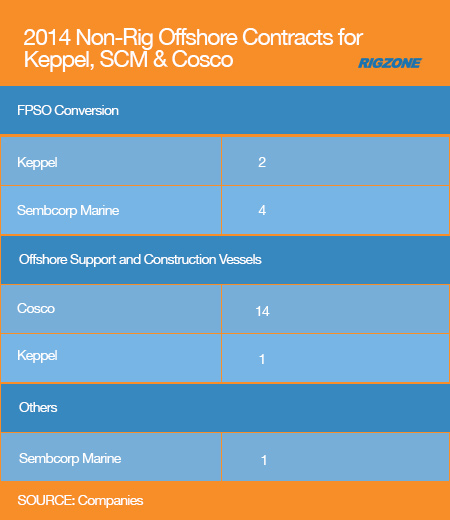 2014 Non-Rig Offshore Contracts for Keppel, SCM & Cosco
Up until the end of November, SembCorp Marine enjoyed greater success in the floating production vessel conversion segment than in rigbuilding, with contracts inked in the latter part of this year. The company's units, Sembawang Shipyard and Jurong Shipyard, each bagged two contracts for floating production, storage and offloading (FPSO) vessel conversions. 
In June, Sembawang Shipyard secured two contracts, amounting to $480 million, from Italy's Saipem S.p.A. to convert two FPSOs for the Eni S.p.A.-operated Kaombo Project, which is located approximately 94 miles offshore the coast of Angola. The 32-month conversion work on each of the two FPSOs will commence in third quarter of 2014 and first quarter of 2015, respectively.
When completed, each FPSO will have an oil processing capacity of 115,000 barrels per day, a water injection capacity of 200,000 barrels per day, a 100 million standard cubic feet per day compression capacity and a storage capacity of 1.7 million barrels of oil.
The Sembawang Shipyard's contracts were followed by new orders placed with Jurong Shipyard in October. Jurong Shipyard was engaged to convert the Navion Nrovegia shuttle tanker into a FPSO for OOGTK Libra GmbH & Co. KG – a joint venture between Brazil's Odebrecht Oil & Gas and Teekay Offshore – for $696 million. The FPSO, which can produce 50,000 barrels of oil per day and 141.25 million cubic feet (4 million cubic meters) of natural gas per day, will deploy for work at the Libra field offshore Brazil after vessel conversion is completed in the July to September 2016 quarter.
The same month saw Japan's Modec Inc. awarding Jurong Shipyard a FPSO conversion contract for the Tullow Oil plc-operated Tweneboa, Enyenra, and Ntomme (TEN) development project offshore Ghana.
Apart from its core offshore business in rig building and vessel conversions, SMOE Pte Ltd. – a subsidiary of Sembcorp Marine – secured a $190 million contract from Bechtel Corp. to construct a liquefied natural gas processing module for a project in Western Australia.
Like Sembcorp Marine, other offshore segments contributed to Keppel O&M's revenue stream, including two deals from Malaysia's Bumi Armada Berhad for FPSO conversion.
The first contract, penned in July, is for FPSO Armada Kraken, with the floating production facility scheduled to operate in the Kraken field in the U.K. sector of the North Sea after delivery from Keppel Shipyard to Bumi Armada in the third quarter of 2015. The second conversion order, placed by Bumi Armada in October, was for an FPSO to be deployed to the Eni-operated Angola Block 15/06 East Hub Project in 2016.
Other business areas that Keppel secured contracts included an order to construct a submersible barge for marine services firm Smit Shipping Singapore Pte Ltd. at its shipyard in Nantong, China. The Singaporean firm also landed a deal to design, build and outfit a subsea construction vessel for Baku Shipyard LLC to deploy for Stage 2 development of the Shah Deniz field offshore Azerbaijan in the Caspian Sea.
In contrast to its Singaporean rivals, which focused more on rigbuilding and FPSO conversion, Cosco's focus was spread far wider as demand for its services in these segments faded this year. Offshore contracts secured by the Chinese yard in the first 9 months included eight platform supply vessels, four subsea supply vessels and one each of jackup, accommodation barge, floating accommodation unit.
OUTLOOK GOING FORWARD
With prices of global benchmark Brent crude oil futures falling to $63.56 a barrel Dec. 10 from $110 a year ago, established offshore players in Singapore and China are preparing themselves for a reduction in capital expenditure (capex) by the petroleum industry.
Industry watchers noted while international oil companies planned to reduce capex in a bid to improve returns to shareholders, little change to capex was expected from national oil companies (NOC) as the latter seek to boost oil and gas production.
However, falling crude oil prices had even led a profitable NOC like Malaysia's Petroliam Nasional Berhad, or Petronas, to consider trimming its capex by 15 to 20 percent in 2015. 
"Shaky oil prices as oil companies heads into their year-end budgeting season could cloud decision making. This could lead to more cautious budgets," Yeak Chee Keong, Maybank Kim Eng Research Analyst said in an investor note last month.
Reduced capex by petroleum firms could "translate into slower order flows for oil- and gas-related plays, hence we would favor companies with strong balance sheets and good track records," Low Pei Han, an analyst at Singapore's OCBC Investment Research said in a Nov. 28 report.
Keppel O&M and Sembcorp Marine, who are among the world's largest rigbuilders, have the capacity to weather the current downturn in the crude oil prices, while Cosco could be in for rather tricky times ahead.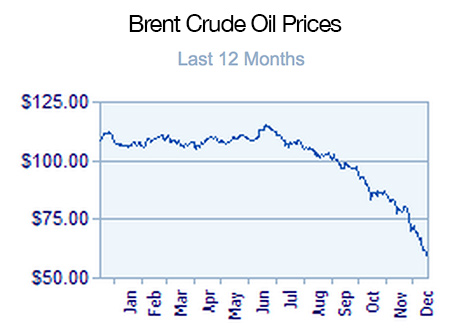 Brent Crude Oil Prices Chart for the last 12 Months Source: Rigzone
"Any further strengthening of the Chinese Yuan against the dollar and potential rise in general Chinese wages, prices of raw materials required for production as well as higher financing costs, and the entry of new players especially in the offshore marine segment, may exert even greater downward pressure on the operating margins of the shipyard operations of the Group," Cosco's Wu commented.