A longstanding plan by the Philippines to build liquefied natural gas (LNG) terminals to help the country diversify its energy mix and to address a more pressing issue posed by depleting resources at its only major gas field were given a nudge forward recently by two European majors.
Royal Dutch Shell plc and France's Total S.A. made moves earlier this year revealing their interests to progress plans for LNG terminals in the Philippines, where demand for the clean fuel has been crimped by a lack of LNG receiving options.
Industry players believe demand for natural gas in the Philippines has room to increase as it comprised only 6.42 percent of the domestic energy mix in 2014, down from 8 percent in 2011, data from the country's Department of Energy (DOE) showed.
Shell Considers FSRU Option
Shell has been mulling over plans for an LNG facility for some time as it is the operator of the country's ageing deepwater Malampaya gas field in Service Contract 38 located in northwest Palawan offshore western Philippines. The company said an LNG import terminal would help bridge the domestic demand for gas supplies pending the discovery and development of another gas field.
Malampaya's production now supports three gas-fired power plants that have a total electricity generating capacity of 2,700 megawatts (MW) in Luzon Island. Supply from the gas field is projected to deplete by 2024, Laura L. Sanguin, division chief of Natural Gas Management at the DOE, told Rigzone.
Shell's local unit, Pilipinas Shell Petroleum Corp., is finalizing the technical aspects of a front-end engineering design (FEED) study for an LNG facility to deploy to the Batangas Bay area by 2017, Sebastian Quinones, managing director of Shell Philippines Exploration B.V. (SPEX), the Malampaya project operator, said March 7 in the Philippine Star.
Pilipinas Shell hopes to deploy a floating storage regasification unit (FSRU) after finalizing the FEED study ahead of a final investment decision (FID) for the project. The SPEX executive said the company's investors and shareholders would only approve the project if there is a "good and viable plus-minus 10 percent estimate" on the total project cost.
"Probably, this would be hundreds and hundreds of millions again … I don't think [the FID] will be this year. It could be next year," Quinones said.
If the project is approved, construction of the FSRU should be completed in less than three years. Shell is pinning its hope on the FSRU as "it's too late to be able to develop something that can replace Malampaya. So, to bridge the gap between that would require LNG imports," he added.
Total Surveys Philippines for LNG Opportunities
Given its role as a major player in the global LNG industry, Total is constantly on the lookout for potential business opportunities in the sector. So it was perhaps unsurprisingly that the firm explored investment prospects in the Philippines' LNG sector. After all, Qatar's RasGas Company Ltd. CEO Hamad Mubarak Al Muhannadi, too, shared a similar observation when he said at an industry event in Singapore last October that the Philippines is an emerging new market for LNG.
Total's executives visited Manila in January and held talks with Philippines Energy Secretary Zenaida Y. Monsada, including discussions on a plan to build an LNG import facility. "They are planning to invest in an LNG terminal," Philippines' Energy Undersecretary Donato Marcos told the Manila Bulletin on Jan. 21.
The French major first mooted such an investment in the Philippines years ago and the latest development appears to be in sync with its upstream acquisition activities in Asia Pacific in recent years.
Total completed a $401 million transaction with InterOil Corp. in March 2014 to purchase 40.1 percent interest in Petroleum Retention License (PRL) 15 in the Gulf Province of Papua New Guinea (PNG), giving it ownership in one of the region's largest gas fields, including Elk-Antelope.
"Elk-Antelope is a significant project in Total's global portfolio and our presence in Papua New Guinea provides an ideal opportunity to grow our business in the Asia-Pacific region," Total Exploration and Production Senior Vice President Asia Pacific Jean-Marie Guillermou commented on the deal.
The company also acquired stakes in several blocks in PNG's Gulf of Papua region, including Petroleum Prospecting License (PPL) 244, as well as options in other licenses, such as PPL 339 in October 2012. 
In neighboring Australia, Total took a 30 percent stake in the Ichthys LNG Project, located offshore northwest Australia, with the development scheduled to commence production in 2017. The firm also has a 27.5 percent interest in the producing Gladstone LNG Project in Queensland, Australia.
First Gen Yet to Finalize Plans for LNG Terminal
Philippines firm First Gen Corp., now dependent on Malampaya gas supplies, is seeking future fuel sources for its power generation plants as the field's resources are expected to be depleted around 2024.
The firm plans to construct its own onshore LNG terminal at an estimated cost of $1 billion to import gas to fuel its two power generation plants – the 1,000-MW Santa Rita and the 500-MW San Lorenzo units – in Batangas, Luzon. Another two power plants, the 97-MW Avion and 414-MW San Gabriel units now under construction in Batangas, will rely on Malampaya gas upon start-up later this year, but will eventually have to switch to imported gas.
First Gen President and Chief Operating Officer Francis Giles Puno said March 15 that his firm is prepared to partner local or foreign companies to develop the proposed LNG receiving, storage and regasification terminal as the expected depletion of Malampaya gas would start as early as 2022.
Puno's views were echoed by SPEX's Quinones, who indicated that Shell is still open to partnerships given the huge interest in LNG.
"We are always talking to as many people as we can … We are all aiming to achieve an LNG facility," he said.
Meanwhile, Japan's Osaka Gas Co. Ltd. has held discussions with Manila Electric Co. regarding a $2 billion integrated LNG project, covering a terminal and a power plant, in the country.
Gas May Have a Bigger Role in the Philippines
Gas is likely to have a larger share of the Philippines' energy mix after the country agreed to a 70-percent reduction in greenhouse gas emission by 2030 at the recent United Nations Climate Change Conference in Paris.
"Given the commitment to climate change, there is a bigger role for natural gas as a transition fuel," DOE's Sanguin told Rigzone.
The DOE in a Jan. 26 presentation to the Committee on Energy of the Philippines' House of Representatives reported that the country would need 72,922 gigawatt hour (GWh) of electricity in 2030 and 34.3 percent of these needs would be derived from natural gas. This represents a growth of around 150 percent of power generation supplied by natural gas. The additional demand could only be met by imported LNG as local supplies from Malampaya are already committed.
Despite the interests of several LNG investors, the DOE official said growth in Philippines' gas demand is not expected to increase sharply due to competition from cheaper alternatives, mainly coal, as well as the availability of renewable energy resources such as geothermal and hydropower. DOE data showed that renewable energy and coal comprised 53 percent and 28 percent of the domestic energy mix in 2011, respectively.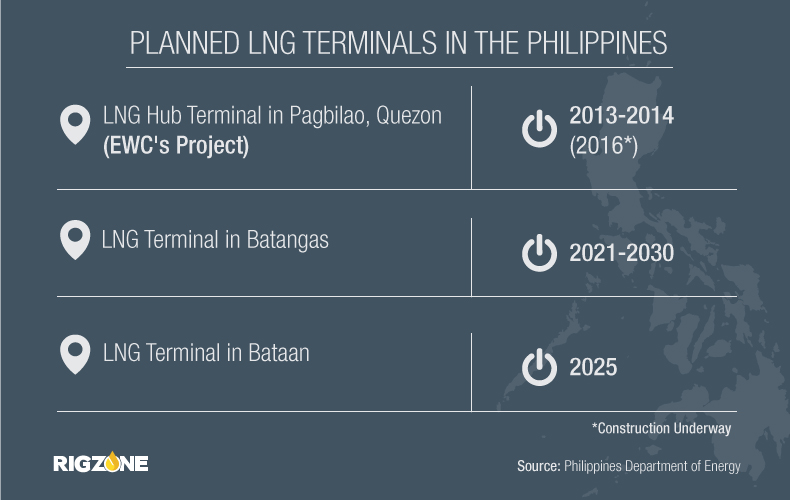 Therefore, the number of LNG terminals the Philippines might need is limited.
"Maybe a maximum of two but most likely one as local gas demand is not so big because other energy sources are being promoted," Sanguin said.
That may be the main factor contributing to the delay in getting the LNG terminal projects off the ground.
"Right now, Shell is looking for anchor customers for its FSRU project and they are looking at the 2017-2018 timeline to get the confirmed market," Sanguin said.
Industry watchers assessed that First Gen's LNG terminal project may have a higher probability of realization given its existing customer base. While the company prefers a land-based terminal, possibly with a capacity of 3 million tons per annum and that may take three years to build, First Gen may opt for an FSRU in the interim to test market demand before construction of the onshore LNG terminal.
Meantime, the Philippines LNG sector is not expecting any major developments in the near term as the current president winds down his term in office ahead of presidential elections in May.
"Major decisions on [Philippines] LNG projects will have to wait for the next administration," DOE's Sanguin said.
One project scheduled to become operational in the country this year is Hong Kong-based Energy World Corp. Ltd.'s (EWC) Philippine LNG Hub in Quezon Province in Luzon. The project had originally been targeted for operations in late 2014 or early 2015.
Facilities for the Philippine LNG Hub comprised a LNG storage tank with a capacity of 4.59 million cubic feet; a jetty, as well as a receiving and re-export terminal for berthing, unloading and reloading LNG ships; a regasification facility and related support facilities.