Tensions between China and its neighbors over the disputed energy-rich territories of East and South China Seas oscillated between confrontation and cooperation in 2014, with development of potential petroleum resources remaining hostage to the changing relations.
Frosty Sino-Japanese ties were focused on a potential flashpoint at the Senkaku (Japanese) or Diaoyu (Chinese) islands in East China Sea, while China's unilateral moves in the South China Sea – as it moved towards exploration and development of petroleum resources in the contested waters – heightened tensions with the 10-membered Association of Southeast Asian Nations (ASEAN), especially the Philippines and Vietnam.
REMOTE PROSPECTS FOR UPSTREAM DEVELOPMENTS IN EAST CHINA SEA
China has always been active in looking for energy resources to boost economic growth since opening up the country to foreign investments in the late 1970s. Recently, the International Monetary Fund reported that China overtook the United States as the world's largest economy for 2014, with economic output of around $17.6 trillion compared to $17.4 trillion for the United States, Forbes said Dec. 7.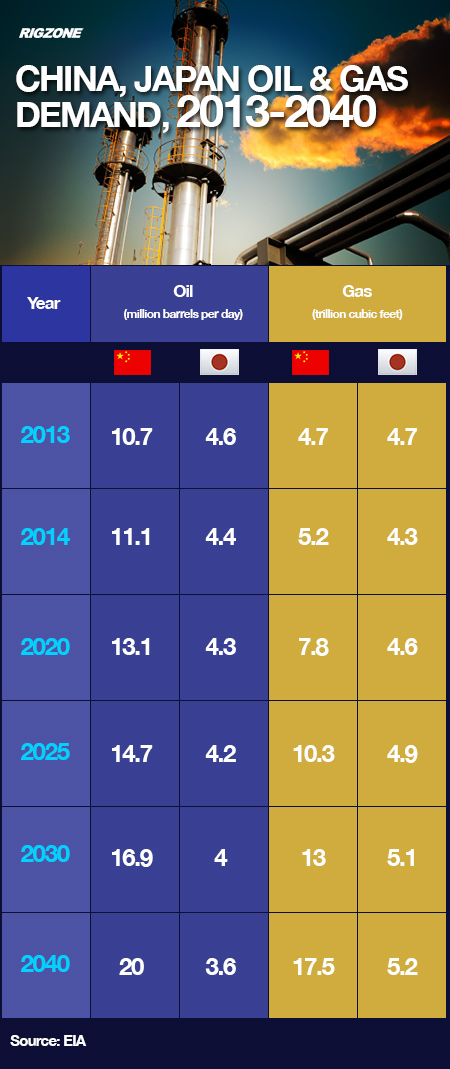 China's energy consumption has risen to keep pace with a growing economy. Its oil demand is expected to almost double from 10.7 million barrels of oil per day (MMbopd) in 2013 to 20 MMbopd, while the corresponding increase in gas consumption will be from 4.7 trillion cubic feet (Tcf) to 17.5 Tcf, figures from the U.S. Energy Information Administration (EIA) revealed.
In contrast to strong energy demand growth in China, Japanese oil needs during this period are expected to decline from 4.6 MMbopd to 3.6 MMbopd, while gas consumption may post a marginal increase from 4.7 Tcf to 5.2 Tcf, EIA reported.
The Sino-Japanese dispute in the East China Sea centered on a territorial row over the Diaoyu/Senkaku islands, currently occupied by Japan. Both countries are keen to control the islands given its proximity to important shipping lanes and rich fishing grounds as well as potential oil and gas reserves. The mostly underexplored East China Sea contains around 200 million barrels of oil in proved and probable oil reserves, while similar reserves of natural gas were pegged at between 1 and 2 Tcf, the EIA said in its September report.
Tensions between China and Japan escalated beyond the intrusions of Chinese naval vessels into the disputed waters near the Senkaky/Diaoyu islands. In late 2013, China imposed a new air defense identification zone (ADIZ) – covering the airspace over the disputed islands – in which aircraft flying through the zone are required to comply with its rules.
Japan responded to the Chinese moves in East China Sea through diplomatic channels. The country's Prime Minister Shinzo Abe secured the support of U.S. President Barack Obama, who stated during a visit to Asia in April that the U.S.-Japan security treaty covers the Senkaku/Diaoyu islands. However, Obama stressed the need for both countries to resolve the territorial dispute peacefully.
Sino-Japanese tensions were further heightened in late May when Abe told delegates attending the Shangri-La Dialogue in Singapore that "Japan will offer its utmost support for the efforts of the countries of ASEAN as they work to ensure the security of the seas and the skies," BBC News quoted the Japanese premier as saying.
A thaw in the icy relations between the two countries occurred in November when Chinese President Xi Jinping met Abe during the Asia-Pacific Economic Cooperation meeting in Beijing – the first between the two heads of government since they assumed office. The meeting led to an agreement to start work on maritime crisis management – suspended after Japan nationalized three of the disputed islands in September 2012 – which allow direct communication between Japanese and Chinese vessels and aircraft.  
"What is important is that we now have a maritime communication mechanism which will help us to avoid unforeseen circumstances, accidents or incidents. We have high expectations of this becoming operational," Abe told The Economist in early December.
While the slight improvement in Sino-Japanese relations is positive for the region, upstream energy firms seeking to develop potential oil and gas resources in East China Sea are not expected to realize their goal any time soon.
CHINA UPS STAKES IN SOUTH CHINA SEA
Compared to East China Sea, China was more engaged in the South China Sea – a region which the EIA estimated contained around 11 billion barrels of oil and 190 Tcf of natural gas.
China's position in the South China Sea territorial spat appeared to have hardened since President Xi took office and the assertive "moves are undoubtedly motivated in part by a desire to control the resources of the sea bed," The Economist commented.
Major Incidents in East China Sea, South China Sea in 2014
April: President Obama says the U.S.-Japan security treaty covers the disputed Senkaku or Diaoyu islands in East China Sea
New U.S.-Philippines Defense Pact
May: China's HYSY981 Ultra deepwater semisub deploys near Paracel Islands, anti-Chinese riots in Vietnam
Sept: CNOOC discovers gas at Lingshui 17-2-1 deepwater well in South China Sea
Nov: China's President Xi and Japan's Abe meet for the first time, agrees to work on maritime crisis management
China builds air strip on Fiery Cross Reef in South China Sea
Vietnamese warship makes port call to Philippines
Dec: China declines international arbitration for South China Sea dispute with Philippines
 
Southeast Asian countries – namely Brunei, Malaysia, the Philippines and Vietnam – are challenging Chinese territorial claims in the South China Sea, with regional concerns mounting after China added an aircraft carrier to its naval fleet.
The Philippines inked a new defense pact with the United States April 28 ahead of President Obama's visit. The agreement called for greater cooperation between the two military forces and allowed the United States to establish a temporary, "rotational" presence at the Philippines' bases around the country, the Wall Street Journal reported. 
In turn, China deployed Hai Yang Shi You 981, or HYSY981 (UDW semisub), in early May near the disputed Paracel Islands – located within Vietnam's 200-mile exclusive economic zone – for an exploration drilling campaign. The Chinese move provoked an escalation of its territorial spat with the Vietnamese, triggering anti-Chinese riots in Vietnam, which resulted in at least six deaths and 200 injured, Reuters reported, while Chinese and Vietnamese naval vessels skirmished in the contested waters.
Soon after HYSY981 completed its assignment near the Paracels, China National Offshore Oil Corp. (CNOOC) deployed the semisub to drill the Lingshui 17-2-1 deepwater exploration well off Hainan Island in the South China Sea. This produced CNOOC's first independent success in deepwater drilling, when HYSY981 found gas at the Lingshui well.
While CNOOC's success was greeted with optimism domestically, there were concerns that this deepwater discovery could lead to an extension of Chinese exploration to the disputed waters of the South China Sea, causing political, diplomatic and potential military complications with neighboring countries.
"Exploration for deepwater oil and gas reserves help China demonstrate its control over contested regions of the South China Sea, while also allowing China to discover [and eventually extract] badly-needed energy sources," The Diplomat commented in September on the implication of the Lingshui gas find.
Diplomatically, the protagonists in the South China Sea dispute explored ways to lower tensions in the contested waters, with China holding talks with Vietnam and the Philippines.
China and Vietnam agreed to handle maritime disputes through dialogue, with Vietnamese President Truong Tan saying his country was ready to "properly deal with maritime issues through friendly consultation so that the issues will not affect its relations with China," Xinhua news agency quoted Truong in a Nov. 10 report.
Meanwhile, the presidents of China and the Philippines met for talks in the same month, with bilateral differences in the South China Sea among the subjects discussed by the two leaders.
"There was factual layout of the … issues, where we were, where we are and where we will be. [On] most of the general points, we had a meeting of the minds … South China Sea was mentioned in passing … There was mention of finding constructive ways to solve this," President Benigno Aquino told Reuters.
Despite these diplomatic efforts, there remains deep mistrust about each other's intentions in the South China Sea dispute. In late November, Vietnam's two most powerful warships, Russian-built missile frigates, made the country's first-ever port call to the Philippines.
"We are trying to hold joint patrols and operations in the Spratlys, including search-and-rescue operations … We are not trying to challenge China's naval superiority in the disputed area. We have no intention to heighten any tension," a Philippine naval official told Reuters.
On its part, China continues to do what it deems necessary to assert sovereignty over the South China Sea. Beijing was reported to be building an island on Fiery Cross Reef in the Spratly Islands which is potentially large enough to accommodate its first offshore airstrip in the disputed waters, Reuters said Nov. 21, quoting defense publication IHS Jane.
"The construction has stoked concern that China may be converting disputed territory in the mineral-rich archipelago into military installations," Reuters added.
Separately in early December, China revealed that it does not plan to submit for international arbitration a territorial dispute in the South China Sea with the Philippines after the latter filed the matter in 2013 with the Permanent Court of Arbitration in The Hague, The Netherlands.
"China's right to freely choose the means of dispute settlement must be fully respected, and its rejection of and non-participation in the present arbitration is solidly grounded in international law," China's Foreign Ministry's position paper said, as quoted by The World Street Journal.
What transpires in 2014 in the East China Sea and South China Sea certainly highlights the complexities in relations between China and its Asian neighbors. The oscillating relationships, with their inherent geopolitical, economic and military uncertainties, do not offer a conducive investment climate for oil and gas projects in the disputed regions, at least in the near term.