In the final days of 2014 when the price for Brent crude first fell below $60, many pundits predicted it would quickly rebound to the $65-75 range (and a few even higher), followed by a partial rig market recovery. In very short order, however, those predictions have been revised downward and now talk of Brent crude hitting $75 or higher by 2017 is questionable in some corners. According to RigOutlook, a multi-year forecast of the global offshore rig market, Brent crude prices will remain range-bound through the end of the forecast period in mid-2018.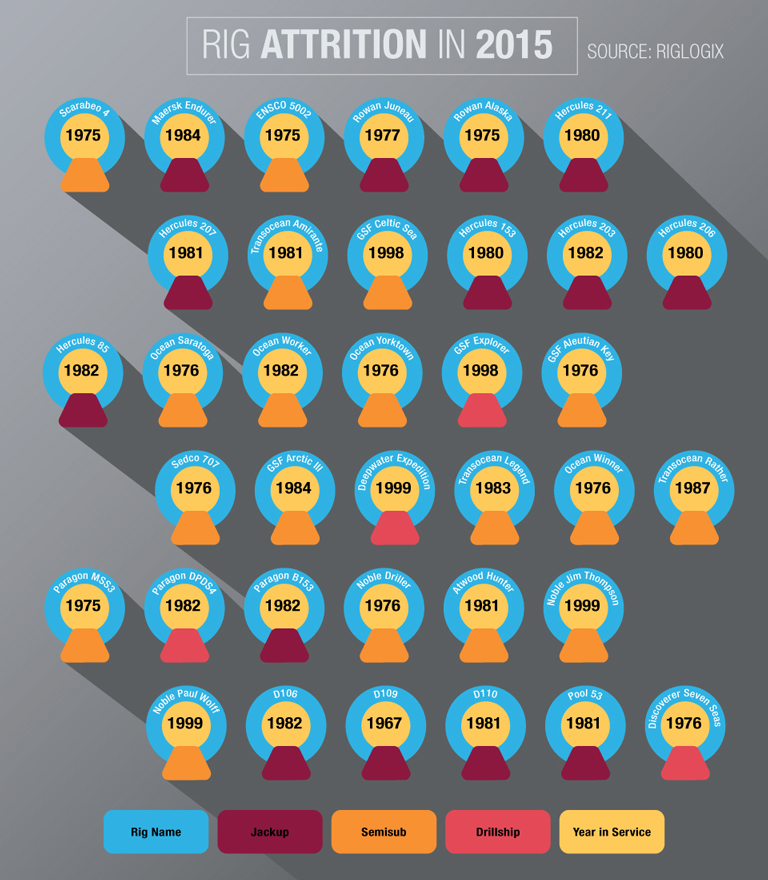 The subsequent gap created between rig supply and demand that began in late 2014 is widening every month. As of Oct. 1, worldwide offshore rig utilization for competitive jackups, semisubmersibles and drillships was 63.2 percent, with 459 of 726 rigs under contract. Competitive rigs exclude those owned by state oil companies or those restricted to a specific geographic area. One year ago, 592 of 736 rigs were contracted for utilization of 80.4 percent. While the number of rigs under contract has fallen by 133 in just the past year, indications are that a continued decline is probable during the final three months of 2015, likely continuing into 2016 as well. According to data from RigLogix, there were 67 rigs (40 jackups, 19 semis and eight drillships) that have contracts ending in the final three months of 2015. Of the 67 rigs, 24 (14 jackups, nine semis and one drillship) have follow-up contracts or options that could keep them working beyond this year. For those that receive contract extensions, they will come at greatly reduced day rates, but rig owners will, in most cases, be happy to keep the rig working even it is at a day rate that is just slightly above or at operating cost.
The other primary impact to future rig utilization will be new construction deliveries. Several rig owners have negotiated to delay delivery of some rigs, and in a few cases opted to cancel shipyard contracts and not take delivery at all. In addition, some newbuilds have been put up for sale. As of Oct. 1, there were 105 jackups on order or under construction, but only 10 of those have contracts in place upon delivery. For the remaining three months of 2015, there are 27 jackups scheduled to be delivered, just two having contracts in place, making it safe to say 2015 deliveries will negatively impact utilization. For floating rigs, there were 72 semis and drillships being built as of Oct. 1. Only six are scheduled to be delivered by the end of 2015, and three of those have contracts in place. At present, 27 are slated for delivery in 2016, with 11 of those contracted. However, we expect scheduled delivery dates to continue to be pushed to the right as current market conditions remain in place. In one instance, a rig owner cancelled a construction contract with the shipyard with the rig just months away from completion after the rig owner and operator failed to come to an agreement on a reduced day rate for the upcoming contract. We do not expect this to become a widespread occurrence, but it would not be a surprise to see it happen again. Some rig owners have stated they may be forced to make similar decisions if they are not able to secure a day rate to service the rig debt.
Lastly, rig attrition has slowed considerably after the flurry of retirements in late 2014 and early 2015, but we expect to see the pace pick back up in the coming months. In the first nine months of 2015, 36 rigs were removed from the fleet, consisting of 18 semis, four drillships and 14 jackups. In comparison, there were 30 units removed from the active fleet in all of 2014 and just seven retirements in 2013.