Pundits have been predicting the demise of the Gulf of Mexico (GOM) shelf for more than 20 years, and while the number of wells drilled and rigs working has declined, somehow the area has continued to survive. However, the current downturn has resulted in a large number of jackups being cold stacked or retired, and more of each is expected in the coming months. With just a handful of operators accounting for all current jackup drilling in the Gulf, many are now wondering what the future holds for this market.
In May 2005, just 10 years ago, there were 114 jackups in the Gulf of Mexico. As of May 15, that number had fallen to just 46, a decline of nearly 60 percent. Ten years ago, there were 97 marketed jackups, defined as those rigs being actively marketed for work by rig owners. Today, there are just 20 such units, a 79 percent drop. Finally, there were an average of 90 jackups under contract in 2005 and average utilization of the marketed fleet was 96.5 percent. As of May 15, there were only 10 jackups contracted for marketed fleet utilization of just 50 percent.
In 2005, there were 11 rig owners marketing and working jackups in the Gulf of Mexico, but that number has been reduced by 63 percent to just four in May 2015. ENSCO, Rowan and Hercules Offshore are actively working jackups while Spartan Offshore recently completed a contract and hasn't had any working units as of mid-May. Diamond Offshore and Nabors also have jackups in the region, but they are all cold stacked and not marketed for work.
These numbers clearly illustrate how far the market has fallen in just 10 years, but it has not been a straight line decrease. Despite the overall drop in fleet size and number of working rigs, the market has experienced some very strong utilization and day rate periods since 2005, with the most recent coming within the past couple of years. However, the sharp fall seen in the past 8-to-9 months shows how fragile the GOM jackup market actually is. Unlike many international areas, very few jackups in the Gulf are under term contracts, and the well-to-well nature of most contracts make it easy for many rigs to be released very quickly. For example, in early November, there were 34 marketed jackups, 14 more than today. Of the marketed jackups, 21 were under contract, more than doubling today's 10. The leading edge day rate for a 300-ft, independent-leg cantilever jackup (IC) was $130,000 then versus $85,000 today. Just one year ago in May 2014, 30 of 36 marketed jackups were contracted and utilization was 83.3 percent.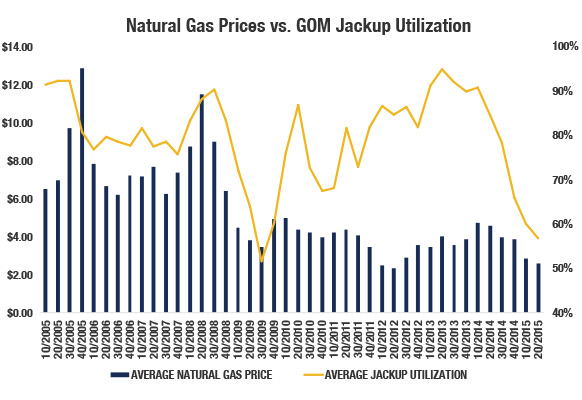 Natural Gas Prices vs. GOM Jackup Utilization, Source: Rigzone Data Services
Historically, GOM jackup utilization was tied primarily to natural gas prices. As Figure 1 shows, the two mirrored one another extremely closely into early 2010 but began to change and eventually ended in early 2012 when prices hit $2.50. Since that time, the correlation between prices and utilization has not existed. Fortunately, oil prices in early 2011 had risen to well over $100 and operators quickly shifted their drilling and production to focus on the oil-bearing blocks in their inventories. As a result, most jackup owners in the Gulf were able to secure term contracts for a portion of their fleets. At the same time, jackup demand elsewhere was also increasing, and many contractors began getting longer-term, higher day rate contracts internationally. As these opportunities became more prevalent, some rig owners did all they could to move as many of their premium jackups out of the Gulf as was possible, and thus supply began to fall.
In April 2010, the Macondo accident occurred in the deepwater Gulf of Mexico; the results were more stringent environmental and rig equipment upgrade requirements with the mandate that they be implemented on all rigs in the GOM, including the jackup fleet. Under these stricter guidelines, the time it took for new well permits to be approved went from what had been a relatively short period to several months in some cases. Luckily, approval time for non-drilling permits was not impacted much, so some rigs were able to keep working. Nevertheless, jackup utilization was negatively impacted as operators would not contract a rig until the permit was approved so many units sat idle while operators waited. Fortunately, since then the process has been streamlined and the wait time, while not as short as it once was, is much improved.
Well permit approvals are another key indicator used in helping analyze the GOM jackup market. Figure 2 displays the annual number of new well and sidetrack permits approved by the Bureau of Ocean Energy Management (BOEM) since 2005 along with average annual jackup utilization. The permit numbers clearly show the overall decline in new well permit approvals starting in 2009. Sidetrack permit approvals are also down overall, but not by the same amount as new well permits. However, utilization starting in 2009 actually increased through 2013, but obviously new well and sidetrack drilling were not the primary cause of the rise in jackup usage. The improvement can be attributed to non-drilling activities, i.e. well completions, workovers, plug and abandon (P&A) operations, etc., and in fact those activities continue to account for the majority of jackup activity today.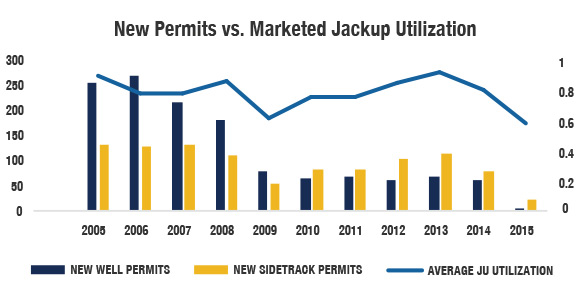 New Permits vs. Marketed Jackup Utilization, Source: Rigzone Data Services
THE PEMEX EFFECT
The impact of Mexico on the U.S. Gulf jackup fleet must also be addressed, particularly with recent events there. Ever since PEMEX began taking jackups from the GOM for the Bay of Campeche, the question was always what would happen if and when all these rigs were released, the fear being that demand in the GOM would not be able to reabsorb the supply. Fortunately, PEMEX never used the 30-day cancellation clause every contract had in it, that is until now. The operator has recently early terminated several jackup contracts on rigs that were originally moved there from the GOM. One rig owner, Paragon Offshore, has five idle jackups in Mexican waters and will add three more to that total by the end of May. It is expected that all eight will be moved back to the GOM, probably starting in June. These rigs were owned by Noble Corp. when they originally departed the GOM, and at the time the company said it would not be marketing the units in the GOM even if they were to return after the contracts ended. It remains to be seen if Paragon will continue that marketing stance, but it is believed they will maintain that. Either way, however, there will be at least eight more jackups added to supply here within the next few months. And Paragon is not the only U.S. contractor with jackups scheduled to be released in 2015. PEMEX also early terminated two contracts with Diamond Offshore, but it is still unclear when in 2015 those rigs will actually be released. If these two rigs are not retired, it is likely Diamond would move them back to the GOM for cold-stacking. The bottom line is that jackup supply in the GOM is about to increase, but if they are not marketed for work the impact on day rates will be minimal.
The current leading edge day rates for 300'-IC units was mentioned earlier. Other segments of the jackup fleet have seen similar declines. Within the 200' mat-supported, cantilever (MC) fleet, leading edge rates have fallen from a high of around $110,000 last year to $70,000 today, a 36 percent fall. For 250'-IC units, market rates have gone from a high of $127,500 to $75,000 for the most recent contract, a 41 percent decline. Finally, the leading edge rate today for a 350' and greater IC jackup is $75,000. In the second-half of 2014, that same rate was $130,000, meaning a drop of 42 percent.
WHAT DOES THE FUTURE HOLD?
As for oil and natural gas prices in the future, the Energy Information Administration (EIA) predicts that gas prices are not going to rise to levels that would create any significant rig demand. Oil prices, on the other hand, are in many circles forecast to gradually increase, with the price for Brent crude possibly hitting $75 or higher by the end of 2015 or early 2016. That alone would likely create some amount of rig demand as operators would likely move some currently delayed projects back to the front of the line. Another school of thought says as oil prices rise, onshore U.S. operators will begin ramping production again and the increased production will drive prices back down. Nevertheless, for those companies that operate in the GOM, oil price recovery is critical to keeping the existing rigs working and possibly adding a few more to the count.
There will always be a small number of operators that will be able to make money in the Gulf, but term contracts for rig owners will by and large be a thing of the past. With the exception of a few high-specification units managed by Rowan, most of the jackups in the area now will remain tied to the GOM as age, capabilities and other market factors will prevent them from moving elsewhere. In fact, many will ultimately end up scrapped, but this will be a necessary move as the remaining opportunities in the region will make it less economically attractive to keep older, excess equipment on the sidelines.
In summary, the future supply and demand outlook for jackups in the Gulf of Mexico is not overly optimistic. Very few exploration drilling opportunities remain and production decline curves are getting shorter every year, reducing even development drilling. In fact, most known upcoming work during the next several months involves mostly well completion and P&A activities, so any new rig contracts will be for a well or two here and there and rig owners should expect some idle time between that work. Day rates will remain at current levels, with perhaps a bit of downward movement, but we do not foresee any substantial declines.