Rex International Holdings, a Singapore-based independent oil exploration and production (E&P) company, is leaning on in-house technologies to grow its upstream asset portfolio, including "giant" oil fields around the world.
The firm's technologies – including key component Rex Virtual Drilling (RVD), an algorithmic software which analyzes existing seismic datasets to identify the location of liquid hydrocarbons in the ground during the exploration stage – has been employed since 2008.
RVD has been used to scan hundreds of opportunities and contributed to an oil discovery in Block 50, offshore Oman in February 2014 and at the South Erin Block in Trinidad & Tobago, where drilling commenced in May 2014.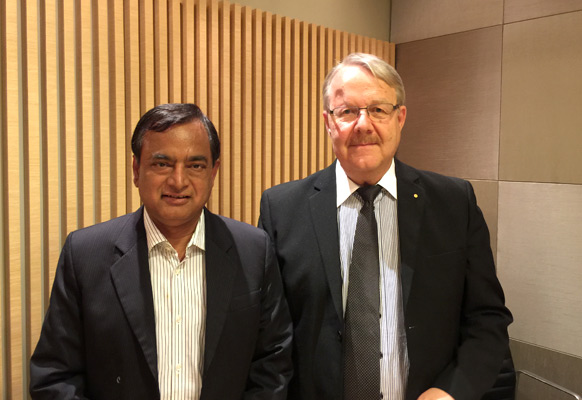 Dr. Rabi Narayan Bastia, Rex's Geological Adviser (left) and Hans Lidgren, Rex's founder (right). Source: Rigzone
"Today, we have already scanned more than hundreds [of] opportunities and we have a plan to scan up to 200 different opportunities [in 2015]. This year, we launched a new version of the technology," Hans Lidgren, Rex's founder and CEO of Rex Technology Management told a 14 media briefing in Singapore April 14.
TOOLS FOR THE JOB
Rex – listed on the Catalist Board of the Singapore Exchange Securities Ltd. in July 2013 – mainly focuses on acquiring under-evaluated and undervalued concessions in favorable fiscal regimes so as to develop and maximize their asset potential across the E&P process at reduced risks. Its participation in drilling prospects also hinges on whether the concessions have at least 50 million barrels oil recoverable.
Apart from RVD, the company's other key exploration technologies include Rex Gravity and Rex Seepage, both tapping on satellite data.
Rex Gravity is an algorithmic software that creates high-definition gravity anomaly maps to identify areas to target for seismic data acquisition, while Rex Seepage is a similar software that creates slick detection data charts based on thermal satellite imaging to find areas to focus on for the acquisition of seismic data.
"What we have done in a computer system is we have built up a receiver, a receiver which can tune in oil frequencies or condensate frequencies or water frequencies and listen to them and try to understand where are these signals coming from," Lidgren explained.
Through these technologies, Rex believes that companies can actually "see" oil in the ground and reduce their exploration risk considerably, while increasing their drilling success rate.
"The normal industry has a 10 to 15 percent average [drilling] success rate, we hoped that we will have an average of 50 percent … [Exploration drilling] is expensive and … high risk but on the other hand there is also high reward," Lidgren added.
Having its proprietary technologies has provided Rex with some flexibility as a business entity.
"We are expanding our client base when it comes to our technology. We use it for our own benefit. We use it internally to grow our exploration arm but we also offered [it] to others. So we expect to grow that," Kristofer Skantze, Rex's chief operating officer (COO) explained.
PROVING UP OIL RESOURCES IN CURRENT MARKET SLUMP
Given the current pessimism in the petroleum industry, with oil prices hovering around 50 percent of the level it stood at mid-2014, Rex hoped to capitalize on lower exploration cost to expand its oil resources for a drilling program this year.
"Drilling a well today … is about half the price compared to a year ago … [You have] probably two years where you have these possibilities to do your exploration work at a much, much lower price and fill up with discoveries so when [oil] prices go up, we have something to bargain about, something to sell out or something to work with ourselves," Lidgren elaborated.
The Rex Founder said in response to a Rigzone question during the media briefing that field operators of its joint venture blocks – including Lundin Norway AS and North Energy ASA – have already secured most of the drilling rigs required for the 2015 program in the North Sea.
Rex believes that its in-house technologies would come in handy in Norway, where the firm is focusing most of its upstream activities due to a favorable cost regime as the Norwegian government subsidizes 78 percent of the exploration expense.
"We are a technology company more than a conventional exploration and production company … Our goal this year and obviously subsequent years is to prove up significant quantity of oil as well as proving our technology to the market," Skantze said.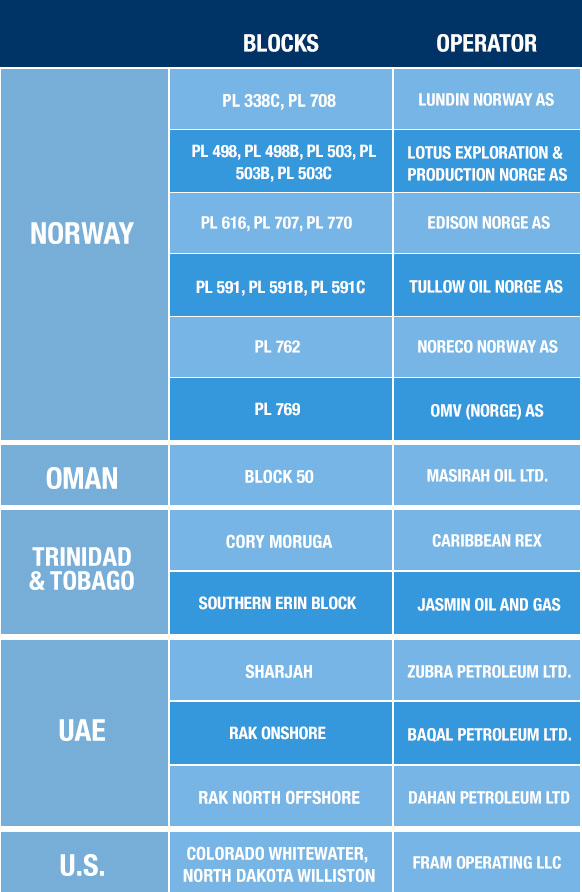 Rex's Upstream Portfolio, Source: Rex International Holdings
The ambitious junior oil explorer plans to participate in drilling about 10 prospects, including those in Norway where the gross unrisked prospective resources are estimated at around 1 billion barrels, between June and December. The drilling program will consist of 9 wildcat wells and 1 appraisal well.
"That's a big number and net attributable to Rex we are looking at more than 100 million barrels net … Now this is not a guarantee that we will make this discovery but this is a potential we have," Skantze added.
Alluding to benefits of its technologies, the Rex COO said the firm entered into the joint ventures for the Norwegian blocks "on very favorable terms … because they believe we can contribute something to the partnership."
Elsewhere, Rex will also drill in onshore Trinidad & Tobago as well as Oman, where it is currently working to identify how much resources the Middle Eastern oil discovery – the first success east of offshore Oman in 30 years – holds.
Rex is optimistic about the Oman oil discovery, with the company's Geological Adviser and Global Head of Exploration at subsidiary Lime Petroleum plc Dr. Rabi Bastiar saying the hydrocarbon find was a "significant beginning."
"We have a fairly big area in the block. We have only discover a part in it and a bigger picture is still out there," he added.
Turning to exploration, an area where many small E&P firms are affected by the global industry downturn, Rex indicated that it has sufficient funds to finance its exploration drilling program for this year and next, when it plans to drill another 10 prospects.
The Singapore-listed company is currently debt-free and its jointly own entity, Lime Petroleum Norway AS, has secured a financing facility of between $37 million (NOK 300 million) and $86 million (NOK 700 million) from Skandinaviska Enskilda Banken AB in March to fund the latter's offshore exploration program in 2015.
Meanwhile, the slump in global oil prices has contributed to a delay in plans for early production at Oman's offshore Block 50, which had originally been scheduled for the first half of 2015 as indicated in an Oct. 7, 2014 company announcement. The new timeline has now been revised to end 2015 or the first quarter of 2016.
GOING FORWARD
Core company's activities will remain a big part of Rex's future plans. These include growing the clientele base of its technology arm Rex Technology Management as well as a continued focus on its key upstream assets in Norway, Oman and Trinidad & Tobago.
On technology, COO Skantze, while acknowledging the existence of competition in the industry, felt that Rex's product is "way ahead of them, but we are not standing still."
In addition to these objectives, Rex has launched a new initiative to help secured a pipeline of drilling projects in the future. It is setting up an internal task force, led by Dr. Rabi Bastiar, to look for "giant oil fields".
According to Rex, there are 932 giant oil and gas fields with at least 500 million barrels of ultimately recoverable oil or gas equivalent. Geoscientists believed that such fields account for 40 percent of global petroleum reserves and they are clustered in 27 regions of the world, with the largest clusters in the Persian Gulf and Western Siberian Basin.
This is "a very exciting initiative … we believe with high degree of confidence that we can find, much more easily, these large oil fields, and therefore we have made the decision to put together this task force to look at these giant opportunities,' Rex COO said.
Turning to prospects for the global oil markets, Lidgren believed that oil prices will eventually recover and Rex is preparing itself to seize opportunities in the future industry upturn.
"If the oil price stays at $50, there will be a huge problem in the world. All oil companies, even big ones, will have huge problems with that. So oil prices will come up," he commented.
"But until then, try to build up your resources. So when the day comes … then you could start either to sell some of those, share it with others or exchange it."