The U.S. federal government's controversial proposal to tighten exploratory drilling requirements in the offshore Arctic region could make exploration in the Chukchi and Beaufort seas more costly than ever.
The Arctic's sub-freezing temperatures, remote location and lack of infrastructure already make drilling a costly venture, as operators must take extra precautions to protect exploratory wells from, above all, drifting sea ice that can harm a well's most critical parts.
Yet, the regulations – the first specific mandates for offshore drilling in isolated U.S. Arctic waters – proposed by the Bureau of Safety and Environmental Enforcement (BSEE) and the Bureau of Ocean Energy Management (BOEM) in February could increase the price tag of a potential discovery by tens, if not hundreds, of millions of dollars.
The deadline for public comments on the proposed regulations is April 27.
"The Arctic has substantial oil and gas potential, and the U.S. has a longstanding interest in the orderly development of these resources, which includes establishing high standards for the protection of this critical ecosystem, the surrounding communities, and the subsistence needs and cultural traditions of Alaska Natives," said Sally Jewell, secretary of the U.S. Department of the Interior (DOI) in a press release. "These proposed regulations … extend the Administration's thoughtful approach to balanced oil and gas exploration in the Arctic, and are designed to ensure that offshore exploratory activities will continue to be subject to the highest safety standards."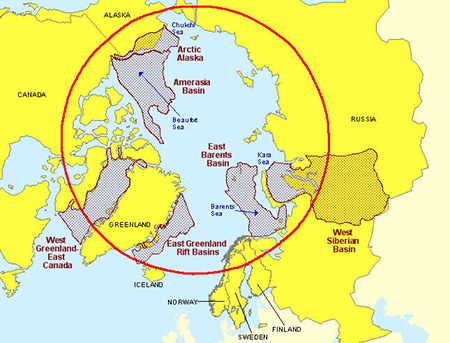 Arctic Resource Basin Source: U.S. Geological Survey
Perhaps the most costly requirement would be a separate relief rig for purposes of drilling a relief well in a timely manner should loss of well control occur. The DOI estimated the annual cost of a second rig to be $55 million. In the event of a blowout, a second well would be needed to permanently seal the problem well.
"We understand that the same-season relief rig is somewhat controversial, said BSEE Director Brian Salerno in a Feb. 20 press conference. "From our perspective, that sets a level of protection for the Arctic that is necessary. It builds upon our existing Arctic-specific standards and experience with previous operations in offshore Alaska, encourages further development of technology, and includes rigorous safeguards to protect the fragile environment."
Believing the proposed mandate to be redundant, Erik Milito, upstream director of the American Petroleum Institute, said in a widely circulated response: "Other equipment and methods, such as a capping stack, can be used to achieve the same season relief with equal or higher levels of safety and environmental protection. For this reason, it is unnecessarily burdensome to effectively require two rigs to drill a single well."
If drilling becomes too costly, the nation could make the extraction of a vast amount of hydrocarbons cost prohibitive.
"Few areas of the world are thought to contain more undiscovered oil and natural gas resources than the Arctic," Milito said. "The Beaufort and Chukchi Seas alone could hold more potential resources than our Atlantic and Pacific coasts combined."
The BOEM estimates that a means of 15.4 and 8.2 billion barrels of undiscovered conventional oil are located on the Chukchi and Beaufort shelves, respectively.  
EXTRA MEASURES
Other regulations proposed by the federal government include an "integrated operations plan" that details all phases of an exploration program for purposes of advance planning and risk assessment. This would be submitted prior to a formal exploration plan, which, unlike the integrated operations plan, requires agency approval.
Operators also would be required to submit region-specific oil spill response plans and have prompt access to source control and containment equipment. In other words, capping stacks and other containment systems must be stored in the Arctic and not contracted from capping and containment systems in the Gulf of Mexico.
Operators also would have to be outfitted with the mechanical oil recovery equipment needed to respond to a worst-case scenario spill despite the fact that in-situ burning and dispersants could perform similar functions.
While operators often reduce their expenditures by sharing rig-related resources in the Gulf of Mexico, where drilling is prolific, the scarcity of drilling in the Arctic makes resource sharing much more difficult.
"As we make the vast majority of the Arctic oceans offshore Alaska available for oil and gas leasing, we have an obligation to provide the American people with confidence that these shared resources can be developed responsibly," said Abigail Ross Hopper, director of the BOEM, in a press release.
RAMPING UP
Some of the proposed regulations stem from requirements placed on Shell in its 2012 Arctic drilling operations, during which several incidents halted the drilling of two wells in the Chukchi and Beaufort seas. Later, the DOI revised its Environmental Impact Statement (EIS) for a 2008 lease sale in the Chukchi Sea Outer Continental Shelf in which Shell obtained the lion's share of leases.
The final Supplemental EIS, which was released Feb. 12, halted activity for roughly a year for Shell and other operators that hold leases in the Arctic Ocean.
"Our 2015 exploration plans for offshore Alaska remain dependent on a number of factors, including our own readiness and legal and regulatory certainly," said Shell Spokesman Curtis Smith.
If approved, the proposed drilling regulations would not go into effect until after this summer's offshore drilling season, so Shell could theoretically resume its 2015 exploration plan in the Chukchi Sea, Salerno said. Shell's plan is a two-well, two-rig program, with each rig serving as a back-up for the other.
Smith responded to the proposed drilling regulations saying, "Our paramount concern in all our operations is safety and environmental protection. We support regulations that further these imperatives in the Arctic, provided they are clear, consistent and well-reasoned. We have and will continue to take unprecedented steps to ensure we can operate safely and responsibly in the Arctic."
Shell has taken unprecedented steps to make its Arctic Oil Spill Prevention and Response Program more robust by:
Commissioning and purchasing two custom ice class vessels

Securing a custom, Arctic tested and approved oil spill response fleet that could be on site and recovering discharge within one hour of an incident

Constructing a custom-built capping stack that would be located in theater and lowered to the sea floor to make metal-to-metal contact with a compromised wellhead (the same apparatus used to stop the 2010 Macondo blowout in the Gulf of Mexico)

Building a custom containment dome and storage barge that has the ability to collect leaking oil above the wellhead and funnel it to the surface for flaring and/or storage
"There's not anything like it in the world," said Paul Hagel, Arctic Campaign manager for Shell, to Rigzone.
In a March 24 presentation at the Arctic technology Conference in Copenhagen, Denmark, Mitchell Winkler, manager of Arctic Technology for Shell, discussed the company's robust oil spill prevention and response plan in detail.
"Whether we are in Alaska, Greenland, the Gulf of Mexico or the North Sea, our focus is prevention," Winkler said in an interview. "We have multiple barriers and controls in place to be able to prevent an incident and also we have the preparedness for a successful response."