Shortly after being inaugurated as Indonesia's seventh president in October, Joko Widodo has moved quickly to reinvigorate Southeast Asia's largest economy, including a stagnant energy sector, as he begins his current five year term.
Widido seeks to restore the industry's confidence in investing in a sector currently plagued by regulatory, legal and contractual uncertainties as well tackling graft at the energy ministry and the agencies under the latter's supervision such as upstream oil and gas regulator SKK Migas.
The energy issue is quite pressing for the new president as falling production by Asia's only ever member of the Organization of Petroleum Exporting Countries – from 1962 to 2009 – and a sustained rise in domestic consumption has resulted in an outflow of funds solely needed for local developmental needs to pay for expensive oil imports. Ageing wells and a lack of exploration, caused partly by a lack of investment, have contributed to declining oil production in Indonesia.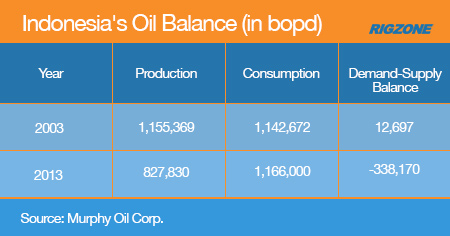 Indonesia's Oil Balance (in bopd)
Last year, Indonesia's oil consumption reached 1.66 million barrels of oil per day (bopd), up 45 percent from 1.14 million bopd more than a decade ago in 2003, while local production declined 28.3 percent in the corresponding period to 827,830 bopd from 1.15 million bopd, figures available from the U.S. Energy Information Administration revealed.
ANTI-GRAFT ACTIVIST SUDIRMAN SAID HEADS ENERGY PORTFOLIO
Given the challenges facing the hydrocarbon industry, Widodo appointed Sudirman Said – a former corporate secretary at Indonesia's state-owned oil and gas firm PT Pertamina and an anti-corruption activist – to head the graft-ridden Energy Ministry, with the minister also responsible for the state's mineral resources sector.