Take a snapshot of mergers and acquisitions (M&A) deals in 2015's first quarter and put it side-by-side with the same period last year. Of those U.S. deals worth more than $50 million, there were 12 of them – less than half the total in 1Q14.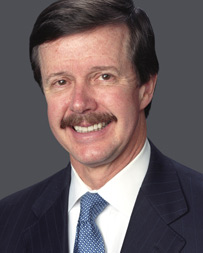 The dearth in deals announced, though, is merely a prelude to the expected deluge of activity currently in various stages of deal-making. While oil prices are low and sellers hedge their bets, potential buyers are making plans with their bankers and lawyers.
"We have seen a big increase in this quarter, beginning at the end of the first quarter," M&A attorney Michael Byrd, a partner in the Houston office of Akin Gump Strauss Hauer & Feld LLP, told Rigzone. "A lot of acquisitions are driven primarily by the desire to pick up undeveloped acreage for drilling. Some of the premium basins, the Eagle Ford and the Permian Basin, are still the prized fields where people are spending big money to acquire properties."
Acreage in the Permian Basin can price as high as $20,000 per acre, which further limits who can buy into that environment.
And notwithstanding the April deal in which Royal Dutch Shell plc bought BG Group plc for $69.9 billion—the largest mega deal since Exxon Corp. merged with Mobil Corp. in 1998—the underlying market is slow to act.
"Operators are naturally trying to avoid selling in a down market as low oil prices have depressed asset values," said Matthew Jurecky, GlobalData's head of oil and gas research and consulting, in a recent report. "A healthy capital market extends a lifeline to many companies, providing access to much-needed capital through debt and equity."
But that approach has a short lifespan, he said. Capital markets raised a whopping $25.3 billion in April – more capital than most of 2014 – but analysts say that isn't sustainable.
MAJOR BUYERS OFFER MILLIONS
Goldman Sachs wrote in a spring equity research piece that M&A will again be a key driver for strong exploration and production (E&P) companies.
"We expect well-funded majors and NOCs to scrap high-cost, high complexity projects and focus on gaining exposure to low-cost projects via M&A," the analysts said.
Specifically, Goldman said there is the potential for up to 10 million barrels of oil per day in low-cost projects that could change hands from independents to majors this year.
Foster Mellen, senior strategic analyst in Ernst Young's oil and gas practice, said in a recent report on the short-term prospects for 2Q 2015 that companies will be pressured to do the following:
review and/or reshape their portfolios through capital re-allocation

carve-outs and divestitures; opportunistic acquisitions

and joint ventures to share money and risk
All of which is expected to make the number of M&A deals tick upward during the second half of the year.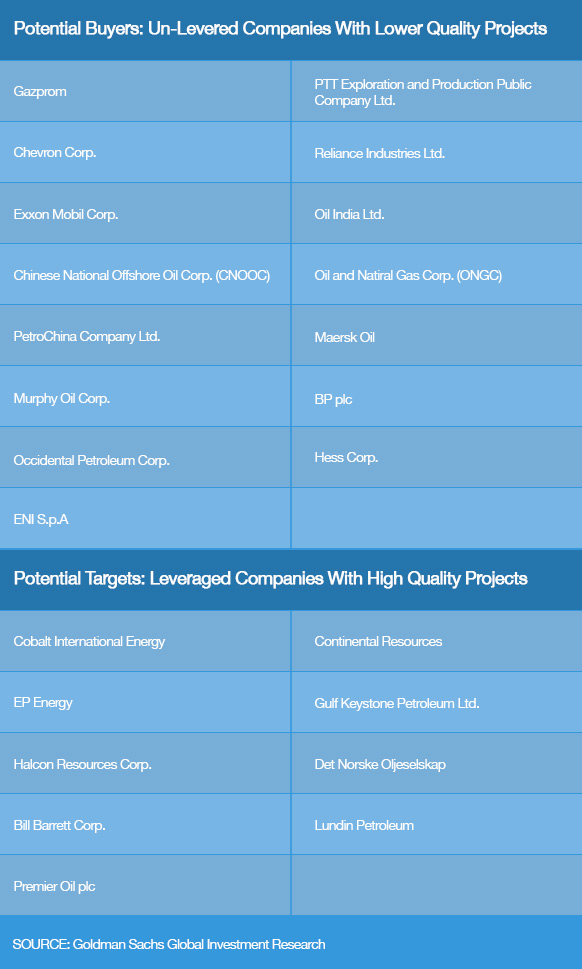 Goldman's potential M&A buyers and sellers listing, Source: Goldman Sachs Global Investment Research
Within the current environment, more transactions are likely to be share-for-share or shares-and-cash based instead of straight cash purchases, Cheryl Sandercock, managing director at Scotia Waterous Inc., said recently. This spring, Whitecap Resources Inc. in May bought Beaumont Energy Inc. for shares and up to 18 percent cash. And in May, Noble Energy bought Rosetta Resources in an all-stock $4 billion deal.
"History shows that transactions do occur in a down market, with share transactions being much more dominant," she said.
According to information from Ryder Scott Co. LP, the majority of deals since late 2014 have been composed of all stock or a mixture of stock and cash.
BANKERS KICKING THE CAN
Twice a year, lenders have the option to re-determine the borrowing base of the borrower. During the recent spring redetermination, a number of companies knew they would face a difficult period given the tightening in the market, Stephen Trauber, vice chairman and global chief of energy for Citi, told a Houston audience at the Mergermarket Energy Forum recently.

Recent Year M&A Deals in U.S., Source: PwC's analysis of transaction data from Global Data
Most of those companies impacted were non-investment grade entities that had already realized they needed to shore up their balance sheets, Trauber said.
"The equity market was there, at cost, and companies came at fairly steep discounts. We'll still see some of that coming into the fall redetermination," he said. "I think the banks were fairly lenient and the borrowing bases that were awarded to some of these companies in the spring redetermination effectively kicked the can down the road."
Trauber explained that banks expected some concessions from the companies, whether it was through asset sales, a shrunken borrowing base, and/or equity offerings. If commodity prices stay where they are today, or even weaken from where they are today, more companies will need to engage to remain attractive to lenders.
Robert Gray Jr., a partner in the Houston office of Mayer Brown LLP, said he expects the banks to "kick the can down the road."
"Number one, they don't want to operate these assets," he told the Mergermarket audience. "That's the last thing they want to do, and number two, they haven't been through an upstream collapse. I think the banks are going to continue to extend [leniency]."
Lori Lancaster, managing director at UBS Investment Bank, said during the forum that she agreed, "The last thing any of the banks want is to end up owning these assets."
However, she added, during the spring redetermination period, banks cut just an average of between 10 percent and 15 percent from the borrowing base.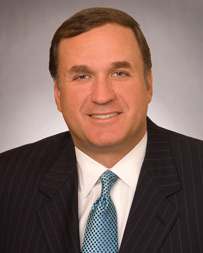 Vice Chairman and Global Head of Energy, Citigroup
"In this market, liquidity is king. You can access the market now, even though it is somewhat painful to do that. It may be better than doing it 6 to 9 months down the road if prices haven't rebounded and stock prices are lower," she said of making deals in the summer.
OIL, GAS MARKET LIQUIDITY
What's more, many producers that use hedges to stabilize their cash flows will see them expire in the second half of the year, Mitch Fane, EY's oil and gas transactions leader, told Rigzone.
"If prices haven't stabilized and [producers] can't hedge based on a higher price, they will be motivated to sell," he explained.
Many industry insiders speculated oil companies would be in distress and forced to sell assets. While some companies have had to reorganize, Fane said, capital markets have been available which allowed upstream companies to defer sales.
And, the capital markets are wide open, Trauber said, which will assist a ramp-up in activity between the summer and fall redetermination.
"Companies are also looking at other means of raising capital. That means selling assets that may not be in the borrowing base today, or midstream assets they might be able to monetize in some form. All of those are being analyzed in ways to bring extra liquidity," he said.
Before the collapse in oil prices last fall, both major oil companies and large independents had the cash to buy plentiful acreage and build their own footprint in major basins. However, when prices dropped, the fields failed to generate the returns expected and growth slowed, he said. Executives turned away from drilling for growth and moved toward an acquisition strategy.
DISCOUNT DAYS BUT FEW DEALS
The dramatic drop in oil prices last fall simply put many deals on hold.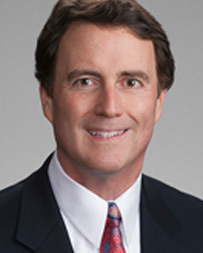 Akin Gump Strauss Hauer & Feld LLP
"Sellers weren't going to sell [at low prices], but buyers were just salivating [expecting] the entire sector to have a 50 percent off sale," Trauber said. "What we're seeing today is, everyone wants to be a buyer. There are very few sellers out there – although some of those willing to buy now will end up being sellers."
M&A attorney Byrd said he is seeing distressed companies have to accept lower prices. But it's not all bad news. In many cases, the sellers are private companies that bought low and view now as the time to exit.
"They're getting good prices from strong buyers," he said.
What's more, Byrd said, contract terms are evolving to accelerate the burgeoning buyers' market. Contrary to the last several years when it was really a sellers' market, sellers in the current market are more willing to retain certain liability, as well as accept stronger and longer warranties and indemnities.
What may incent activity for major oil companies, Citi's Trauber said, is a desire to find high quality assets that will allow them to sell off lower return assets. The trade-off is a company with higher growth and higher returns. In addition, companies are now looking to consolidate within basins to drive costs and efficiencies in popular basins.
"There's a pent-up demand, and the dam will break at some point, and I think we'll see the largest amount of consolidations and acquisitions that we've seen in a long, long time in the sector," Trauber said. "My guess is it will happen in 2016, but it may start late this year."