While the quantity of water used for hydraulic fracturing increases, essentially with each new well put into production, industry researchers are developing ways to diminish the quality of that water – eliminating freshwater from the solution.
More and more companies are doing their part to lessen their impact on drinking water. In fact, some experts estimate that hydraulic fracturing could be free of freshwater production by the end of this decade.
Many wells, especially those in the Marcellus, still rely on millions of gallons of water – and that's per well in some cases, Doug Kepler, vice president of environmental engineering at Seneca Resources in Houston, said. But each year more and more of that water is non-potable water that wouldn't be part of the drinking water supply.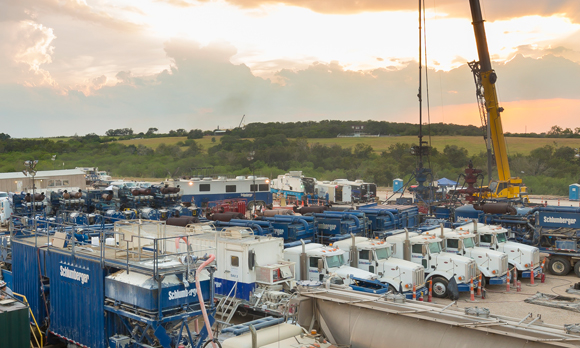 The U.S. Geologic Survey found that hydraulic fracturing in shale gas-rich areas required the most water.
Source: Schlumberger
Seneca, an exploration and production company that operates primarily in the Marcellus and Utica shales, is a net recycler of water. Some years, the company has managed to drill 100 percent of their wells with recycled water, Kepler told Rigzone. Based on geology and geography, that hasn't been feasible every year, but it's certainly a goal.
What's more, Kepler said, by the end of this decade, all fracking – 100 percent of it – could be accomplished with some form of non-freshwater solution.
MILLIONS OF GALLONS OF WATER
Between 2000 and 2014, the median annual water volume estimates for the fracking of horizontal wells increased from 177,000 gallons per oil and gas well to more than 4 million gallons per oil well and 5.1 million gallons per gas well. With each passing year that shale became a hotter commodity, more wells were drilled that required water. In fact, researchers the U.S. Geological Survey (USGS) reported in a January study that within this period more than 263,859 wells were hydraulically fractured.
At the end of June, the USGS released its findings that the amount of water required to hydraulically fracture a well can differ dramatically in different parts of the country. Shale gas and horizontal drilling required the most water. Geographically, several Texas basins made the top of the water-use list, including the Eagle Ford, Haynesville-Bossier and Barnett.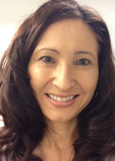 Characteristics of the reservoir, including pressure, depth, temperature and saturation all impact water needed for a successful well, Tanya Gallegos, the study's lead author, told Rigzone. Water volumes for hydraulic fracturing averaged within watersheds across the United States from 2,600 gallons of water to as much as 9.7 million gallons per well.
Oil and gas companies are investing time and technology to reduce the need for freshwater use in hydraulically-fractured wells. Schlumberger Ltd., Apache Corp. and Halliburton Co. have made strides toward diminishing the use of freshwater, a key issue with environmentalists.
"We support a ban on use of freshwater in fracking, and think that, if fracking is taking place, operators should certainly use brackish or recycled water or other alternatives," Luke Metzger, director of Environment Texas, an Austin-based advocacy organization, told Rigzone.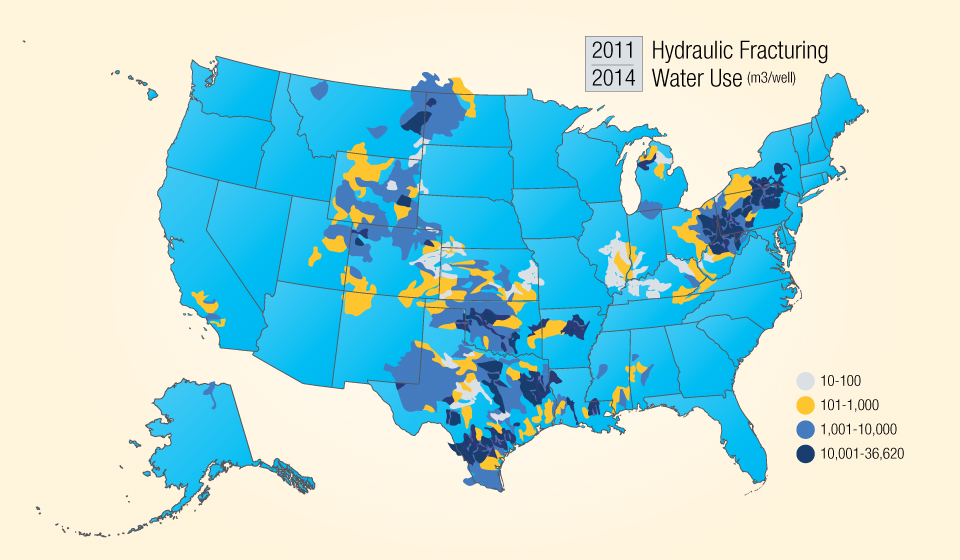 WAYS WITH WATER
Schlumberger has been in the hydraulic fracturing business for more than 50 years, but applying it to shale formations increases process' water needs, and the company has developed solutions to replace freshwater with produced water.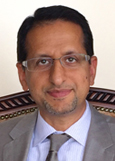 Chemistry and Materials Portfolio Manager, Schlumberger Well Services
"To fracture the rock, we have to pump some type of fluid into the wellbore, and of the fluids used in large quantities is water because it is readily available and cost effective and it does the job," Moin Muhammad, chemistry and materials portfolio manager for Schlumberger Well Services, told Rigzone.
Consequently, the international company has invested in technology to differentiate themselves before the shale boom. In 2003, Schlumberger started development of the first generation of the HiWAY flow-channel fracturing technique, which was introduced commercially for vertical wells in 2010. The following year, Schlumberger applied the technology to horizontal wells and in 2012, it was enhanced for use in shale formations.
"Since introducing the flow-channel fracturing technique in 2010, Schlumberger has pumped more than 40,000 stages [of hydraulic fracturing], collected a large amount of data and compiled multiple case studies," Muhammad explained. "We have a proven, established record showing HiWAY reduces water consumption by about 25 percent, which is significant in this environment and sets us apart from the rest of the industry."
Apache Corp. and Halliburton are other industry leaders that have invested in water management solutions to the water requirements of hydraulic fracturing, but representatives from those companies were unavailable to comment.
The industry's traditional reliance on freshwater for hydraulic fracturing presented a big challenge to the company as it sought to minimize use of the resource and replace it with something cost-effective and efficient, Muhammad said. Suitable alternatives were found in produced water, which is abundant in the United States, brackish water and flowback water. And after five years of research and development, in late 2014, Schlumberger rolled out a solution that enables hydraulic fracturing using 100 percent produced water – with results that met or exceeded what freshwater could provide, he said.
"With this new service, xWATER integrated water-flexible fracturing fluid delivery service, we can tailor any type of water into a fracturing fluid, which gives us tremendous flexibility in terms of hydraulic fracturing fluid design," Muhammad said.
The service has tremendous potential in emerging shale markets, such as the Middle East, where there is a shortage of freshwater, but readily available seawater.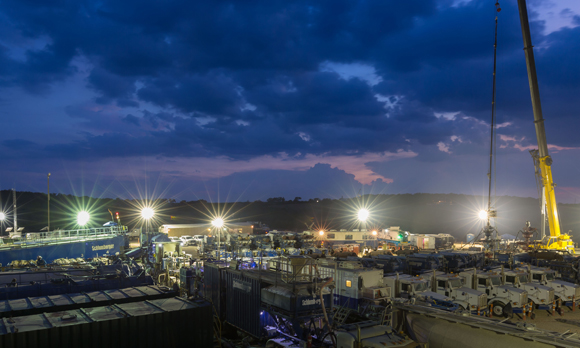 Schlumberger is working on technology that removes freshwater from the hydraulic fracturing process.
Source: Schlumberger
RUNNING THE NUMBERS  
One factor that may play into the process' widespread acceptance is pure economics, said David Stuart, vice president for fluids conditioning at Rockwater Energy Solutions in Houston.
"The cost of freshwater is very low today, and the cost of disposal is very low today," Stuart told Rigzone. "So when operators are making the choice of whether to re-use or use the traditional freshwater and disposal method, economics comes into play."
Muhammad said that when operators consider well recovery rates and the total water cycle cost – such as transportation and disposal – the economics work in favor of the alternatives to freshwater. While their services are still in the early stages, Muhammad expects an increase in adoption of the technology during the next two years.
There are many reasons for companies to make the effort to cut down on freshwater use.
"We take ownership of environmental stewardship. Using produced water is beneficial from an environmental, economic and regulatory point of view," he said. "The business that we are in touches every one of those issues."