Despite the thousands of layoffs that have affected oil and gas workers across the globe this year, the industry still has a need for workers with specialty skills and for specific positions. 
Rigzone's recent 3Q global hiring survey of almost 300 employers and recruiters revealed that though hiring is down, positions in engineering and science, management/support and maintenance and inspection are the most plentiful, respectively.
While oil and gas professionals who want to remain in the industry are anxiously awaiting on market conditions to improve and hiring to pick back up, aspiring industry newcomers are looking for their opportunity to jumpstart a career in oil and gas. Rigzone spoke with industry recruiters to see where the job opportunities lie and what skills are in high demand in the industry.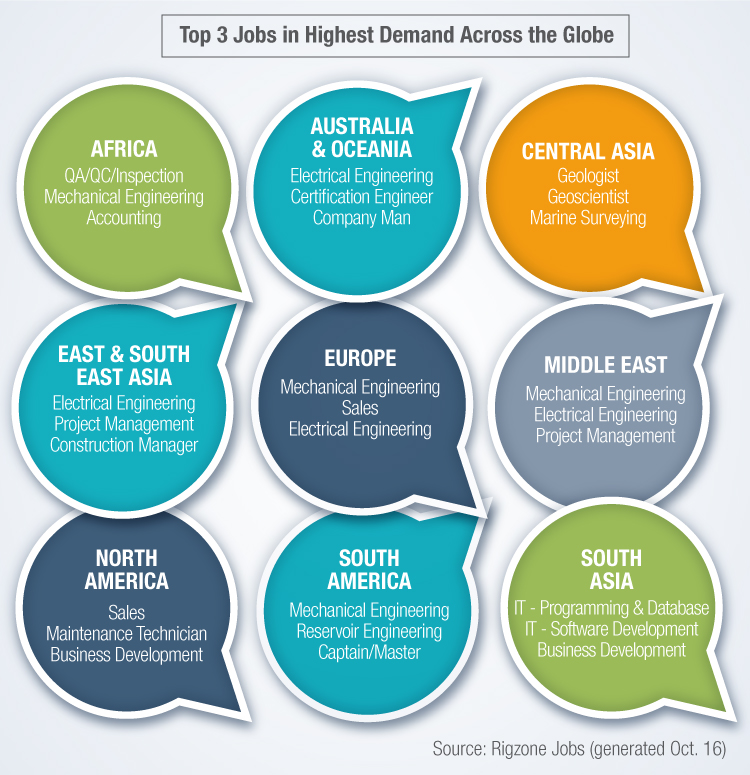 For oil and gas supermajor BP plc, technicians are a hot commodity. According to BP's Ann-Marie Robson, global operations recruitment director, upstream resourcing, technicians currently represent 70 percent of overall hiring for BP Upstream.
"Hiring technicians in Azerbaijan, Angola and Indonesia is the most challenging for us," Robson told Rigzone. "We actively support nationalization in these countries through hiring experienced technicians in country and by running apprentice technician development programs."
Robson said BP is launching a recruitment campaign in Indonesia to hire indigenous people in Western Papua for numerous technician roles. BP teams visit remote villages and support potential technicians through the recruitment process.
"The key challenge at present in these regions and indeed generally is a lack of experienced technicians in the market and the perception that the technician role is 'low level' or often perceived as 'secondary' to engineers," said Robson. Actually, "technicians are critical to running safe and compliant operations, which is of paramount importance to BP."
Robson said the high number of technicians in the market and on paper (CV, resumes and online profiles) look similar.
"At BP, we are looking for excellent technicians with real depth of knowledge and experience," she said. "Applicants should seek to differentiate themselves by making their CV or resume stand out as much as possible."   
INDUSTRY SEEKING BALANCED CANDIDATES
The Engineering, Procurement, Construction (EPC) sector of oil and gas is seeing the most movement with a big drive for contract labor among engineering and construction firms, Eric Peters, managing director for oil and gas recruiting company Faststream, told Rigzone.
He added that many of the midstream facilities are being built by the EPCs.
Peters identified roles that are harder to fill being engineers in the LNG facilities as well as technical sales positions within oil and gas service companies.
"Companies are very specific in what they want," Peters said. "Technical sales people are a bit of a difficult find. Candidates need the technical knowledge – for example, they've been out to service the well sites and have worked on the equipment – but, they also have to have the gift of gab to be sales folks. Tangible technical skills are a must."
Peters has also noticed a trend with international companies seeking experienced U.S. workers.
"The companies are out in Houston, but the work itself is in places like Venezuela, Colombia and Mexico," he said. "There is a big drive for U.S. assets and expertise, but the work is not just off U.S. coastlines or in the Gulf of Mexico. South America is an area of increased activity for many Houston companies. We're still seeing a demand for a good technical crew, not just your general able-bodied seamen, but good strong senior engineers, hydraulic technicians and diesel mechanics."
LEADERSHIP AND EXPERIENCE NEEDED IN THE C-SUITE
What the oil and gas industry needs now is workers with varied functional and geographic experience, said Chad Hesters, senior client partner in the global industrial practice for executive recruitment and talent management firm Korn Ferry.
"I think that across the globe, particularly here in North America, reservoir engineers with multi-basin unconventional expertise are at a premium," Hesters told Rigzone. "A lot of companies would love to have a team with problem-solving skills that knows the industry from multiple basin perspectives. Getting people that know how to bake a cake a couple of different ways is really helpful."
This would allow companies to play in multiple basins.
"Globally, people that have expertise in harsh environments or subsea development are in high demand," Hesters said. "These are technical experts and leaders who know how to and are willing to operate in a harsh environment."
At the executive level, Hesters stressed the demand for not only experience, but good leadership capabilities.
"At the C-suite level, there's a very strong demand right now for leaders that have been in senior leadership roles through multiple oil and gas cycles," he said. "Those who have seen the upside and the downside of commodity prices before will be in demand because of where we are in the crude cycle."
CEOs and CFOs who have a high degree of comfort and understanding of how a balance sheet works is also important, Hesters added.
"Balance sheet management is at a premium right now," he said. "It has always mattered, but right now, if you make a mistake, it really shows up."
The hiring of so many workers in the past five or 10 years who are now in their 20s or 30s is problematic as none of them have experienced a down cycle similar to the one the industry experienced in the 1980s.
"The psychology and emotional intelligence that leadership needs in a down cycle is very important, so the question becomes how do you manage the people in the industry who have never seen this before?" he said.   
One thing that can absolutely be controlled by a job candidate is their mindset and attitude. Hesters suggested that candidates be prepared to work outside of a job description.
"Do what's needed when it's needed. That's what the industry needs right now," he said. "With hiring freezes and layoffs, companies are putting a high price on employees and newcomers who roll up their sleeves and work hard for the greater good. That is going to be very attractive to employers in this stage of the cycle."
From a talent standpoint, all levels of an organization – from entry-level to the board of directors – and in all sectors, leadership and attitude matters.
"No matter what role you're looking for, the opportunity to lead and make a difference is incredibly powerful in times of economic and personal distress," Hesters said. "It's a perfect opportunity for leaders to actually lead … because this is an industry that remembers."