The total value of upstream oil and gas m&a deals, according to data from the Evaluate Energy M&A database, reached $37 billion in Q4 2014, a slight increase from the $35 billion total of Q3. However, the falling oil price would have resulted in a sharp decline in total deal value this quarter, had it not been for Repsol agreeing to acquire Talisman Energy for $13 billion at the beginning of December. This one deal represented a significant 35% of Q4's total deal value and was the biggest E&P deal of the year.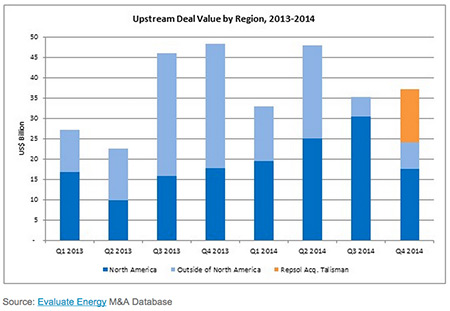 DEMAND FOR OIL ASSETS PREDICTABLY COOLS
The oil and gas industry was shaken by the continuing fall in global oil prices throughout the quarter. In September 2014, the West Texas Intermediate (WTI) spot oil price was still above US$90 but by early January this had fallen to US$50; company values as well as the value of oil assets began to crash. 
See the impact of the falling oil price on Canadian oil and gas companies here.
The main impact on global E&P M&A of the falling oil price was that the demand for oil assets dropped significantly. For the first quarter in Evaluate Energy's coverage of the upstream oil and gas M&A market, which began in 2008, there was not a single acquisition of an oil-weighted asset or company with a reported value of greater than $1 billion. Of course, with oil dropping below $50, a lot of discussion now surrounds deals for oil-weighted assets agreed before September that have not completed yet that could potentially be cancelled any time soon. This is all a major turnaround from a few months ago, when the focus was more on where the next "big" oil acquisitions would take place. Whiting Petroleum perhaps surprised some by completing its multi-billion dollar oil-focused acquisition of Bakken operator Kodiak Oil & Gas just before year end. However, as this deal was an all-stock transaction, the falling stock prices of both parties and the unchanged exchange ratio throughout the merger meant that Whiting and its shareholders were not really penalised for the timing of their acquisition, which was agreed when WTI was still above $90. Deals for oil assets that are heavily cash-weighted would be most likely to be cancelled or at least renegotiated if the oil price remains so low.
GAS ASSETS TAKE CENTRE STAGE
This lack of oil-weighted deals of course means that gas-weighted deals were the headline-makers in Q4 2014. The biggest of these deals this quarter, in which Repsol agreed to acquire Talisman Energy, was in fact the biggest E&P deal of the year.
REPSOL AGREES TO ACQUIRE TALISMAN ENERGY
In mid-December, Repsol agreed to acquire Canada-based Talisman Energy for a total value of $13 billion, which included $4.7 billion of debt. When the deal was agreed, the price of $8 per Talisman share represented around a 56% premium, a significant price to pay considering the oil prices had well and truly began to tumble at the time, even though Talisman did produce more gas than oil in Q3 2014.
Ever since Repsol was forced into returning its stake in YPF to the Argentine government, the Spanish company has had a rather large gap to fill in its portfolio. Repsol claims that acquiring Talisman is a good fit; it not only bolsters the South American portion of Repsol's E&P business, but also has attractive asset holdings in North American shale and South-East Asia. Repsol will also be excited by the significant production level and high gas weighting that Talisman brings to the table, both of which will reduce Repsol's dependency on the higher risk oil production areas of its portfolio, such as Libya, in this low price climate. Whilst many analysts have pointed out Talisman's failing UK North Sea assets as a huge burden for Repsol to be taking on, the aforementioned positive attributes of Talisman Energy clearly outweigh this and any other negatives in Repsol's opinion.
KUFPEC JOINS CHEVRON IN DUVERNAY SHALE JOINT VENTURE
In the quarter's other +$1 billion deal in Canada, KUFPEC agreed to join Chevron in the prospective Duvernay shale by acquiring 30% of its assets for $1.5 billion in early October, which includes a cost carry going forward. The exploration wells already drilled on Chevron's acreage, on which it will remain the operator with a 70% interest, have produced gas in the main, but also a significant level of condensate. Chevron has therefore managed to monetise a liquids-rich asset in a difficult period, while KUFPEC now owns a highly prospective asset that could pay major dividends in the future should prices rebound.
SOUTHWESTERN ENERGY ACQUIRES MARCELLUS SHALE ASSETS
Southwestern Energy is one of the bigger US shale gas producers around, with operations focused in the Fayetteville shale of Arkansas as well as in the Appalachian basin in the north east. It is the company's portfolio in the latter that was bolstered by acquisitions this quarter, as three deals were agreed for Marcellus shale assets for a combined $5.7 billion.
The first and largest of these deals was announced in October and closed just before year end, as Southwestern agreed to acquire Chesapeake Energy's Southern Marcellus Assets and a portion of its Eastern Utica assets for just under $5 billion. In December, the company announced two further Marcellus acquisitions from WPX Energy and Statoil, for another $300 million and $394 million respectively. The deals represented an increase in Marcellus acreage holdings for Southwestern of 443,000 net acres, as well as 2.5 tcfe of proved reserves and around 70,000 boe/d of additional production (54% gas). The Marcellus shale has long been sought after, even when gas prices were lower than they are now, due to its close proximity to one of the North America's main demand centres in the north east as well as the sheer amount of gas on offer for the right producer; Southwestern Energy seems intent on being a major player in the Marcellus for many years to come.
LINN ENERGY SELLS TEXAS AND OKLAHOMA ASSETS
In other US unconventional news, affiliates of Enervest Ltd agreed to acquire Linn Energy's position in the certain tight gas plays, which included the Granite Wash and Cleveland areas, for $1.95 billion. The assets, which also included certain midstream interests, are located in the Texas panhandle and western Oklahoma in the Anadarko basin. The acquirers were intent on bolstering their own portfolios, which are already significantly focused on the areas in question. Linn's motivation for selling the assets was to fund a $2.3 billion acquisition from Devon Energy that closed in August 2014. In this deal, Linn acquired gas-weighted assets in the Rockies, onshore Gulf Coast and Mid-Continent regions, proving that gas deals in North America for large prices are nothing particularly new this quarter, rather they just stand out more due to the lack of large price oil deals.
Petronas and Statoil agree Largest Deal Outside of North America
Away from North America, the largest deal was also gas-weighted. Malaysia's Petronas acquired Statoil's 15.5% stake in the Shah Deniz project of Azerbaijan for $2.25 billion; the assets produced 228 mmcfe/d net to Statoil's interest in Q3 2014 (80% gas). This sale by Statoil, as well as the sale in the Marcellus this quarter, formed part of the Norwegian company's plans to refocus its efforts on prioritising high potential future developments. Petronas was no doubt enticed by the high production, whilst the purchase price of around $60,000 per flowing barrel is very reasonable compared to other deals for such high volumes of liquids-rich gas production worldwide. Petronas has been very busy spreading itself around the world's oil and gas map; in 2014 alone, the company signed co-operation agreements with the state-controlled entities in Mexico and Argentina, completed the acquisition of Talisman's Montney assets in March to support its move into Canadian LNG and announced a small farm-in deal with Lansdowne Oil & Gas in the Republic of Ireland in November.