Working offshore is a highly desired occupation for many. Whether it's the appeal of a fixed schedule with several days off at a time, the potential for a handsome pay with opportunities for overtime or the chance to travel all over the world, oil and gas is a highly sought-after industry.    
Currently 61 mobile offshore drilling rigs in North America; 57 in the Gulf of Mexico, two in Canada and two in Alaska, according to RigLogix. These rigs have the capacity to accommodate thousands of offshore workers. And while offshore rig work has been a way of life for many who were either looking to break into the oil and gas industry or just trying to find a respectable job and income, it may not be where they ultimately want their career to end.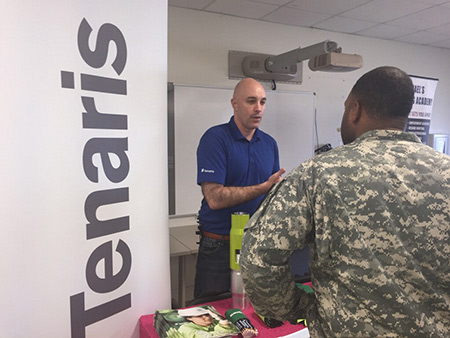 Dane Hayton, Senior Recruiter for Sales and Operations with Tenaris Source: Tenaris
So what about those who are ready to get off the rig … those who want to try their hand at an office position? How does an individual make the transition from working offshore to working in an office position in oil and gas?
"I think the biggest skill we look for in someone transferring from a rig to the office is the drive to want to do more," Dane Hayton, senior recruiter for sales and operations with Tenaris, told Rigzone.
Ambition is one of those soft skills that really can't be taught, so if someone is ambitious enough to want to make the transition from an offshore rig to an office, it's fair to say they've achieved the first step in doing so.
But that doesn't mean the transition will be easy, and each individual's journey will be unique.
For Trevor Crone, transitioning from the rig to the office wasn't premeditated.
"It was more of an opportunity that presented itself and I took it," Crone, former offshore rig worker, told Rigzone. "In two weeks, I went from being covered in mud and grease to wearing a tie every day."
Crone entered the oil and gas industry as a painter/cleaner on an offshore rig – anxious to get his foot in the door. From there, he moved to a roustabout. Proving to be a valuable asset, he quickly transcended the ranks on the rig.
"I received promotion after promotion and just steadily progressed," said Crone, who worked offshore for a total of five and a half years. "I originally planned to work offshore for a year and then go to school and finish my bachelor's degree. After two weeks out there, I knew that wasn't going to happen. I loved the job."
Always ready to soak up any knowledge and experience that was presented to him, Crone quickly obliged when he was asked to fill in for a storekeeper on the rig. This required visiting a Houston office for training where Crone was able to develop relationships and network with several industry professionals.
After returning to work on the rig for four months, Crone was asked to interview for an open office position as a Quality Assurance auditor. He nailed the interview and was offered the job.
For Evan Thayer, who entered oil and gas working as a project manager in the Gulf of Mexico for a seismic survey company, the transition from offshore was a family decision. He was married and once his company sent him to the only field position available – in India – the distance became an issue.
Thayer was able to use the sales experience he had already acquired (which was unrelated to oil and gas) and couple it with his four years of offshore experience to land a position as a sales manager at Rigzone.
"The transition just made sense for me," he said. "I posted my resume and was hired after the second interview."
While Crone's and Thayer's journeys off the rig may not be the norm for offshore workers, many can take note of their steps. Both had several years of experience offshore and both knew how to advance.
KEY POINTS OF ADVICE
"You really can't rush the process," Thayer said. "If you try to skip steps and rush into a position you're not qualified for, you won't be successful."
He also said not to allow intimidation to keep an individual from going after an office position.
"On the rig, workers were intimidated by the people in the office because we really didn't know what they were doing and probably vice-versa," said Thayer. "It was more so the unknown or lack of knowledge. But, try not to be intimidated by what you don't know."  
One thing's for sure … networking is a necessity.
"That's arguably the best thing you can do for yourself," Crone stated. "That's what led to my job in the corporate office. I got out there and met people. I built relationships." 
Hayton agreed.
"For a rig worker wanting to transition to recruiting, for example, it would be helpful to bring a lot of contacts. While there's no degree specifically for recruiting, the contacts and relationships they forge would be able to carry over," Hayton said.
While looking to make the offshore-to-office transition, one can never have too many tools in their belt. Obviously, education is a key advantage, as statistics repeatedly show that those with bachelor's degrees fare better financially in the workforce. An offshore worker with a degree under his or her belt will make themselves more marketable to recruiters and potential employers.
"This is the type of person that during their time off the rig, he or she is pursuing their education; the person that is willing to go further and get that education is the type of person we want. That's somebody who has that extra drive or initiative," Hayton said.
With offshore workers spending significant time on the rig, pursuing a degree may require some extra adjusting. 
Many schools understand the special needs of nontraditional students and have implemented degree programs with flexible class times. For example, the Petroleum Engineering Technology and Safety Management (PETSM) department at Nicholls State University in Thibodaux, La. offers three unique degree programs with course schedules that accommodate the rotational work schedules of upstream oil and gas professionals – including 7-days-on, 7-days-off and 14-days-on, 14-days-off. Students can earn an associate degree in petroleum services, an associate degree in safety technology or a bachelor's degree in petroleum services.
KNOW WHAT TO EXPECT 
Another point to consider when planning to transition is the change in work environment.
"When you're working offshore, everybody is out in the field so that comes with a little bit of flexibility," said Thayer. "Often times people will be allowed to visibly show frustration … sometimes use foul language or profanity. You have a longer leash as far as HR goes."
Some common rig behavior wouldn't be tolerated in an office setting. If someone has been working offshore for a considerable amount of time, there is a chance for culture shock when transitioning to the office.
"Sometimes offshore hands have a mentality of putting themselves on a pedestal when they should understand that everything is a team effort. It takes a team to make things work," Crone said. "I've seen guys move into an office position and not last long. They never really lost that attitude. There is a huge difference in office culture vs. offshore rig culture."
Another adjustment that can cause issues, Crone added, is failing to adjust to a 9 to 5 work schedule – a far cry from the offshore days off/days on rotation.
Possibly the biggest mistake an offshore worker can make when pursuing an office position is selling themselves short. One of the most valued assets offshore workers have is their hands-on experience in the oil and gas industry. Failure to correctly articulate transferable skills to a recruiter or potential employer could be detrimental to the position desired.     
When recruiters ask offshore workers to tell them about their experience, rather than simply stating they drove a truck, a better response would be for them to emphasize they're a loyal employee who has been able to adapt to various environments, often times working for different bosses, Hayton advised.
First, a person must understand how the skills they've gained can transfer to an office position.
Crone decided to utilize the services of a resume writer who was able to help him translate his skills to one that would be desirable for an office position.
"I stressed the safety aspect of my job because safety key words are great to have on a resume in this industry," Crone said. "People are usually told not to brag on themselves, but when seeking a job, it's best to do so. Never undervalue yourself."
While it's incumbent upon the candidate to do everything possible to make themselves marketable to potential employers, there are some offshore positions that can make for an easier transition to the office.
Hayton mentioned one individual in particular whom had worked in a field service position and went to school online part-time in order to transition to a technical sales position in oil and gas. Another worked in HSE and was able to cross over to an office position as a coordinator – which involved coordinating people and regulations.
"Currently, we have the most available positions in sales. Two distinct areas in which the transition can be made are technical sales – which requires hands-on experience and someone who can handle mathematics and the numerical side of the industry. Anywhere there is an oil and gas company, we can place somebody there," said Hayton. "The other area is business sales – people who can knock on doors and have a good amount of contacts or people they know from working on a rig."
Crone added that sales positions make for an easier transition off the rig because of the familiarity with the equipment and lifestyle.
"Also, those in trades – mechanics, subsea engineers and electricians – have a good chance of transitioning to office positions because they typically have at least two-year certificates at decent mechanic schools," Crone said. "Usually, they'll have a specific technical background that doesn't translate to any other field, so in a way, they're fulfilling a niche. There's always an office counterpart for their offshore position."