Venture Taranaki, a regional development agency tasked with growing the economy in Taranaki – New Zealand's petroleum hotspot located to the west of North Island – highlighted in a March report that the country's hydrocarbons industry has potential for further growth despite an evolving operating environment.
The "Wealth Beneath our Feet – The Next Steps" report, released in March as an update to the first edition published in 2010, highlighted the growing importance of the oil and gas industry as seen in its increased contribution to the New Zealand economy.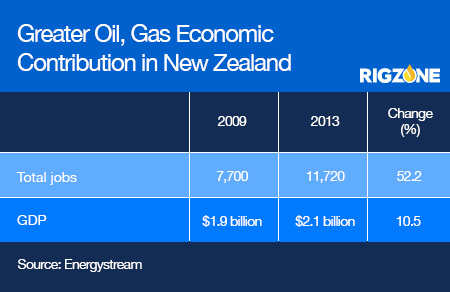 Greater Oil, Gas Contribution in New Zealand Source: Energystream
Petroleum contribution to New Zealand's gross domestic product (GDP) rose 10.5 percent to $2.1 billion (NZD 2.79 billion) in 2013, compared to $1.9 billion (NZD 2.5 billion) in 2009.
An enlarged sector led to a 52.2 percent increase in oil and gas jobs locally, reaching around 11,720 in 2013, up from 7,700 in 2009, figures cited by the report revealed. Of these, 8,481 jobs were in the upstream exploration and production segment, while 3,237 were in midstream and downstream processing.
Higher contribution by the petroleum industry resulted in increased royalties collected by the government, reaching an estimated $1.13 billion (NZD 1.5 billion) over the four year period from 2011 to 2014.
Oil was New Zealand's fourth largest export earner, with around $1.2 billion (NZD 1.6 billion) flowing into the country in the year ending June 2014, data from the Petroleum Exploration and Production Association of New Zealand (PEPANZ) showed.
"New Zealand holds a vast amount of petroleum potential. Over the last 4 years we have seen more interest from overseas companies, more investment and as a result have created more jobs and wealth for New Zealand," PEPANZ CEO Cameron Madgwick said March 19.
VENTURE TARANAKI'S SUGGESTED NEXT STEPS
Even as the petroleum industry consolidated its role as a major contributor to New Zealand's economy in recent years, questions have been raised about the adequacies of current measures. 
"The commercialization of our mineral wealth is a cornerstone of the government's economic agenda. In assessing how far the nation has come towards realizing the potential of the 'wealth beneath our feet', it must be asked how well that policy has gone towards meeting regional aspirations for new jobs and greater, localized economic development," Stuart Trundle, chief executive of Venture Taranaki said in the report.
In this regard, the agency has proposed steps for the sector to adopt in maximizing value of the resources the country possessed. The suggested approach also took into account factors impacting on the industry such as the decline in global oil prices and changing drilling technologies like hydraulic fracturing.
Venture Taranaki put forward the following suggestions for the government and the petroleum industry in New Zealand to consider as they move forward. These include:
a blueprint for industry growth

whole of government approach

stronger ties with regions and regional development

creating a winning industry

building public confidence

the importance of the supply chain

leveraging innovation

fast tracking energy future

benefits to present and future generations
Among the suggestions put forward by Venture Taranaki was the drafting of a blueprint that seeks "to maximize the economic production of our resources, sustain and promote the supply chain, and build a stronger and more collaborative partnership between government and the industry – both will be joint owners of the process."
Such a blueprint "will look beyond the current attraction successes to identify, analyze and plan for scenarios that could impact on future decades of oil and gas investment and production in New Zealand."
The Taranaki-based development agency also emphasized the importance of a "whole of government approach that goes beyond departmental priorities and builds a comprehensive shared understanding of the oil and gas industry and its barriers to growth."
While government agencies directly related to the petroleum industry have made significant progress in strengthening their cooperation, Venture Taranaki said it was imperative that such collaboration be extended to other areas critical to the industry's growth.
"Infrastructure, capability development, skill attraction, exporting, energy markets, supply chain growth and retention, environment and technological advancement are all factors where government has considerable involvement that could be better aligned to help gain maximum value from the nation's mineral resources and their development."
As for demands placed on a region due to the establishment of an oil and gas industry, the report pointed out that such investments should not be "the sole responsibility of regional New Zealand, just as it is for any resulting benefits, to be used in nation building."
To create a winning industry, Venture Taranaki suggested an expansion in the criteria used to evaluate operators participating in the annual Block Offer – when the government offered exploration blocks for bidding by oil and gas firms. These could include the operator's company values, approach to community engagement, utilization of local content, technologies used to minimize environmental impacts and contribution to regional development.
BLOCK OFFER 2015
Recently the New Zealand government, led by the National Party – that was re-elected last September and which favors further development of the petroleum industry – launched Block Offer 2015. Block awards are expected in December, two to three months after the tender closes Sept. 30.
Oil and gas firms have seven onshore and offshore areas in New Zealand, covering 165,752 square miles, to select exploration blocks from. Four of these areas, spread over an area of 164,172 square miles, are located offshore, while the remaining three onshore areas occupy 1,580 square miles, New Zealand Minister of Energy and Resources Simon Bridges said March 30.
Apart from the offshore Taranaki basin, the existing center of New Zealand's oil and gas production, three other offshore areas that are available for bidding under Block Offer 2015 comprise Northland-Reinga, Pegasus/East Coast and Great South-Canterbury basins.
New Zealand has made steady progress in attracting major foreign firms to participate in its petroleum exploration and production sector following introduction of the annual Block Offer in 2012. Companies that secured permits, either individually or as part of a joint venture, include: Royal Dutch Shell plc, Chevron Corp., Australia's Woodside Petroleum Ltd., Norway's Statoil ASA, Anadarko Petroleum Corp., Austria's OMV Group and India's ONGV Videsh Ltd.
"It is clear that companies are seeking frontier acreage and long-term opportunities like those which New Zealand has to offer, and this Government remains committed to attracting major international companies to invest in exploration and development in this country," Bridges said.
Venture Taranaki noted that New Zealand is a fairly under-explored petroleum destination by international standards as only one – Taranaki – out of the country's 17 sedimentary basins is now in production.
MORE OIL & GAS EMPLOYMENT
Increased investments in the hydrocarbon sector, particularly upstream, have resulted in greater employment opportunities in the South Pacific nation.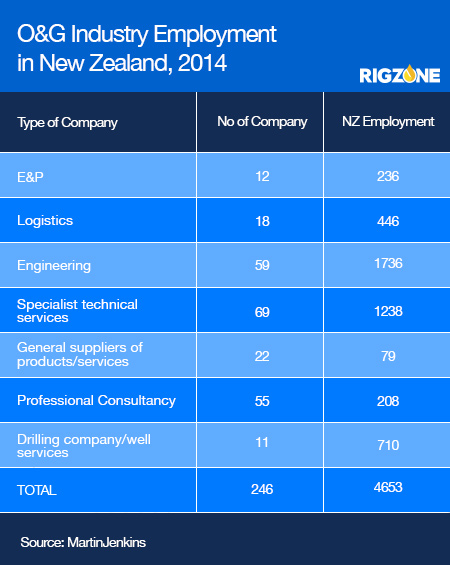 O&G Industry Employment, 2014 Source: MartinJenkins
Local consultancy firm MartinJenkins noted that the greater share of petroleum employment in New Zealand in 2014 was in engineering, followed by specialist and technical services, while drilling firms and well services came in third. 
The higher manpower demand in the drilling segment last year could be attributed to increased drilling activity in New Zealand as the Noble Bob Douglas (UDW drillship) conducted exploration drilling for Anadarko and Ensco plc's jackup ENSCO 104 (400' ILC) and Kan Tan IV (mid-water semisub) were on assignment with OMV.
To support the oil and gas sector, New Zealand took steps to equip new entrants to the industry with basic skills.
In this regard, the Western Institute of Technology – Taranaki's central tertiary provider – introduced two petroleum operations training programs. These consist of a Certificate in Process Operations (Oil & Gas) and a Certificate in Industry Trades (Hydrocarbon Drilling) and participants are to undergo training lasting 32 weeks and 17 weeks, respectively.
INTERESTING TIMES AHEAD
An Occasional Paper released by the Ministry of Business, Innovation and Employment in August 2012 had projected that New Zealand's annual oil and gas exports could grow by $1.1 billion (NZD 1.5 billion) and royalty payments by $243.3 million (NZD 320 million), while adding a further 5,500 jobs.
The paper – "Economic contribution and potential of New Zealand's oil and gas industry" – also forecast that GDP could expand by an average of $1.6 billion (NZD 2.1 billion) for each year of a 30-year development of a new basin.
So far, New Zealand appeared to have benefited from increased contribution by the petroleum industry and the government continues to see the sector as a key plank in economic development.
"If the findings of Venture Taranaki's 'Wealth Beneath Our Feet – The Next Steps' are anything to go by – further responsible growth of the industry could create busy towns up and down our country, more high paying jobs and wealthier communities. All we have to do is look to the wealth that lies beneath our feet," Madgwick said.