Natural gas will play a fundamental role in helping to shift the world to a low-carbon energy future, three heavyweight speakers tell the 2015 GE Oil & Gas Annual Meeting.
At the meeting – being held over Feb. 3 to 4 in Florence, Italy – U.S. Environmental Protection Agency Administrator Gina McCarthy, Statoil ASA CEO Eldar Saetre and Petroleos Mexicanos (Pemex) CEO Emilio Lozoya Austin described how each of their respective organizations were playing a role in helping the world to transition from using "dirty" fuels such as coal and oil to the cleaner option of gas.
GE Oil & Gas CEO Lorenzo Simonelli introduced the speakers by highlighting the meeting's theme of "Sustainability and Cost Management".
He said: "This is what we're hearing you talk about most: sustainability of the resources, making sure that we maintain a balance from an ecological perspective and also the technologies that are necessary. But then, from a cost-management perspective, how do we make sure that costs don't escalate and projects are executed on time? These are key for the industry to continue to progress."
In her address to the meeting, the EPA's McCarthy said:
"President Obama is confident, as am I, that innovation is the key to a stable climate as well as sustainable economic growth. And the good news is that the transition to a low-carbon future is already being embraced by businesses in every sector in every part of the world.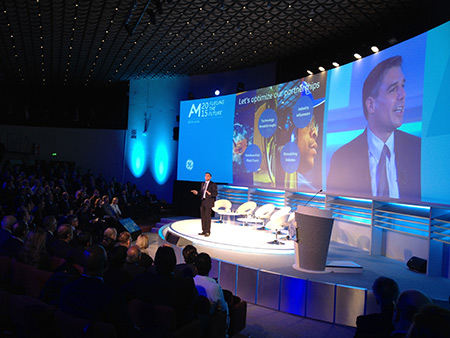 GE Oil & Gas CEO Lorenzo Simonelli stressed the theme of "Sustainability and Cost Management" at the 2015 Annual Meeting.
"The reason is very simple: no-one likes risk. And, today, the risk of standing still far outweighs the uncertainty of taking steps to a clean low-carbon future. EPA has taken a big step in that direction when last year we announced our Clean Power Plan – the key piece in the President's efforts to cut carbon pollution while offering certainty to energy markets and investors about what the future holds.
"As proposed, our Clean Power Plan seeks to cut carbon from existing power plants in a pragmatic and smart way. It was designed exclusively to give states in the United States the flexibility they need to create individualized tailored plans that will meet their own energy needs, that will be consistent with their own energy infrastructure and that will drive their economic prosperity. This includes: expanded use of clean fuels like natural gas; expanded use of energy efficiency – all the way from the plants where it is generated to where consumers plug in; and even more use of renewable energies. Our hope is that this clarity, this certainty will allow industry and business to invest accordingly, opening up economic opportunities to grow and to continue the job creation that we all rely on."
Statoil's Saetre pointed to how a collaboration launched at the end of January between his company and GE Oil & Gas would help to accelerate the development of sustainable energy solutions.
"The purpose of the collaboration is to accelerate the industry's response to some of the big challenges facing oil and gas production: flaring, CO2 emissions, methane leakages and water usages. The program will focus on developing new approaches to creating efficient, low-cost oil and gas production while simultaneously reducing emissions. And the good news is that it is profitable as well, both in the short term but – maybe even more so – in the longer term," he said.
Saetre explained that part of the collaboration will involve the two companies deepening their existing work on reducing flaring.
"One of these projects is the so-called 'CNG-in-a-box', which is reducing flaring by capturing natural gas that otherwise would have been burnt (flared), converting it into compressed natural gas on the site and then using the gas to fuel rigs, vehicles and other types of equipment. Through this approach we reduce unnecessary flaring, we reduce the need for diesel and we get value from actually selling the gas as well."
Pemex's Lozoya Austin highlighted how his company is striving to make the shift to natural gas from fuel oil.
"There is widespread consensus about the idea that natural gas has a very significant transition to a low-carbon economy and in curbing emissions. It's very important to substitute dirtier fuels such as coal. We think this is an imperative for countries such as China and India. And I can tell you what is happening in Mexico as a result of utilizing natural gas," he said.
"Pemex today is burning fuel oil in most of our industrial facilities. By shifting to natural gas and setting up cogeneration plants on the side, Pemex will go from being the largest consumer of electricity in the country, with about 6 percent of total demand, to become within two years the second-largest supplier of electricity with about 10 percent of total supply."
"So the impact of utilizing natural gas in the Mexican economy will have a tremendous positive shock on the productivity of industry, heavy industries and the manufacturing economy."
Lozoya Austin also pointed out that Pemex has been "relatively successful at reducing flaring, which is now well within international standards, and this in a relatively short period of time – between 2008 and 2014 – we have reduced annual CO2 emissions from flaring by 30 million tons".