The oil and gas industry's effort to do more with its data – and to become more productive and efficient to cope with low oil prices – means the industry will continue to delve into digital oilfield technologies, including the Internet of Things (IoT) and Big Data technology.
The downturn in oil prices has triggered waves of layoffs and cutbacks in capital spending, but exploration and production will not go away as companies will be required to drill a certain number of wells to maintain leases. Instead, companies have been high grading assets, or focusing on the most productive prospects that deliver the biggest bang for their buck, Chris Niven, director of energy research with IDC Consulting, told Rigzone.
The drivers of greater efficiency, productivity and safety in oil and gas remain the same, but falling commodity prices have put even more pressure on producers to reduce costs, increase output, and eliminate unscheduled shutdowns, said Patrick Harris, global sales manager, industrial wireless at Eaton, told Rigzone. What has changed is the attitudes regarding the reliability and trustworthiness of wireless technologies.
"We don't even think twice about wireless in our personal lives anymore, but for understandable reasons, industry has been slow to adapt," said Harris. "I think what has changed is people's willingness to try wireless in those applications to reduce costs, etc., now that they have become more comfortable with wireless in other less critical parts of their plants. This is part of the natural evolution of the technology's adoption rate."

The wireless oilfield can save oil and gas companies money will increasing uptime, expanding capabilities and improving safety.
As an industry, oil and gas is not that different from others like mining or water treatment or electric utilities in their rate of adoption of wireless technologies. What differs is the site-specific or corporate-specific philosophy for embracing new technologies, said Harris.
"I have been to plants that have been incorporating wireless extensively for years, and then driven to another company's plant next door, and their attitude is that they will never trust wireless for anything," Harris noted.
While wireless technologies can be cost-effective alternatives to traditional hard-wired industrial communications solutions, they are particularly well-suited for applications that are spread out across vast distances. Oil and gas applications are just that, particularly in upstream, where wellhead monitoring takes place over hundreds of square miles, and midstream, where piping networks need to communicate across hundreds of linear miles, said Harris.
"With that said, there are great advantages for wireless in downstream applications as well," Harris commented. "Every device that is installed in a plant/refinery that measures something, such as temperature, pressure, flow, level, density, and rotation speed, needs to send that information back to the control room where a DCS/PLC [distributed control system/programmable logic controller] can record and take action based on the data."
Onshore offers many more applications for digital oilfield than offshore, especially when the distance is considered, but there are still plenty of reasons not to run cables across a rig platform, Harris noted.
"Obstacles are mostly perception," said Harris. "There are always going to be applications that are not suitable for wireless. And we will be the first to point those out when someone asks."
"But there is so much untapped opportunity in facilities where wireless education and a dash of trust – backed by empirical proof in hundreds of similar applications around the world – are all that's needed to become reality."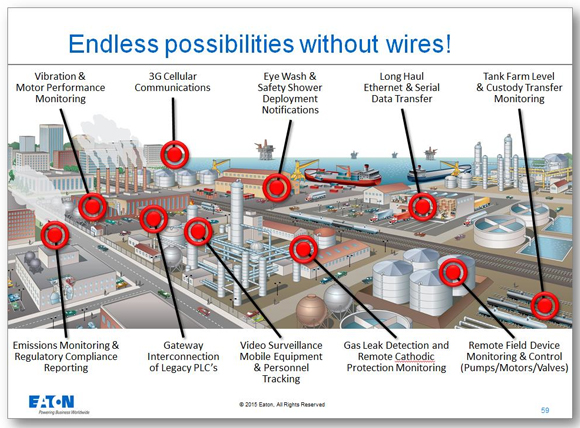 Wireless technology – part of digital oilfield technology – can allow for better monitoring of activity in oil and gas facilities.
The emergence of Big Data, Internet of Things, and machine-to-machine technologies has led to the birth of a new innovation theme in oil and gas, the digital oilfield. According to a January 2015 report by Cleantech Group, the digital oilfield category comprises technologies, services and related business models focused on the tools and processes for data and information management in upstream oil and gas. Examples of digital oilfield initiatives include Chevron Corp.'s iFields, BP plc's Field of the Future, and Royal Dutch Shell plc's Smart fields. These companies continue to seek new technologies to boost production output and reduce operating costs.
Earlier this year, industry officials said that some players in the oil and gas industry have successfully crossed the chasm in implementing digital oilfield technology, but others still lag behind, and industry faces challenges in adopting this technology. One challenge that industry needs to address is cybersecurity. Greater automation and use of digital technologies at places such as production sites and refineries puts oil and gas companies at greater risk of cyberattacks, a Honeywell official told Rigzone in April of this year at the IHS CERAWeek Conference.
INTERNET OF THINGS COULD HELP INDUSTRY WEATHER LOW OIL PRICES
The Internet of Things (IoT), which basically integrates sensing, communications and analytic capabilities, offers a new suite of technologies that can help oil and gas companies tackle the challenges of becoming more productive and efficient in the "new normal" of lower oil prices, according to a report by Deloitte Center for Energy Solutions.
According to Deloitte, the oil price downturn is putting heavily indebted oil and gas companies on credit-rating agencies watchlists and derailing the capital-expenditure and distribution plans of even the most efficient companies. Addressing this structural weakness in oil prices requires more than financial adjustments, but a change in the industry's approach to technology. This includes industry's approach to using operational techniques to locate and exploit complex resources, to using information from technologies to make hydrocarbon extraction and every successive stage before sale more efficient and even revenue-generating.
The declining costs and increasing functionality of sensors, availability of advanced wireless networks, and more powerful and ubiquitous computer power, which have opened the floodgate to the amount of data that industry can quickly collect and analyze are enabling the shift to information-based value creation. Deloitte noted that sensor prices have tumbled to about 40 cents from $2 in 2006, with bandwidth costs a small fraction of those even five years ago, helping the industry amass individual data sets that are generating petabytes of data.
"The IoT's promise lies not in helping oil and gas companies directly manage their assets, supply chains or customer relationships – rather, IoT technology creates an entirely new asset: information about these elements of their business," said Deloitte in the report.
Over the past five years, the oil and gas industry has developed or applied an array of technologies such as geophones, robots, satellites, and advanced workflow solutions. But these technologies focus on the asset level, or they are not integrated across disciplines or do not incorporate business information, said Deloitte. The oil and gas industry's digital maturity ranks at 4.68 on a scale from one to 10, according to Deloitte's 2015 global study of digital business and MIT Sloan Management Review.
With only 1 percent of information gathered estimated to be available to oil and gas decision makers, Deloitte said that increased data capture and analysis can save companies millions of dollars by eliminating as many as half of a company's unplanned well outages and boosting crude output by as much as 10 percent over a two-year period. Deloitte also cited a study by Oxford Economics that industry-wide adoption of IoT could boost global gross domestic product by .8 percent.
Deloitte sees three business objectives for IoT deployments: improving reliability, optimizing operations and creating new value. Upstream companies focused on optimization can gain new operational insights by analyzing a diverse sets of physics, non-physics and cross-disciplinary data. Midstream companies eyeing higher network integrity and new commercial opportunities will tend to find significant benefits by building a data-enabled infrastructure. According to Deloitte, downstream players should see the most promising opportunities in revenue generation by expanding their visibility into the hydrocarbon supply chain and targeting digital customers through new forms of connected marketing.
However, the solution is not just adding more sensors. Oil and gas companies need to need to clearly identify primary business objectives before implementing IoT technology, ascertaining new sources of information and clearing bottlenecks that hinder information flow. Companies also need to closely monitor IoT deployments and results to keep applications on track, at least in the early years. Both IT and C-suite executives should ask whether IoT deployments are generating the needed momentum and learning across businesses and employees, what the future costs and complexities associated with retrofitting and interoperability of applications are, and what the security shortcomings are in light of new developments.
NEW INFRASTRUCTURE NEEDED TO GAIN FULL BENEFITS OF IOT TECHNOLOGY
Instead of continuing to rely on supervisory control and data acquisition (SCADA) systems as central data and control system at plants, the oil and gas industry needs to implement new infrastructure to fully take advantage of the benefits of IoT technology.
The drive towards "digitization" has been driven mainly by the proliferation of new software applications, new data formats, and the availability of massive amounts of real-time data. Over the past 10 years, the industry has experienced significant shifts in how production operations have been improved through the application of new, emerging technologies, according to an October 2015 report by the Industrial Internet Consortium "Beyond Digitization: The Convergence of Big Data, Analytics and Intelligent Systems in Oil and Gas".
"New analytic-centric technologies are now revealing operational nuances that were previously captured manually, or not at all," according to the report.
During this time, oil and gas companies have created remote operation centers focused on optimizing operations based on these analytic insights.
However, these centers have principally focused on larger assets, where such investments are cost-effective or practical, according to the report.
"To truly achieve the Digital Oilfield or 'Digital Operationalization' with embedded analytics, oil and gas executives must overcome the challenges of the inherent limitations in today's infrastructure and systems. Next-generation, real-time analytic platforms require new ways of thinking on how data processing, acquisition infrastructure, and analytics platforms are designed, deployed, maintained, and used in a distributed and robust manner."
Previously, robust data connectivity in plants has been a real challenge to design, deploy and maintain. For upstream assets such as offshore rigs or mature fields distributed across large, remote areas, the fundamental communications infrastructure is extremely limited or simply non-existent, according to the consortium's report. At downstream assets such as refineries, the large amount of various metals and other materials can negative impact the robustness and reliability of many telecommunications technologies.
Historically, approaches to legacy communications tend to inhibit the advantages associated with real-time connectivity. According to the report, these were never built to support high fidelity data streams and analytics. Leveraging new analytics and methods of insight has meant layering different telecommunications, data processing and data storage technologies, which in turn has created many silos of data, creating more complexity in achieving meaningful data insights.
Over the years, additional capabilities have been added to SCADA systems, but many still lack in some critical areas that can help oil and gas companies gain and optimize data insights. These limitations include underlying data structures not set up optimally to handle complex statistical approaches, critical for recognizing and predicting insights, relatively low fidelity of measurement and data storage ranging from a data point every 10 minutes to an hour or longer. In some cases, SCADA systems cannot reach the field devices due to communication issues, resulting in the inability to capture high fidelity data for that specific time period.
To address these challenges, oil and gas companies have turned to commercially available historian platforms because they offer better user experience and visualization capabilities. Additionally, these systems ingest cross-functional data into a single centralized location. These systems have allowed for a new level of data analysis, but these systems also have limitations.
These limitations include the fact that many historian systems are built on proprietary or traditional row-based databases, requiring the partitioning of data across multiple servers, which in turn can limit complex data analysis across the entire dataset in an expedient and robust manner. Accessibility to raw historical data for analytics may be limited because systems archive and expunge data frequently. Data quality is also an issue; when provided with poor quality, inconsistent data, most historian systems store the bad data along with the good data.
To address challenges as it starts leveraging new capabilities, the oil and gas industry must collaborate and share best practices to learn, adjust and adapt moving forward. New risk scenarios need to be rigorously tested through the application of use cases and testbeds, according to the Industrial Internet Consortium's report. The consortium will use the public-private partnership model to address interoperability, use cases, testbeds and security/safety/privacy in the coming months. Information gathered will be used to provide recommendation and best practices to the oil and gas industry as they start to understand the convergence of Big Data, analytics and intelligent systems on their businesses.