The portents of an oil market in retreat complicate life for upstream players looking three to five years out to run their business. From today's vantage point, talk of an $80 floor on oil prices did not seem possible six months ago.
Just when Lamprell plc of the United Arab Emirates thought it had sorted out management issues through the astute leadership of Jim Moffat, appointed CEO in March 2013, a new problem emerged: softening global oil prices. With Brent and WTI testing new multi-month floors, all eyes are on forthcoming OPEC meetings in Vienna.
Although rig intensification has been a boon to global service providers like Lamprell, the largest jackup manufacturer in the Middle East with a 60-percent market share as of last December, all omens show that the cycle is entering a decided dip.
A diversified engineering and contracting concern for the oil and gas and renewable energy industries, Lamprell operates yards at Hamriyah, Sharjah, Jebel Ali and Jubail Industrial City in Saudi Arabia. It also has land-rig service shops at Hamriyah and Dubai Investment Park. These facilities total 9,150,000 square feet (850,000 square meters) in fabrication space and other workshops.
Lamprell has clients as diverse as the UK's Ensco, National Drilling Company of Abu Dhabi and Greatship Global Energy Service of Singapore, and its remit lies well beyond the region.
Nevertheless, the Persian Gulf (and Red Sea) is the world's second-largest largest market for jackup rigs after Europe, according to Rigzone's RigLogix database, with a total of 104 rigs contracted (out of a fleet of 139). The Red Sea has only 12 rigs contracted, (fleet size 18).
Dubai's Drydocks World and Maritime World are among those snapping at Lamprell's heels. Khamis Buamim, chairman of Dubai's Drydocks World and Maritime World told Rigzone Oct. 12 that the company was preparing to start work on two new jackups in the near future. 
Lamprell reported strong results for 2014H1, increasing revenues to $632.2 million from $506.6 million, operating profit relating to continuing operations to $53.4 million from $19.2 million, and total profit attributable to equity holders to $77.7 million from $7.3 million in 1H 2013, an interim statement said. The company does not publish quarterly data but issues trading statements from time to time.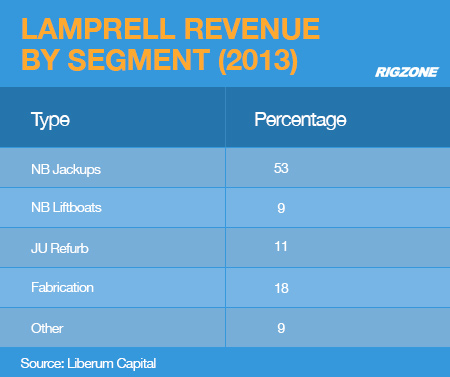 Lamprell Revenue by Segment (2013)
Lamprell completed a rights issue in June and reorganized debt financing in August.
"The successful completion of both a $120 million rights issue and a $350 million refinancing package (along with a $250 million bonding facility) has enabled us to implement our refreshed growth strategy and we are already starting to see positive initial results, both operationally and financially," Moffat said.
Over half of the 2013 revenue mix, or 53 percent, was in jackup newbuilds, with jackup refurbishment taking another 11 percent and fabrication 18 percent, according to Liberum Capital. Moffat is clearly intent in diversifying the revenue mix, and Moffat has stated that he would like to increase company involvement in the floating production and storage offloading unit (FPSO) business, which he thinks is improving.
"Our main focus in 2013 and early 2014 was steadying the ship, which clearly we've now done," said Moffat, writing in Lamprell's 3Q 2014 newsletter. "In 2014, we … have rebuilt our order book, winning significant awards from both new and existing customers, and conversion of our bid pipeline remains a top priority."
An offshore engineering, construction and project management veteran, Moffat joined Lamprell after a period of management instability accentuated by the global financial slowdown.  
As of Aug. 28, Moffat said the current order book stood at $1.2 billion, mainly newbuild jackups, with a bid pipeline of $4.9 billion, and as of June 30, over half of it onshore and offshore construction.
Although it has not announced any contract wins since July, Lamprell won three in the first half of the year. In June, it said it won a $370 million contract from Shelf Drilling of Dubai, whose ultimate client is Chevron Thailand, to build two high-specification, LeTourneau-designed, Super 116E jackups at its yard in Hamriyah for delivery in 3Q 2016 and 2Q 2017.
The same month, it announced a contract for an undisclosed amount from Petrofac Emirates LLC for the fabrication and delivery of 29 modules, due in 1Q 2016. The modules are for use at the Zakum Development Company (ZADCO, one of Abu Dhabi National Oil Company (ADNOC) Group of Companies) Upper Zakum UZ750 (EPC-2) field development in Abu Dhabi.
In April, a contract valued at £390 million, excluding options, was signed with Ensco for two additional LeTourneau-designed Super 116E jackups, for delivery in 2Q 2016 and 3Q 2016.
Moffat's interim statement said current workflow included seven jackups under construction, five rig refurbishment projects and two offshore construction projects. Five major projects had been delivered in the year to date, accompanied by commencement of work on recent awards.
In June, Lamprell delivered a fourth vessel to Seajacks, the Hydra, a jackup vessel based on the GustoMSC NG5500C design, destined for North Sea offshore oil, gas and wind operations.
The company said a further jackup drilling rig, the "Marawwah", the fourth of six designed to Cameron LeTourneau Super 116E (Enhanced) Class, was successfully delivered to Abu Dhabi's National Drilling Company (NDC), on time and on budget in May.  
Moffat said there was continued strong demand for shallow-water drilling and that the aging global fleet remained a strong long-term driver. He said revenue guidance remained unchanged, with FY2015 expected to be broadly flat, with fewer deliveries.
Liberum Capital oil and gas analyst Andrew Whittock said the issues today remained the same as those addressed in his May report: "How many new jackup construction orders will be placed and can the pipeline of offshore construction opportunities be converted into orders given current oil prices?"
"There were a record number of rigs being ordered last year [but] we have recently seen a softening in the market. While I am broadly positive about the rig market in the longer term, I am a little cautious as there are a significant number of jackups currently under construction on spec, mostly in China," Moffat said.
"There are however a growing number of opportunities in the offshore and onshore markets which we need to convert into backlog in the coming months to refill the Jebel Ali and Sharjah yards."