Hurt by high energy import costs, particularly for liquefied natural gas (LNG), Japan is rethinking its approach to the fossil fuel. Adverse circumstances had compelled the country to switch to LNG for power generation following the Fukushima Daiichi nuclear plant disaster, which was triggered by an earthquake and a tsunami that struck Japan's east coast in March 2011.
Prior to the 2011 nuclear incident, Japan had one of the most balanced power generation fuel mix among the world's top electricity consumers. No single fuel source accounted for more than 30 percent of the total energy mix in a country that has 286 gigawatts (GW) of totaled installed electricity generating capacity in 2011, according to Japan Electric Power Information Center (JEPIC).
HIGH LNG IMPORT COSTS HURTS JAPAN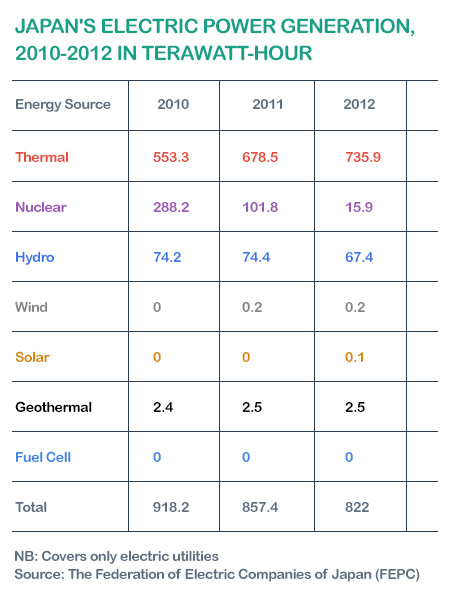 Nuclear power plants accounted for nearly 32 percent of Japan's electricity power generation in 2010, JEPIC figures indicated, while statistics compiled by the country's Ministry of Economy, Trade and Industry (METI) revealed that nuclear power's share of the energy mix has declined to zero since April. 
"To substitute for the shutdown in nuclear power plants, thermal power ratio, which includes LNG and oil, has increased to approximately 90 percent with LNG accounting for about half of our power generation," Tatsu Nishimura, deputy director of Oil & Gas Division in METI told the Sixth World LNG Series Asia Pacific Summit in Singapore last month.
Japan, which was the world's largest LNG importer even before the Fukushima incident, further entrenched its pole position as an importer when it purchased more foreign cargoes to compensate for the loss or production due to the shutdown of nuclear power plants. Increased imports lifted Japan's share of the global LNG market, which stood at 37 percent in 2012, the United States Energy Information Administration (EIA) said in a July report.
"Our LNG import volume has increased from 71 million tons per annum [Mtpa] in 2010 to 88.9 Mtpa in 2013, which is 24 percent increase in imports," Nishimura added.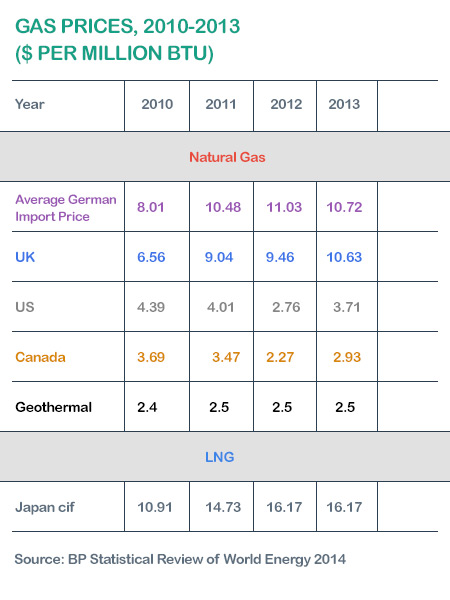 Japanese LNG import cost rose in tandem with the surge in domestic gas demand following the Fukushima disaster, with the 2012 average LNG price reaching a peak of $16.75 million British thermal unit (MMBtu) compared with $10.91 MMBtu in 2010, data from BP Statistical Review of World Energy 2014 showed.
While increased demand has contributed to the surge in Japan's LNG import cost, higher crude oil prices exacerbated the funds flowing out of the country. With benchmark Brent crude oil futures staying mostly above $100 a barrel from March 2011 to early September this year, the country has to pay more for LNG imports as they are linked to crude oil prices. As a result, Japan recorded its first trade deficit of $31.4 billion (JPY 2.5 trillion) in 2011, the first in 31 years.
"LNG prices in 2012 was 50 percent more than in 2009 … Lowering import cost, especially LNG import cost, has been one of the most urgent task for our government," METI's Nishimura emphasized.
SEARCH FOR MITIGATION MEASURES
BP plc estimated that the average LNG import price in Japan fell 3.4 percent to $16.17 MMBtu in 2013, but the country, which had paid more for the fuel from 2009 to 2012, is taking steps to deal with the financial strain felt by the country since 2009.
Effectively, this means reducing Japan's LNG demand and restarting nuclear power plants despite public opposition following the Fukushima disaster. METI pointed out that the Japanese government had stated in its strategic energy plan in April that nuclear power will provide an important base load source in domestic power generation.
Twenty of Japan's 48 nuclear power plants are now under review for restart by the Nuclear Regulation Authority (NRA) and two units – Sendai 1 and 2 – in the southern Kyushu Island have received approvals last month to resume operations. 
"This is a large step forward and continue to work for a restart of nuclear power plants," Nishimura added.
METI believes that the return of nuclear power is likely to reduce Japan's LNG demand in the near term, complementing other measures such as the switch to coal power generation and greater use of energy-efficient technology. In the medium term, domestic resource development such as methane hydrate is expected to lower the country's LNG demand.
Already, some Japanese utilities plan to switch to coal as an alternative to nuclear power and LNG. These firms will favor coal if the existing price differential between coal and LNG persists, Yasushi Sakakibara, chief representative of Tokyo Gas Co. Ltd.'s Asia Pacific Regional Office remarked at the industry conference in Singapore. 
ENHANCING LNG SUPPLY SECURITY
Japan intends to tap on potential LNG supply to Asia from the United States, where eight projects – with an overall production capacity of 80 Mtpa – have received export approval from the Department of Energy. Of these, Japanese utilities and trading houses have secured 17 Mtpa of LNG supplies – which METI estimated is equivalent to one-fifth of Japan's annual LNG imports or around half of Asia's current consumption of 160 to 170 Mtpa.
Last month, the U.S. Federal Energy Regulatory Commission (FERC) approved construction of Dominion Resources Inc.'s LNG export project in Cove Point, Maryland, making it the fourth to receive the green light after Cheniere Energy's Sabine Pass LNG development, the Freeport LNG Development project and Sempra Energy's Cameron LNG liquefaction-export facility.
Japan plans to further enhance the security and stability of its supply sources by capitalizing on the "paradigm shift" in the global LNG industry arising from the potential large U.S. supply to the region. 
One of the measures Japan plans to take is to expand the proportion of LNG imports from Organization of Economic Cooperation and Development (OECD) countries under a three-step approach, which include:
Step 1: U.S. Gulf Coast

Step 2: Canada, Australia

Step 3: Alaska, Mexico and U.S. West Coast
In this regard, Australian LNG exports to Japan are set to double within 5 years. Prime Minister Shinzo Abe visited Canada in 2013 and Mexico in July to discuss potential LNG exports from these countries to Japan. In September, METI and the State of Alaska signed a memorandum for mutual cooperation on Alaska's LNG project, which they hoped would be operational by early or mid-2020s.
"Other ideas could be to increase imports from countries with geopolitical proximity. Another could be to import LNG from politically stable countries in the area," Nishimura added.
JAPANESE BUYERS HOLD OUT FOR BETTER LNG DEALS
Recent developments in the global gas industry have induced Japanese utilities and trading companies to become bystanders amid expectations of lower LNG prices. After all, there are potentially 80 Mtpa of LNG supplies available for exports from the U.S., a development that encouraged Asian buyers to hold out for better prices.
In addition, the landmark Russia-China gas agreement signed in May, after nearly two decades of negotiation, could signal a major change in Asia's LNG industry. Under the agreement, Russia will pipe 1.34 trillion cubic feet (Tcf) or 38 billion cubic meters (Bcm) of gas annually from OAO Gazprom's East Siberian fields into China from around 2020. 
The Russia-China deal is likely to set a new benchmark price, presumably below the cost that Asian consumers are currently paying for LNG. As a result, "new [LNG] projects with higher cost structure or even higher target price set by seller would face difficulties convincing buyers to be involved," according to Masahiro Nakamura, general manager of LNG Business, Fuels Department at Chubu Electric Power Co., Inc.
However, many of "Japan's existing LNG contracts that date from the 1970s and 1980s are expiring, forcing Japan to renegotiate term contracts or locate shorter-term supply. Some industry analysts suggest this is driving Japanese firms' interest in acquiring equity stakes in foreign liquefaction projects, in an effort to guarantee future supply," the EIA said.
To deal with a changing global industry landscape, firms like Tokyo Gas have modified its LNG procurement strategy. The firm is targeting a three-pronged approach, Sakakibara explained. 
Firstly, Tokyo Gas will diversify its supply source to include Asia Pacific, Middle East, U.S., Canada, Africa and Russia as well as considering procuring gas through pipelines. Secondly, the firm will negotiate for improved contract terms, comprising the introduction of LNG market price-linked mechanism and an enlargement of liquidity through destination flexibility. Finally, Tokyo Gas is considering participation in the Atlantic Ocean, and not just Asia Pacific, market for inter-regional trade in its quest for global LNG market unitization.
In September, Russia reportedly submitted a plan to Japan to build a natural gas pipeline from Sakhalin, linking its gas fields in the country's Far East, to Hokkaido in northern Japan, the Nikkei newspaper reported, citing diplomatic sources.
So far, it appears that Japanese LNG buyers are content waiting on the sidelines, confident that abundant gas supplies would be made available to Asian consumers in the near future.
"However, [LNG] suppliers would argue that these new supply projects require vast amounts of capital and in reality will not be launched without firm, long-term commitments by buyers … This potentially creates a stand-off in which, if buyers hold decisions while they wait for prices to fall, projects will be delayed," Katsumi Kuroda, vice president and general manager of BG Group's Japan Office commented in his Oct. 9 blog post.