With energy demand projected to increase 80 percent between now and 2040, Southeast Asia is likely to face a more challenging environment in petroleum production, the head of the International Energy Agency (IEA) said in his presentation on the organization's "Southeast Asia Outlook 2015" report at a lunch talk Oct. 27 during the Singapore International Energy Week.
"Southeast Asia may be a bit behind the shadows of China and India but … it's definitely a key sector of world energy demand growth and also of Asia," IEA Executive Director Fatih Birol said, referring to the projected consumption of 1,100 million tons of oil equivalent (MMtoe) in 2040.
ENERGY DEMAND ON UPWARD TRAJECTORY
According to the IEA, the anticipated growth in energy demand from 2013 to 2040 is attributed to a tripling of the regional gross domestic product (expressed in purchasing power parity terms) – from $6.1 trillion in 2013 to $20.5 trillion – as well as a quadrupling of the population to 760 million, compared to 616 million in 2013.
Against this background, where Southeast Asia's annual GDP growth rises by an average of 4.6 percent between 2013 and 2040 to enlarge its share of global GDP from 5.9 percent to 7.7 percent in the same period, IEA expects increasing urbanization to drive demand for modern energy services in the region.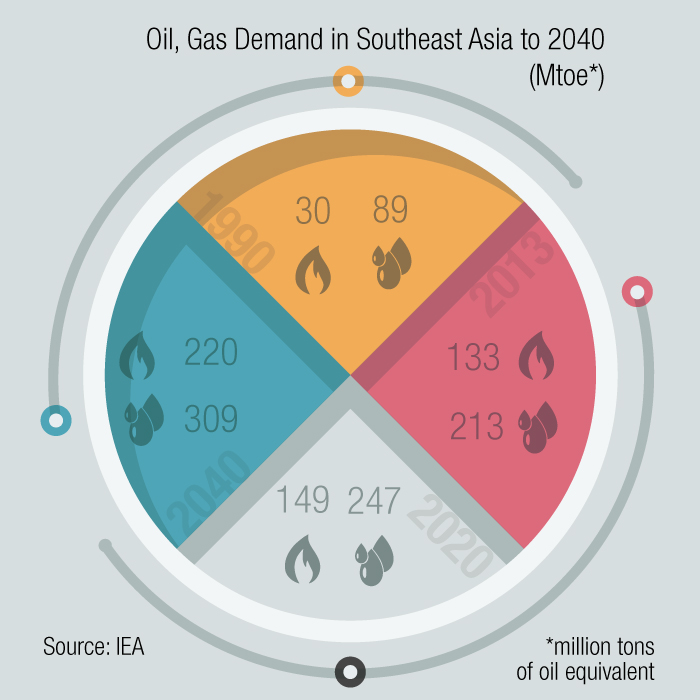 "The power capacity … will increase about 400 gigawatts. What does this mean? In two decades' time, this region will add [the current power generation capacity of] one Japan plus one Korea put together … which shows the importance of the choices for the region and for the rest of the world. So therefore if this region goes for gas, there will be implication for regional gas markets," Birol told participants at the event.
Meanwhile, the report revealed that Southeast Asian oil demand is likely to increase steadily from 4.7 million barrels of oil per day (MMbopd) in 2014 to 5.4 MMbopd in 2020 and 6.8 MMbopd by 2040. Despite the demand uptrend, oil's share of the energy mix falls from 36 percent to 29 percent over the period. Factors that contribute to the decline include the switch to less expensive coal and natural gas in electricity generation and industry; efficiency gains in the transport sector; expanded use of biofuels; and a push to improve energy security by diversifying the energy supply mix.
The IEA expects Southeast Asia's natural gas and oil demand will climb 65 percent and 45 percent, respectively from 2013 to 2040 in overall consumption. However, petroleum's share of the regional energy mix will likely decline from 58 percent in 2013 to 50 percent in 2040, largely from the relative shrinkage in oil use.
Still, given the absolute increase in regional demand for oil and gas, Birol believed Southeast Asia would consolidate "its status as a dominant player in global energy markets."
INDUSTRY FACES CHALLENGES ON SUPPLY-DEMAND IMBALANCE
Given forecasts of higher domestic energy consumption, the Paris-based agency believed that Southeast Asian countries will face a more challenging environment in petroleum production, where more volumes, especially gas, will increasingly be earmarked for local demand.
In fact, Southeast Asia's supply-demand imbalance will extend to natural gas in 2040, when the IEA expects the region to become a net importer, buying around 353.10 Bcf (10 Bcm) of foreign supplies to satisfy domestic needs. At that time, the combined petroleum import bill for the region will reach around $320 billion, three times up from the current level.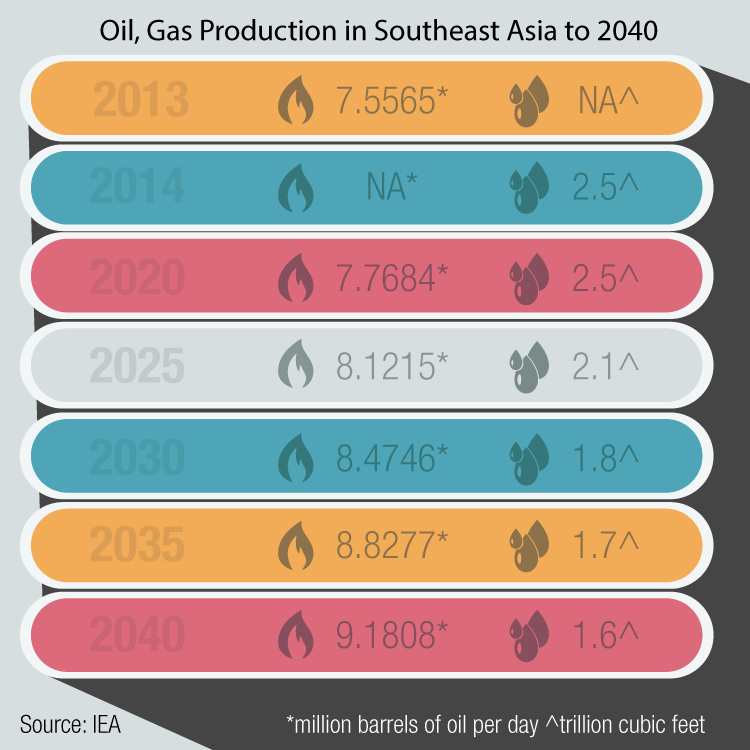 The greatest impact will be felt most in oil as production – currently at around 2.5 MMbopd – is likely to fall to 1.6 MMbopd in 2040. Recent developments have shown that "the most productive fields are progressively exploited and only partially replaced by new production," the IEA report indicated.
In addition, the report noted that Southeast Asia's oil supply outlook post-2020 appears rather bleak, due to a gradual decline in production, mainly from Indonesia, Thailand and Vietnam. Consequently, the region's share of global oil production will dip below 2 percent in 2040, compared to 2.7 percent in 2014 and 3.8 percent in 2001.
The trend of an enlarged supply-demand imbalance for oil will have serious implications for energy security in Southeast Asia.
"The region is going to become more and more a major oil importing region and we think in two decades' time [2040] the region will import 7 MMbopd which is equivalent to Chinese oil imports today," Birol explained.
"This will definitely be an important vulnerability of the region in terms of … [higher] oil prices … trade deficit and … reliance on the imports … There will [also] be issues in geopolitical stability," he added.
While the current low oil price environment has benefited consuming countries, Birol emphasized that energy security is not just an issue of oil price.
"It is such a pity that many observers, many governments indexed their attention to oil security to oil price … which means that [when] oil prices go down they think that oil security is no problem … This is definitely a myopic way of thinking"
"We should look at it in more strategic terms … [like] what is happening in the key producing countries in … the Middle East – Iraq, Libya, Syria and Yemen … Oil security is an important issue which will be with us for many years to come regardless of where the oil price is at a given time," he added.
Southeast Asia is currently better positioned as a natural gas producer compared to oil as it has a larger resource base. While the IEA expects gas production to rise from 7.56 trillion cubic feet (Tcf) – or 214 Bcm – in 2013 to 9.18 Tcf (260 Bcm) in 2040, the increased supplies "principally meets rising domestic consumption, driven by the development of liquefied natural gas infrastructure that enables the exploitation of stranded resources and their delivery to regional demand centers."
When a slowing annual growth in Southeast Asian gas production – averaging .7 percent in 2013-2040 compared to 3.7 percent in the preceding two decades – is combined with stronger domestic demand, the region will gradually lose its status as a gas exporter.
"Gas production is increasing [mainly from Indonesia and Myanmar], but the consumption is increasing even faster … we expect the region will import some gas [and it] will not be a major gas exporter," Birol said.
INVESTMENTS NEEDED TO TAP RESOURCE
As tapping on its hydrocarbon holdings in Southeast Asia is more economically sustainable than relying on costly petroleum imports, there is a need for continued investments in developing oil and gas resources in the region.
According to the IEA report, Southeast Asia has approximately 13.8 billion barrels of proven oil reserves and 264.83 Tcf (7.5 trillion cubic meters) of proven natural gas reserves, equal to at less than 1 percent and 3.6 percent of the world's total as of the end of 2014.
"We still have some oil reserves … in the region but they are rather complex [to produce and] requires very sophisticated technology and high costs to produce oil," Birol remarked.
The IEA estimated that 50 percent of the over $450 billion of cumulative investments needed up to 2040 is to be channelled to the upstream sector. This poses new challenges for Southeast Asian producers seeking to attract the capital and the expertise needed to exploit the untapped resources. The issue is quite pressing as production in many of the most profitable fields are in decline.
In contrast to oil, where resource holders in Southeast Asia have to think of ways of incentivizing investments in the under-explored areas of the region, natural gas producers are expected to garner greater investors' interest.
The IEA projected that 80 percent of the more than $550 billion to be spent on natural gas projects in 2015-2040 are expected to be allocated for the upstream segment.
While "prospects for producing natural gas in the region are brighter than those for oil … an increasing share of production is set to come from more complex and costly resources, often located in deepwater and with high concentrations of impurities," the agency observed.
IEA's Birol however noted that "because there are lots of deepwater fields [in Southeast Asia] … it is not easy to develop projects in such complex areas … [so] it is easier to access gas sometimes somewhere in the world," alluding to cases where importing gas may be a cheaper option than securing supplies from high cost gas projects in the region.