Technology developed by robotics researchers at the Woods Hole Oceanographic Institution (WHOI) allowing an underwater vehicle to switch between remotely operated vehicle (ROV) and autonomous underwater vehicle (AUV) operations could aid the oil and gas industry by enabling a range of robotic interventions in new ways.
Cape Cod, Mass.-based WHOI is eager to partner with the oil and gas industry to insert this technology into oil and gas operations, WHOI Principal engineer Andy Bowen told Rigzone in an interview. The technology, originally developed for ocean research and military use, could be applied for maintenance and intervention work in subsea infrastructure on the ocean floor. Such hybrid vehicles could also be used for operations under ice in the Arctic, which has untapped oil and gas resources.
WHOI research into subsea robotics led to the development of a technology that marries acoustic and optical wireless communication systems, thus enabling a new class of undersea vehicles to fill the void between current AUV and ROV technology. These research resulted from breakthroughs in autonomy and opto-acoustic "wireless" underwater operations and micro-tether technology developed for use in WHOI's hybrid ROV (HROV) Nereus and other vehicles.
Nereus, the first cost-effective technology for regular and systematic access to the world's oceans in water depths up to 36,089 feet, was initially designed by WHOI to survey and sample deep ocean trenches of up to 36,000 feet. In 2012, WHOI engineers conducted a field demonstration offshore Guam of the battery-powered Nereus' capability to take samples and perform complex manipulative tasks with no tether while still under the real-time control of a human operator. These tests showed immediate advantages over existing ROV tethering and control systems.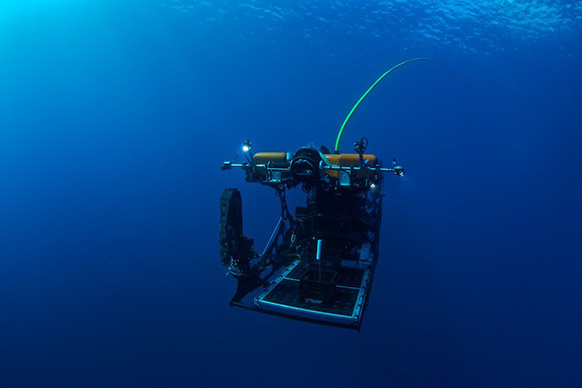 Technology developed by Woods Hole Oceanographic Institute blurs the line between ROVs and AUVs. Source: WHOI (Woods Hole Oceanographic Institute)
Woods Hole researchers had developed the Nereus, which was lost in a spring 2014 expedition, to solve the challenges of exploring in the deepest parts of the ocean, or Hadal zone, below 20,000 feet, Bowen said.
Traditional tethering technology for ROVs – which transports power down to the undersea robot and then enables data and video to be transported to the surface – can be a significant burden as undersea robotics go deeper and deeper, Bowen said.
"Removing a dependence on traditional tethers, reduces the footprint of the vehicle system, meaning deepwater operations are possible from less costly platforms. Such vehicle are also adaptable for more advanced applications such as fulltime residence within a complex offshore structure; available for imitate deployment and intervention when needed"  
WHOI decided to take a new view: that all the power for an ROV and AUV be carried on board, not transmitted down to the robot. Improvements in energy storage and battery technology makes underwater vehicles carrying their own power more feasible.
"If you remove the need for copper, you only need to the tether the cable to transmit signals back and forth," Bowen explained.
Instead of a traditional tether, a thin fiber optic cable was developed to allow real-time control signals to be sent during these deep ocean operations. The fiber optic together reduced the need for large tether handling and management equipment, allowing for long-range excursions up to 12 miles from a launch point. Optical signals can send a high-bandwidth signal that allows real-time control, but only works within a 100-meter radius before the light is absorbed by seawater and the signal lost.
However, this cable – the diameter of a human hair – is fragile and must be discarded after each use. While optical signals can send a high-bandwidth signal that allows real-time control, it only works within a 100-meter radius. Such operating "hot-spots" could enable ROV-like tetherless interventions at suitably equipped undersea facilities.
Acoustic methods, which transmit digital signals through the ocean as sound waves, can operate over long distances. But the nature of sound transmission through  water means that only small amounts of information can be sent, and are unsuitable for control of complex ROV operations in real-time.
"The ocean is opaque in electromagnetic radiation, meaning that its physics don't allow for the transmission of large amounts of information over extended distances without a physical connection. This means that terrestrial applications such as GPS, Wi-Fi, and cellular services don't work," said Bowen.
To address these issues, WHOI researchers are creating control systems that provide vehicles with "adaptive autonomy", or the ability to switch seamlessly between different communication bandwidths and show varying degrees of automation to perform missions. This software provides a way of negotiating and reconciling the robot's activities with regard to the way it communicates with its human supervisors, Bowen explained.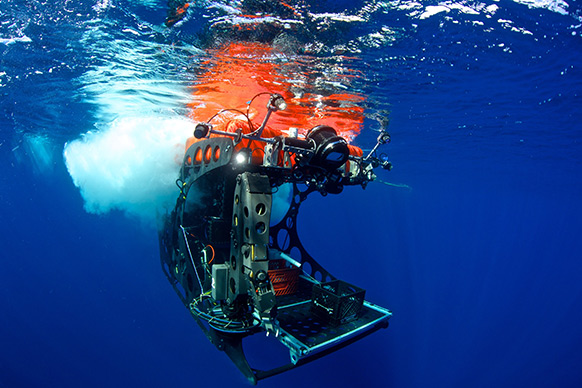 Subsea robotics research at Woods Hole Oceanographic Institute could aid the oil and gas industry in remote ocean exploration. Source: WHOI (Woods Hole Oceanographic Institute)
WHOI took the communication system technology from Nereus to develop a new class of robots, the Nereid HT [hybrid tether] and the Nereid UI [under ice]. Both vehicles will have the ability to switch seamlessly between a traditional tether cable, fiber optic line, and combined acoustic/optic wireless modem, offering greater flexibility in underwater exploration.
Bowen said that WHOI's undersea robotics research is fundamentally about bridging the present gap that exists between traditionally tethered vehicles and the emerging class of AUVs that occupy different parts of the undersea robotics spectrum.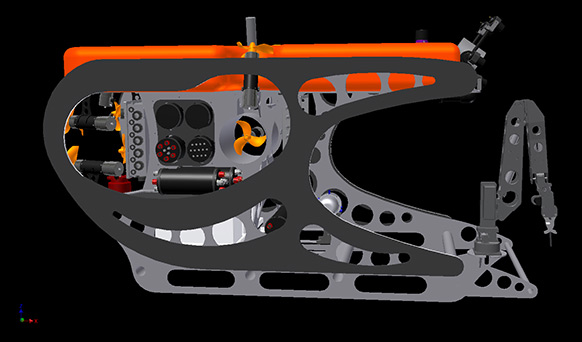 A rendering of the Nereid HT in operation with a reusable hybrid tether. Source: WHOI (Woods Hole Oceanographic Institute)
On one end of the spectrum are tethered vehicles that require constant physical connection and communication, meaning the human operator has control over every activity, from moving the propellers, turning lights on and off, to zooming and focusing the cameras. At the other end of the spectrum is a robot with the same general characteristics, but enough autonomy on board to effectively provide a layer of automation for low level tasks. This robot can perform high-level commands from the human operator – or what Bowen calls "yellow sticky notes" – to do complex tasks.