Albeit "accidentally", Australia was better prepared than other regions from a human resource perspective for the recent dramatic changes to the global oil and gas industry, according to Paula Kirwan, business director at Hays Oil and Gas in Australia.
The global recruitment firm this month released its sixth annual Oil & Gas Salary Guide, which surveyed 45,000 people across 188 countries in 25 different areas of specialization, including engineering, construction and supply chain involvement.
Pre-oil Crash Australian Profile
Overall average salary for an oil and gas worker was $131,954
53% of the workforce received benefits
13% of respondents were female
60% were Australian and 40% were expatriates
86% would consider an international role for their next move
64% were permanent employees, while 36% were on contracts
51% say inadequate succession planning for knowledge transfer and skills retention is the main cause of the skills shortage
Source: Hays
Completed between September and November 2014, prior to the oil price falls, Hays has recognized that the change in market conditions was not fully reflected in the Guide.
However, as Kirwan observed, signs the Australian market was already moving in a different direction, including a decline in the overall average salary of $131,954 for oil and gas professionals, reflecting a local liquefied natural gas (LNG) sector that was transitioning beyond the construction phase.
LACK OF OPTIMISM
Kirwan recalls Australia being a "less optimistic place" when the survey took place, an outlook that fast-forward several months has helped offset the impact of the lower oil price in comparison to other regions.
"Back in September-October all of the feedback from Canada and North America was that they were going to hit boom stages, that there were several projects going to be approved, there was a massive skills shortage and we will need more people," Kirwan told Rigzone.
"Coming out of Australia back then was that, while we are going to be carrying on with where we are going, we are already thin on the ground.
"Three months on and Canada and North America are shedding people and cutting costs, but Australia is really in the same place. There is pressure in the same places but there is nowhere to really cut from."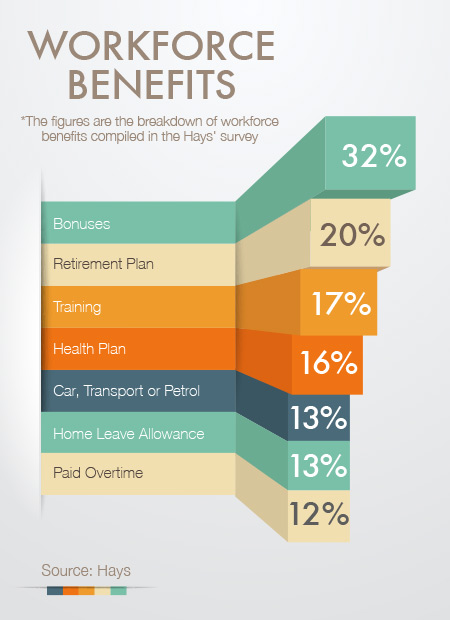 Workforce Benefits Source: Hay
This left Australia better positioned than surveyed regions like Canada and North America to manage the changes, Kirwan continued.
"We were prepared by accident. What we thought was a painful period actually worked in our favor because plans were put in place to continue to develop," Kirwan said.
OVERSEAS LURE?
Guided by its survey, Hays outlined speculation that up to 10 percent of Australia's specialist LNG workforce may move overseas as North American/Canadian projects were due to develop.
Kirwan believes this is now unlikely, adding that the skilled personnel are now left to consider other regions, or stay in Australia, until conditions rebound.
"There was definitely a sign in the market that Australia had the LNG expertise that North America and Canada would be needing, which led to the speculation of an Australian movement to those markets," Kirwan explained.
"I can't see that happening now as there have been no projects approved recently and several projects pulled. Ten percent is not the case anymore, but it is something that will happen should we move into a more positive space."
"However, there are pockets in Kuwait and South America that are still quite positive for these specialized skill sets."
SKILLS SHORTAGES
It is also likely, for the moment, that a skills shortage that has plagued Australia for several years is no longer a severe issue due to the cautious approach companies have adopted, Kirwan added.
For Hays, Kirwan explained, the changing environment has resulted in an increase in focus on securing specialist procurement personnel to help companies reduce operational costs.
"They are having directives of up to 25 percent cost cuts across the board and having to go to suppliers to seek cost reductions across the board," Kirwan said.
"That's where we are busy at the moment, dealing with these queries and obviously supporting clients to get personnel in to deal with these situations."
NEW APPROACH
With fortunes changing within a span of just a few months, Kirwan is wary of how the global industry will manage where it evolves next.
"Our survey showed a level of optimism and security in the industry that was demonstrated in an expectation to be recruiting and increasing salaries," Kirwan said.
"Should the oil price go back, and the gas price follow that, are we going to return to that level of optimism? Quite possibly or is this the warning sign that the industry needed to say 'don't run before you can walk.'"