In an era of increasing global energy demand, high sustained oil prices, ageing oil fields and a dearth of conventional oil finds, it is unsurprising that enhanced oil recovery techniques are now receiving a great deal of attention. As companies seek to make the most of their existing reserves, they are increasingly turning to thermal, gas and chemical enhanced oil recovery (EOR) solutions to maximize recovery rates.
In this first of three articles, we look at the prospects for CO2-based EOR.
CO2 EOR IS USED TO PRODUCE 300,000 BPD IN US
Carbon dioxide (CO2) EOR is not a new technology; it has been successfully utilized in the United States for more than 40 years, sweeping residual oil from ageing fields and thus helping to prolong their life. The rapid development of the industry in the United States during the 1980s came as a result of the discovery of large quantities of naturally occurring CO2 in underground formations in New Mexico, Colorado and Mississippi. Though natural sources continue to dominate the market, industrial (anthropogenic) CO2 sources are growing rapidly and could soon become the dominant supplies for CO2 EOR projects.
CO2 EOR has produced around 1.5 billion barrels of oil in the United States over the past 25 years, while there are now close to 4,000 miles of pipelines transporting CO2 to production sites. Approximately 68 million tons of CO2 is used to produce 300,000 bpd, with the majority of production located in the Permian Basin. The rest of the world remains far behind the U.S. at present, predominately due to the lack of naturally occurring CO2 sources outside of the United States. However, a number of countries are in the process of establishing or expanding their CO2 EOR sectors in the aim of increasing oil production and prolonging the lives of ageing fields.
SHALE OIL REVOLUTION COULD THREATEN CO2 EOR PROSPECTS
The shale (tight) oil revolution is an under-discussed threat to CO2 EOR prospects. The table below shows the 15 largest CO2 EOR producers in North America ranked alongside the 15 largest spenders in the shale oil market in 2014; the table shows there is significant overlap with companies involved in both endeavors. Shale oil development has lower start-up costs and quicker returns than CO2 EOR projects. Consequently, investors and company executives are likely to prioritize their shale oil asset development at this present time.
Occidental – by far the largest CO2 EOR company in terms of production with 30 percent of the U.S. total – plans to keep CO2 EOR production in the Permian Basin flat through 2016 while increasing production from its shale oil assets in the region, according to the company's most recent presentation.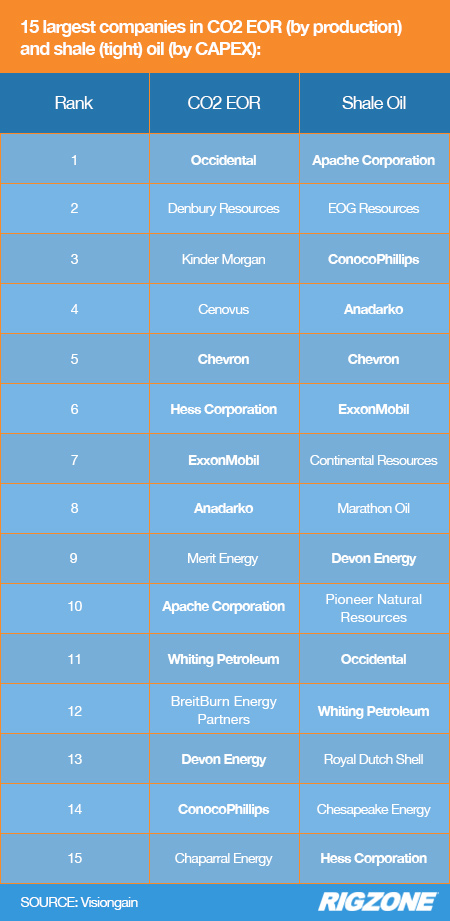 15 largest companies in CO2 EOR (by production) and shale (tight) oil (by CAPEX: Source: Visiongain
GROWTH PROSPECTS FOR U.S. CO2 EOR ARE OVERSTATED
In addition to the five naturally-occurring sources of carbon dioxide used for CO2 EOR in the United States (McElmo Dome, Jackson Dome, Bravo Dome, Doe Canyon and Sheep Mountain), the country also has ten anthropogenic CO2 sources in operation and a further 13 potential anthropogenic sources that could come online by 2020 supplying CO2 to EOR projects.
Though this extra supply presents opportunities for increasing CO2 EOR production, and could lead to anthropogenic sources overtaking naturally-occurring ones within the next decade, it is easy to overstate the potential growth of the market. A report produced earlier this year from the DOE's National Energy Technology Laboratory (NETL) suggested that CO2 EOR production could more than double to 615,000 bpd by 2020, while other sources have produced even more optimistic forecasts.
Although a CO2 EOR pure play company such as Denbury Resources could achieve 10-percent per year production growth (in a best case scenario), the market as a whole is unlikely to grow at this rate in the medium term. The optimistic forecasts for CO2 EOR production have tended to focus on the availability of new CO2 sources and pipelines, without paying enough attention to the plans of CO2 EOR producers and outside factors influencing the market.
PROSPECTS FOR CO2 EOR ARE MORE FAVORABLE IN CHINA, BRAZIL AND MIDDLE EAST
It is estimated that the North Sea holds between 15 and 35 billion barrels of technically recoverable oil equivalent, with at least 3 billion barrels able to be extracted through CO2 EOR methods in UK waters alone. In particular, there is considerable interest in linking carbon capture and sequestration projects with EOR to achieve the joint goals of reducing CO2 emissions and recovering more oil.
However, a number of evaluations of EOR in the North Sea have concluded that the costs for the conversion of offshore installations for CO2 injection are too high, while the lack of availability of sufficient and cheap volumes of CO2 and disappointing CO2 EOR yields in some places are also a potential stumbling block. The economics of CO2 EOR in the North Sea are expected to remain unfavorable for much of the coming decade, though rising oil prices and an improving regulatory environment could lead to stronger growth after 2020.
Prospects are more favorable in China, which has large industrial CO2 sources and a significant quantity of oil found in geologies favorable to CO₂ flooding. China is investing in CO2 EOR as part of its "all-of-the-above" energy strategy, with PetroChina having set up projects in a number of oil fields, though the costs remain high.
In South America, Brazil is leading the way having set up a CO2 EOR project at the Lula field. In this project CO2 is separated from the crude stream onboard an FPSO and re-injected back into the field to boost production. The project includes EOR as part of the original design, which has the obvious economic benefit of not having to subsequently retrofit production systems for CO2 capabilities. If the pilot project is successful Petrobras plans to use the technology on the entire field.
The Middle East may also present opportunities for CO2 EOR with the UAE, Kuwait and Saudi Arabia all in the process of planning projects.
KEY FACTORS FOR SUCCESS
In the U.S. setting, the shale oil boom will hinder growth prospects for CO2 EOR throughout the rest of the decade, though the availability of new CO2 sources and the determination of some companies to invest in the technology will ensure solid production growth. However, as the return on shale oil investments begins to decline (and assuming the maintenance of oil prices in excess of $80 per barrel) CO2 EOR production could see significant increases in the early part of the next decade, potentially exceeding 450,000 bpd by 2024. 
The CO2 EOR market outside of the U.S. faces a number of challenges, particularly in the offshore setting, deriving primarily from the availability and cost of CO2, lack of project experience, unsupportive regulatory environments and competition from other technologies (including other EOR methods). Nonetheless, in an environment of ageing oil fields and few new major discoveries, the prospect of recovering more from existing fields is an attractive proposition, while high oil prices will also help to ensure that CO2 EOR projects continue to be established throughout the world.