Rising energy demand will underpin long-term growth in the industry's expenditure for the global offshore oil and gas sector, John Westwood, Group chairman of consultancy and information services company Douglas-Westwood told participants at the OSEA Conference held in Singapore in early December.
The firm projected that the industry would spend around $1.4 trillion on offshore exploration and production (E&P) between 2014 and 2018 in order to meet global oil and gas demand. The forecast was made before the Organization of Petroleum Exporting Countries (OPEC) decided at its recent Vienna meeting to maintain production at 30 million barrels per day despite falling crude oil prices.
It remained "too early to say how much [of the expenditure] may be postponed in 2015 … The big projects offshore are likely to continue pretty much untouched," Westwood said.
Some market players have urged the industry to seize opportunities provided by lower oil prices, which have fallen from a high of around $110 a barrel earlier this year to around $64 a barrel Dec. 10, to create a more stable business model, less vulnerable to oil price cycles.
Lower "oil price is not something to be panicked about … this is a wake-up call for our industry to really move forward," Matthias Bichsel, a former director of projects and technology at Royal Dutch Shell plc, told the Eighth International Petroleum Technology Conference (IPTC) in Kuala Lumpur, Malaysia.
INDUSTRY NEEDS TO MEET ENERGY DEMAND GROWTH
Irrespective of oil price, the International Energy Agency (IEA) projects that worldwide energy demand will grow by 37 percent to 2040, or at an annual average growth of 1.1 percent, according to the Paris-based organization's World Energy Outlook 2014 (WEO2014) released in November.
"Demand for oil rises by 14 million barrels per day, to reach 104 million barrels per day in 2040 … global gas use continues to grow, with demand of 190.62 trillion cubic feet [5.4 trillion cubic meter]," according to WEO2104.
Douglas-Westwood estimated that globally 80,000 wells were drilled onshore in 2014, while offshore drilling accounted for another 2,500 wells, of which 1,070 wells were in the Asia-Pacific region.
"We have to keep drilling to ensure supply … Despite what's happening to oil prices we are still burning about 90 million barrels per day around the world. So there is no option, we have to drill a huge, huge number of wells," Westwood explained.
"Moving ahead we reckon that offshore development wells need to grow by 17 percent by 2018 to supply the world oil and gas demand, and remember all those numbers are development wells, not exploration wells," he added.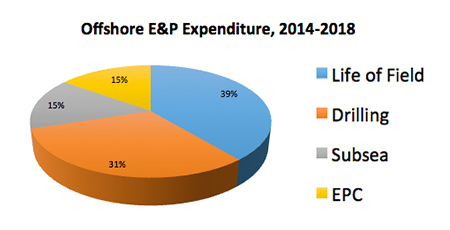 Offshore E&P Expenditure, 2014-2018 Source: Douglas-Westwood
Out of the $1.4 trillion offshore E&P expenditure for 2014 to 2018, life-of-field is expected to account for 39 percent of the total, while drilling makes up 31 percent. The engineering, procurement, and construction (EPC) as well as subsea segments will each take up 15 percent, figures from Douglas-Westwood shows. 
DEEPWATER CAPEX FORECAST TO RISE
With energy firms, particularly international oil companies (IOC), moving into deeper water in search of hydrocarbon resources, deepwater E&P expenditure looks set to rise.
Douglas-Westwood foresees a 130 percent increase in deepwater E&P expenditure in the five years to 2018, when the annual spending will reach just over $70 billion. During the same period, deepwater E&P spending would comprise 24 percent of the projected $1.4 trillion to be spent by the global offshore sector. The firm estimated that drilling and completion of 1,500 subsea wells will cost around $90 billion.
In a related development, demand for floating production platforms, especially for those in deepwaters of over 1,640 feet (500 meters), is expected to rise, with energy companies' spending in this segment expected to reach around $164 billion in the period to 2020, the consultant indicated.
Floating production systems include floating production, storage and offloading (FPSO); floating liquefied natural gas (FLNG); floating storage and offloading (FSO); Tension Leg Platforms (TLP); and Spar.
"There is a more significant change since a couple of years ago and that is FLNG expenditure starting to really show some strength now … We think that something over $80 billion will be spent by 2020 on FLNG … Projects like Shell's Prelude … [which] underlines the increasing focus on natural gas," Westwood commented.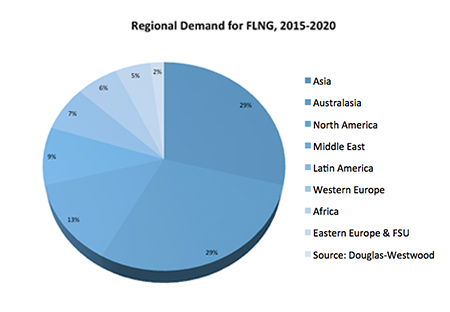 Regional Demand for FLNG, 2015-2020 Source: Douglas-Westwood
Energy companies seeking to develop gas resources, particularly in Asia, Australasia and North America, are expected to turn more to FLNGs, which are deemed to be more economically viable to operate over the long term than costly onshore liquefied natural gas (LNG) plants.
THE INDUSTRY MUST CUT COSTS
Given the huge costs of E&P projects, including those located offshore, the industry has to reduce the large sums spent in recent years. Global E&P expenditure since 2000 has risen 287 percent to around $660 billion in 2013, while oil and gas production rose only 24 percent in the corresponding period to about 7.7 billon ton of oil equivalent last year, data from Douglas-Westwood showed.
"So we are spending more and more dollars every year to recover less and less oil and gas … obviously that can't continue," Westwood said.
Calls to reign in the high cost were also made at IPTC, where Wee Yiaw Hin, an executive vice president and CEO of Petroliam Nasional Berhad said, as quoted in a Bernama news agency report, that conventional oil and gas players should look up to their peers in the unconventional petroleum segment that managed to trim costs through technology and innovation.
Speaking of unconventional oil and gas, "one reason that drillers can expand production in the face of falling prices is that they have become more efficient at coaxing energy from tight rocks … In an amazing engineering feat of engineering and economics, lift costs have been driven down as much as $30 per barrel since 2012," Dan K. Eberhart, CEO of Canary, LLC. said at the OSEA conference in Singapore.
"With oil prices … in the low $100s, there is not that much focus. But once prices begin to go down, things are really going to start changing … we need to understand what is actually causing those costs to be so high," Westwood said.
Cost drivers that affect the E&P industry include:
increasing technical challenges

over engineering

project management issues

skills shortages

local content pressures

government's increasing their take

2010 Deepwater Horizon incident
The use of more standard modularization has been suggested as a way of overcoming the issue of over engineering, while project management is the "biggest single factor" that Douglas-Westwood come across when analyzing the cost of floating production systems.
On skilled shortages, "we have heard about the great crew change for years now, but this is really having an impact. I think it is also impacting on project management because we don't have enough experienced project managers," Westwood pointed out.
Related to the issue of skilled shortages is local content pressures, with the British consultancy noting that "in some parts of the world where you have to hire local engineers … that local engineer can costs you 50 percent more than bringing in an engineer from another country. There is a lot of ambition but at the end of day the numbers have to be sensible."
Another factor impacting on E&P cost is associated with higher drilling costs post-Macondo, with a deepwater well now estimated to cost around 20 percent more than previously.
POTENTIAL IMPACT OF LOWER OIL PRICES
Following years of oil trading above $100 a barrel, the industry has to adapt to a changing environment resulting from the 30 percent slide in crude prices since September. The evolving oil price landscape could generate a fair amount of merger and acquisition (M&A) activities.
"In the next year, there will be a lot of buying and selling of companies. This presents great, great opportunities … A lot of countries, in particular China and more recently India, are heading for more production assets around the world," Westwood emphasized.
M&A activities are likely to spread to the oilfield services sector too.
"There has been a host of activity from investment bankers surrounding the oilfield services, specifically the M&A sector since the Halliburton-Baker announcement … There's going to be a whole bunch of M&A activity created around that … in addition, a lot of service companies think they're going to need to buy growth … With both of those two things, you're going to see a host of consolidation. The folks with the stronger balance sheet are going to go after the folks with the weaker balance sheet … I also think that in the current pricing environment you're going to see a lot of the more marginal players going to sell out because they have to as they don't have the balance sheet strength to move forward. We are starting to see that from phone calls and chatters we hear among investment bankers and services sector," Eberhart said.
On enhanced oil recovery (EOR) projects in Asia, there are no clear signs yet on whether there will be delays or cutbacks.
"Each EOR project has its own individual floor price because it depends on how big the project is, how much additional oil you expect to recover and over what time. So it's a time value … if you think that oil price is going to remain at $60 to $65 a barrel for the next two to three years, then it's different than if you think it's going to $100 next year and beyond," Dr. Satinder Purewal, visiting professor of Petroleum Engineering at Imperial College in the United Kingdom and Director of SVS Oil and Gas told Rigzone.
"It also depends on whether the EOR projects have tax incentives given by the government. If there are tax incentives, that may negate the lower oil prices," he added.