Last December in the UK, a "drone" was a must-have Christmas present for your typical gadget-obsessed geek with money to burn. Along with many technologies that began life as a military tool, the drone finally found its way into the consumer sector – with hundreds of thousands of the devices being sold in the UK during the run-up to Christmas. Admittedly, most of those sold were of a size that would likely not concern a commercial airline pilot too greatly, but the sight of sizable hovering machines being remotely controlled by an anoraked, middle-aged man is becoming more common in England.
Like them or loathe them, drones are increasingly a fact of life and, if online store Amazon gets its way, the advent of drone-based delivery services will mean that seeing a drone flying overhead will become just as uneventful as seeing an airplane in the sky.
Regular use of drones within the oilfield services industry is also relatively new, with the two leading UK-based companies providing drone inspections to the sector – Sky Futures and Cyberhawk – having been in existence for less than a decade. However, California-based unmanned aircraft specialist AeroVironment first demonstrated the feasibility of unmanned aircraft systems for the oil and gas industry in the early 2000s, according to Steven Gitlin, the firm's head of marketing strategy.
"These demonstrations included surveying offshore oil rigs, pipelines and other infrastructure. We had contracts in place to support incident response applications when the FAA [Federal Aviation Authority] banned the use of unmanned aircraft systems [UAS] in the national airspace system," Gitlin told Rigzone.
The FAA has since become more flexible about the use of unmanned aircraft for certain commercial applications, paving the way for their use in the oil and gas sector in the United States.
"Last June, we received FAA certification for commercial UAS operations in support of BP in Prudhoe Bay. This was the first FAA-approved commercial UAS operation over American soil. Since that time we've delivered advanced information services to BP, including road and pad modeling, and our mission was expanded to include pipeline modeling. The FAA also expanded our operating area by more than 500 percent to an area larger than the state of Maryland," Gitlin said.
AeroVironment's solution for BP consisted of an integrated information service, using its Puma AE UAS and the firm's UAS operators. The Puma – which is used extensively by the U.S. military – uses advanced sensors to collect large amounts of data as well as a Cloud-based back-office data system that integrates the UAS data with geographic information to produce what Gitlin describes as "engineering-quality" reports.
REPLACING ROPE-ACCESS INSPECTION
When it comes to getting up close and personal with upstream structures such as oil and gas platforms, both Cyberhawk and Sky Futures believe they operate the best systems in the industry for the purpose of carrying out maintenance inspections. Traditionally, the oil and gas industry has employed teams of inspectors who either hang off the sides of platforms on ropes or use scaffolding in order to get the job done. But drones – with their ability to hover and stay relatively steady – can do much of this work, which means reduced health and safety risks, reduced time taken to conduct inspections and reduced costs.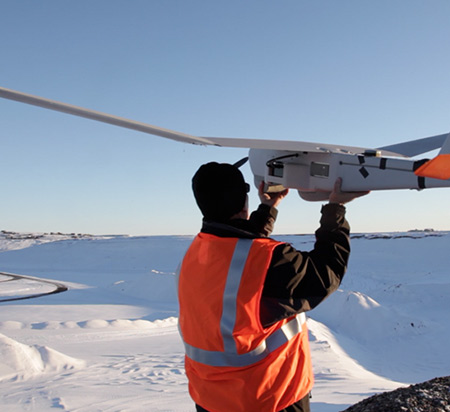 AeroVironment's Puma unmanned aircraft about to take off in Alaska (Source: AeroVironment)
Cyberhawk was founded in 2008 two ex-offshore inspection engineers who spotted an opportunity, according to Global Sales Manager Patrick Saracco.
"They used to use rope-access techniques to inspect platforms but realized there must be a better, quicker and safer way to inspect hard-to-reach assets," he said.
"The company has grown to over 40 people, specializing in industrial inspection and survey using ROAVs – the largest ROAV company in the industry. We have offices in Europe, Asia and the Middle East and work all over the world inspecting hard-to-reach assets in the upstream and downstream oil and gas industry as well as the wind and electricity utility industry."
Sky Futures, founded in 2011, is a bit younger but Chris Blackford, its co-founder and chief operating officer, points out that the firm was one of the first to get a commercial license in the UK and is now one of the more mature drone operators in the oil and gas sector.
"We have two operators: a pilot and an inspection engineer, who operates the camera. So, it's still fairly simple technology and its application is for visual inspection. We do general visual inspections and close visual inspections," Blackford said.
"We don't entirely replace rope-access [inspection]. We're very much more complementary, but we do the first-line inspection work … so it makes the whole inspection and maintenance of platforms and refineries a lot more cost effective and efficient."
Saracco said that, at the moment, the technology is being used as a screening tool by platform maintenance teams in order to decide where further maintenance and manned inspection work must be carried out.
"To inspect those hard-to-reach assets such as flares, exhausts, underdecks, vents, splash zones will usually take usually take weeks of rope-access teams or scaffolding but now, using ROAV technology, you can do it remotely in a matter of days. With high-quality imagery, videos and thermography from the ROAV our inspection engineers are then able to provide a full inspection report highlighting the condition of the asset. Technical authorities, integrity teams, inspection and maintenance contractors can then sit around a table and say: 'This is how it looks. So, how can we optimize the manned inspections?'"
"So that is why this is a massive game changer, especially in this period of low oil prices. One of the major impacts on an operator's P&L are unplanned shutdowns. To minimize the shutdowns you have to routinely inspect your asset.  And this technology allows you to do it quickly and safely, whilst the plant is operational and drastically minimizing HSE risk exposure."
"VERY HIGH PERFORMANCE FOR SOMETHING SO SMALL"
Both Blackford and Saracco said that they are seeing huge advances in the drone technology that is being used to conduct inspections in the oil and gas sector. The two companies have their own technology teams in-house that work with drone manufacturers and sensor companies to continuously improve the equipment they use and the services they offer their oil and gas customers.
"Our aircraft are much more advanced than when we started out four years ago. They're incredibly reliable. We can now work in winds of up to 29 knots," Blackford said, explaining that a gimbal arm on the Sky Futures drone's camera compensates for the aircraft being buffeted about in the wind.
"It's very high-performance kit for something so small: about 2.2 kilos of weight and 80 centimeters by 80 centimeters. It's a very small piece of tech but an incredibly capable system."
Saracco describes drone technology as developing in almost the same ways as mobile phone technology.
"Every six months you have a new development, and that's why there is almost a drone for any application in the market," he said.
For this reason, Sky Futures and Cyberhawk see few limitations as to what drones will eventually be able to get up to in the field of structural inspections.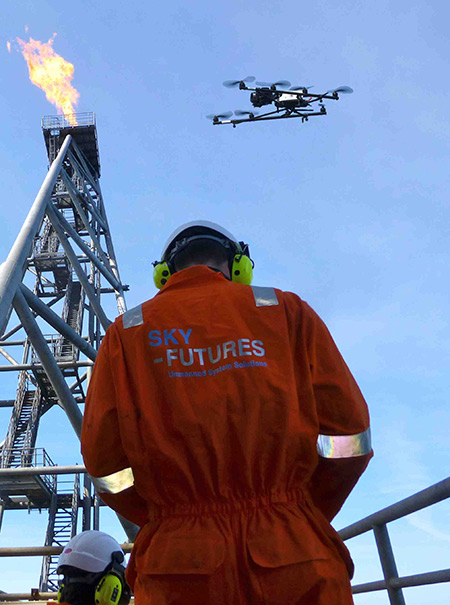 A Sky Futures drone in use near a flare tower. (Source: Sky Futures)
Blackford sees a future in which drones will fly off on their own to carry out inspection work without the need to take commands from human beings.
"Drones, like anything else, have their limitations. But for us, the future is full autonomy. It's having a drone on every platform but having no-one flying them. So they work to a schedule. You would send a message to the drone and tell it to fly to 'Schedule One' and it would inspect certain aspects of the platform," he said.
"At the moment, humans [are] inspecting the data but the problem with humans is that we can be lazy, we can make mistakes and we can become bored. So we lack consistency. And [Sky Futures] is all about data, so we're about data consistency and ensuring that we get a consistent level of confidence on the quality of data that we give to the oil companies. And the best way to do that is through robots and algorithms…
"We already have our own anomaly-measurement software, so we created software where we can measure linear defects and surface area defects to very high levels of confidence and accuracy. And we can do change detection, so we can take a picture of a crack now and then a crack in six months and tell you how far it's grown."
Another future development, which Saracco believes is sure to happen, will be the development of drones that can physically interact with the structures they are inspecting.
Drones "can't yet perform contact-based non-destructive testing inspections, but with the rate drone technology is advancing it won't be long before you'll have something reliable enough that can do that," he said.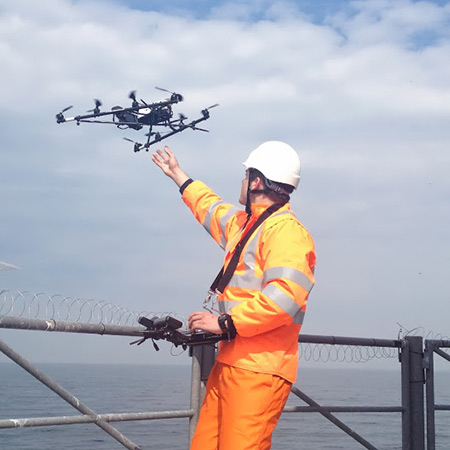 A Sky Futures pilot launches a drone into flight offshore. (Source: Sky Futures)
"Because there are so many manufacturers, so many users and so many applications, innovation is being stimulated all the time. We've had new technology developed in the past year or two where you have two different kinds of examples of obstacle-avoidance system. One is software-based, the other is hardware-based. One type of drone has sensors that detect you getting close to an obstacle and will deviate its flight path, and the other one can actually bang against the asset and it is capable of flying away again."
These kinds of development show that a solution for contact-based testing by drones is just around the corner, Saracco believes.
"If it's not one year, it'll be two years before is developed. It's not going to be 10 years," he said.