In a vote of confidence towards a recovery of newbuild rig demand within the next three years, China's Yantai-based offshore builder, Yantai CIMC Raffles Offshore Ltd. (CIMC Raffles) said it is prepared to co-finance the construction of semisubmersible drilling units.
The rig builder, responsible for the bulk of semisubmersible drilling units delivered from China in recent years, aims to conclude talks by June with several parties interested in co-owning the first rig to be built to the BT 5000 design, a CIMC Raffles spokesperson told Rigzone in an exclusive interview.
The BT 5000 design semisub is developed by CIMC Raffles' 90 percent-owned, Sweden-based subsidiary, Bassoe Technology. The Chinese firm acquired Bassoe Technology in 2013, with Bassoe Group retaining 10 percent interest.
With about 50 engineers on board, Bassoe Technology is spearheading the conceptual studies of new rig designs, while detailed to production design of rig building projects at CIMC Raffles is supported by some 1,000 engineers at the CIMC Offshore Research Institute in Yantai.
The BT 5000 design semisub is a mid-water harsh-environment offshore drilling unit capable of operating in the UK sector of the North Sea. The North Sea class semisub is designed to drill wells down to 30,000 feet (9,144 meters) deep in water depths of up to 4,921 feet (1,500 meters).
NORTH SEA RIG OPERATORS KEEN ON BT 5000 DESIGN SEMISUB
Seasoned North Sea rig operators the likes of Seadrill Ltd. and Ensco plc have enquired about the newbuild mid-water semisubs, of which replacement demand is widely projected to pick up given a significant percentage of the global operating fleet are built in the 1980s.
Investor interest in newbuild rig, however, has evaporated as offshore drilling contracting activity fell during the last 12 to 18 months.
Since the second half of 2014, rig operating day rates took bigger hits with oil majors and national oil companies unveiling cuts to capital expenditures for upstream activity.
CIMC Raffles views the current downturn as a window of opportunity for consolidation in the offshore marine sector, the spokesperson said.
The yard operator has elected to put its money on an offshore drilling asset class which attracted far less investor interest.
RED FLAG FOR JACKUP BUILDERS
By contrast, between 60 and 70 jackups under construction in China alone were due to enter the market within the next 12 to 24 months.
Against a backdrop of weakening offshore drilling demand even in the shallow waters, Transocean Ltd. and Seadrill are understood to have delayed deliveries of their newbuild jackups under construction in Singapore and China.
Industry observers have warned yards building jackups for first-time rig owners, with no charters on hand, could remain exposed to the risk of contract cancellations in the next two years.
CIMC Raffles has elected to invest in the opportunistic construction of semisubmersible drilling units, of which deliveries can be selectively timed with a recovery in newbuild rig demand, projected to take place in the next two to three years.
CIMC RAFFLES CO-FINANCES OTHER SEMISUB PROJECTS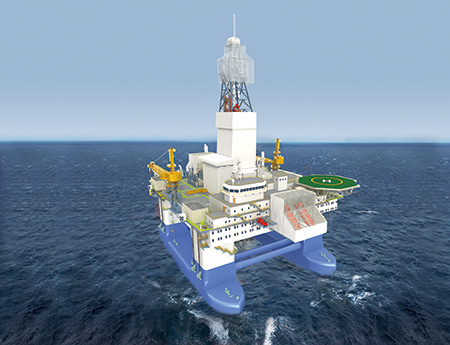 GM4-D Semisub. Source: CIMC Raffles
CIMC Capital has also co-financed three other semisubmersible drilling units being built to its 90 percent-owned GM4-D design for North Sea Rigs AS. The GM4-D semisub is described as an improved design of the GM4000 series CIMC Raffles delivered to China Oilfield Services Limited.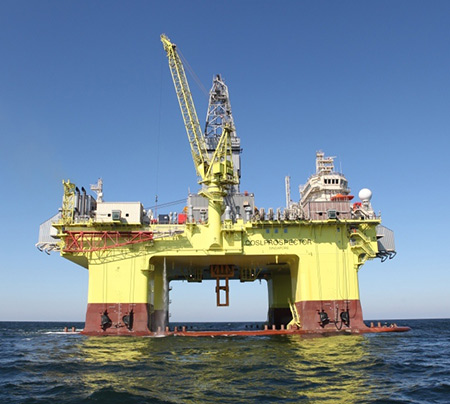 COSLProspector Semisub. Source: CIMC Raffles
Dubbed the North Dragon (mid-water semisub), the first in the GM4-D series was mated in January. The semisub is designed to operate in up to 3,937 feet (1,200 meters) of water and drill wells to 26,246 feet (8,000 meters), according to Rigzone's Riglogix database.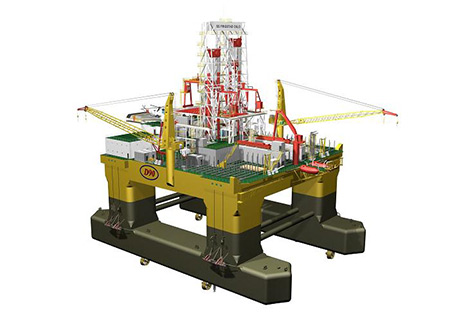 D90 Design Semisub. Source: CIMC Raffles
In May, CIMC Raffles also expects the mating of the first of two D90 design semisubmersible drilling units being built for Norway-based Frigstad Offshore Ltd. The D90 design unit to be mated in April is touted as potentially the first seventh generation semisub to be delivered to a rig owner.
Frigstad Offshore has returned to CIMC Raffles to build two further semisubs after having commissioned the same yard for the first D-90 design unit, subsequently named Scarabeo-9 (UDW semisub) and sold to Saipem S.p.A..
Scarabeo-9 is equipped with Aker Solutions drilling equipment set. By contrast, the pair of D-90 semisubs under construction will come with National Oilwell Varco drilling packages.
Each of the seventh generation semisubs is also designed to drill wells to over 40,000 feet deep in water depths in excess of 12,000 feet.
The CIMC Raffles spokesperson estimates the seventh generation D-90 semisub will cost 30 percent over the BT5000 design unit. The price of the BT5000 design semisub is also likely to come within 85 percent of the GM4D North Dragon, the spokesperson said.
CIMC Raffles has yet to firm up the drilling equipment supplier for the first BT5000 design semisub, although the yard operator is in talks with Aker Solutions over setting up an offshore drilling simulation facility in Yantai.
CIMC Raffles has an outstanding order book of $5 billion lasting through 2017, including five drilling semisubs.
SEVEN JACKUPS ON ORDER
The yard operator has seven jackups on order, including three Friede & Goldman JU2000Es, two Super M2s, a 300-foot jackup for Sinopec and a gas compression unit for Petroleos Mexicanos (Pemex).
The 300-foot jackup on order from Sinopec is being built to a design developed by Sinopec's Shengli Engineering and Consulting.
Sinopec returned to CIMC Raffles for the Shengli design jackup after acquiring a JU2000E drilling unit. The Chinese yard operator was previously commissioned to build for Malaysia-based Coastal Contracts.
The Pemex jackup is being built to CIMC Raffles' Taisun 200B design to compress gas for re-injection to improve recoveries from mature oilfields.
CIMC Raffles is also in talks with China National Petroleum Corp. over the sale of a Super M2 jackup.
The yard operator has a riserless drilling and well intervention unit scheduled for delivery in 2017 to Norway's Norshore Holdings AS.
In May, it aims to strike steel on the third CR600 design accommodation semisubmersible unit, following the delivery of two earlier units to OOS International B.V.