Profits of major Chinese independent oilfield services (OFS) firms declined in the first half of 2014 from a year ago as business activities slowed in China's upstream petroleum sector even though their state-owned energy companies-backed counterparts posted gains.
Despite the generally weaker performance by OFS companies, the long-term prospect for the industry is bright due to expectations of strong petroleum demand in China. The sustained rise in Chinese energy demand has encouraged Asia's largest economy to further expand production of its domestic petroleum resources.
According to the U.S. Energy Information Administration (EIA), China's total oil and liquids production – the fourth largest in the world – has risen around 54 percent over the past two decades, serving only the domestic market. Still, rising demand has prompted China to turn to costly oil imports to satisfy local consumption needs.
China is in fact poised to surpass the United States as the world's largest net oil importer this year, the EIA estimated, adding that Chinese oil demand growth accounts for a third of the global total in 2013 and possibly in 2014.
ROBUST LONG-TERM PROSPECTS FOR CHINA'S OFS SECTOR
With priority accorded by the government towards developing China's petroleum resources, industry watchers believe OFS providers – who assist oil and gas producers through exploration, development and production phases of a field's life cycle – will benefit from strong industry growth in the long term.
"We believe China's OFS sector is at the beginning of a decade-long upswing underpinned by aggressive domestic production … Our model shows a robust 80 percent rise in onshore upstream expenditure in 2012-20E, led by a 9 percent gas production Compound Annual Growth Rate [CAGR]. We expect healthy upstream demand and market share gains to drive a revenue CAGR of 25 percent for the leading independent OFS companies over the same period," Standard Chartered Bank said in a January equity research report.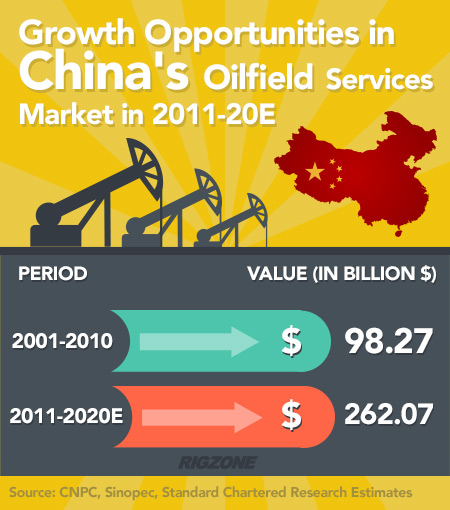 Four drivers were cited by the British bank that would have an impact on the industry direction of the OFS sector through 2020, when it is estimated to be worth $36 billion (CNY 220 billion), up from $19 billion (CNY 120 billion) in 2012. The drivers include:
more outsourcing, as state-owned enterprises

increasing well complexity, boosting demand for value-add services

local substitution to reduce costs; and

faster-than-expected China shale gas development
CHINESE OFS FIRMS' HALF YEAR NET PROFIT FALLS
The business outlook dimmed considerably for a few independent Chinese OFS companies – Anton Oilfield Services (Group) Ltd., Petro-king Oilfield Services Ltd. and SPT Energy Group Inc. – after the recent release of their first half financial results.
While these China-based OFS firms, apart from Petro-king whose turnover fell 28.37 percent to $45.58 million in 1H 2014, managed to grow their revenue, profitability declined sharply with losses ranging between 16 and 84 percent.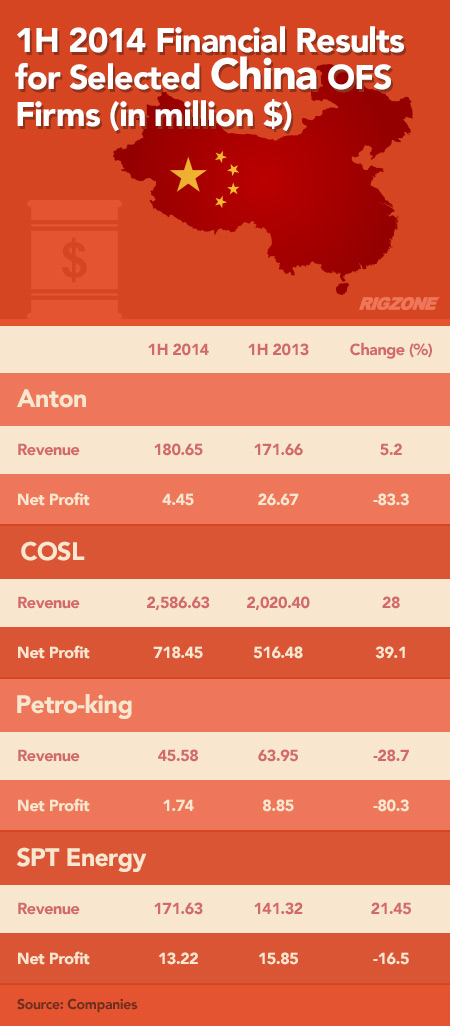 China Oilfield Services Ltd. (COSL), a subsidiary of state-owned China National Offshore Oil Corp. (CNOOC), was the exception to the trend that affected the independent OFS firms. COSL enjoyed "stable order flows from its parent," Fitch Ratings said in a September report.
Being linked to CNOOC will be beneficial to COSL in the second half of 2014 as the parent firm plans "to work diligently to ensure that we meet our annual production and business targets," Li Fan Rong, CEO of CNOOC said in an August press release.
Moreover, CNOOC's "production has to grow by 20 percent in 2015 to meet the five-year [2011-2015] growth target … capex is increasing significantly [to replace reserves and increase production]," Tony Liu, an analyst at Hong Kong's Bocom International Securities Ltd. told Rigzone earlier.
In contrast to COSL, which depends on CNOOC's offshore projects for work orders, the business fortunes of local independent OFS firms focused more on China's onshore upstream projects, an area where PetroChina Company Ltd. – the listed arm of state-owned China National Petroleum Corp. (CNPC) – is active in.
But an ongoing investigations by the government into the business practices of China's state-owned enterprises have affected major petroleum companies like PetroChina, which has become a prime target of the campaign. This has caused delays in the award of oilfield services contracts for upstream petroleum projects over the last few quarters, leading to shrinking orders for Chinese OFS operators.
ANTON'S PROFITABILITY PLUNGES
Anton – a drilling technology, well completion, down-hole operation and tubular services provider – was among the OFS companies worst hit by falling net profitability in the first half of this year. Its net profit shrank 83.3 percent to $4.45 million despite overall revenue rising 5.2 percent to $180.65 million, company data showed, with revenue growth in overseas markets offsetting a 4.3 percent dip in China amid an overall slowdown in the domestic market.
Anton, in which Schlumberger Ltd. is a shareholder with a stake of just over 19 percent, attributed its weak first half financial performance to a changing market as the domestic industry is undergoing reform while oil firms are transforming their business models to emphasize more on efficiency. This in turn led to changes in potential clients' capex structure.
As a result, Anton's profitability was squeezed as:
projects were delayed

the opening up of domestic markets has intensified competition and brought downward pricing pressure on the company
Given that Anton derives 72.8 percent of its first half revenue domestically, developments in China would continue to weigh on the firm's performance in the immediate future. Industry analysts believed that the ongoing anti-corruption drive could put a lid on PetroChina's upstream capex for now.
"In the next half year PetroChina will continue to slow down its release of land oil services orders to private oil service companies, and Anton needs to increase efforts to obtain oil and gas services orders from other pipelines," Singapore-based PhilipCapital said an Oct. 10 investor note.
Domestic developments would certainly affect Anton, with Fitch Ratings pointing out in a Sept. 10 report that the firm's "competitive position in the Chinese market is stronger than in overseas markets. A continued, significant venture into overseas markets would be viewed cautiously from the ratings perspective."
PETRO-KING SEES RED FOR REVENUE, PROFIT; COSL COMFORTABLE
Compared to Anton and SPT, which fared relatively well among China's OFS firms surveyed in this article with first half revenue up 21.45 percent and net profit down by 16.5 percent, Petro-king was hit by a double whammy on both fronts. Its revenue and net profit declined 28.7 percent and 80.3 percent to $45.58 million and $1.74 million, respectively.
Like Anton, Petro-king blamed the revenue slump partly to a general slowdown in business activities of the company's major domestic customers, with the most significant decline coming from northern China's Ordos Basin.
"The general decline in volume of the multistage fracturing activities for tight gas/oil wells in the Ordos Basin was the major cause of the Group's revenue decline in 1H 2014 … progress in shale gas fracking business in the Sichuan Basin was slower than what we expected," Petro-king said when it issued the company's interim report for 2014 in mid-September.
To return to profitability, Petro-king is focused on production enhancement services for unconventional gas projects (including those for shale gas and tight gas wells) in China. The firm has expanded its drilling service engineer team in a bid to provide high end drilling services to China's major markets such as the oilfields in the Tarim Basin, the Sichuan Basin and the Songliao Plain.
On Sept. 25, Petro-king secured a $40 million (approximately HKD 312 million) three-year term loan facility to help meet these company objectives.
"The Group will continue to improve its high-end oilfield technology services and maintain its leading position in the industry. The loan facility will enhance the Group's financial strength, allowing it more flexibility in investing in the development of new technologies and in capturing market opportunities," Wang Jinlong, chairman and CEO of Petro-king said in a press release.
COSL enjoyed contrasting fortunes in the first six months of this year when compared to the independent OFS firms, with revenue increasing 28 percent to $2.58 billion, while net profit was 39.1 percent higher at $718.45 million.
"The Group's results for the first half hit a new record high primarily due to the strong demand from both the domestic market in China and the international market," COSL Group CEO and President Li Yong said in late August.
The oilfield services needs from parent company CNOOC provided COSL with around 90 percent of the former's drilling services requirement. COSL is also the recipient of the bulk of CNOOC's offshore well services as well as geophysical and marine support services requirements.
"Tangible support to COSL from CNOOC includes the prioritization of COSL in the domestic business, and financial assistance via the provision of various credit facilities to COSL," Fitch Ratings remarked in a September report.
Furthermore, CNOOC is expected to continue supporting COSL given the drive by China towards developing a deepwater capability in oil and gas exploration and development. COSL is already managing the $975 million deepwater rig – the HYSY 981 (UDW semisub), which was constructed by CNOOC.
Going forward, while growth prospects for companies backed by state-owned firms like COSL are stable, Chinese independent OFS providers have to carve a niche by themselves to expand their business.