Key energy officials from Azerbaijan and Turkey have highlighted the growing role played by their respective countries, via the Trans-Anatolian Natural Gas Pipeline (TANAP), in helping to deliver energy security to Europe in the future.
Speaking Wednesday at the Caspian Oil & Gas Conference in Baku, Azerbaijan's Minister of Industry and Energy Natiq Aliyev noted that his country's significance is growing when it comes to the provision of energy security for Europe with Azerbaijan "playing the role of a bridge between East and West".
Sefa Sadik Aytekin, Deputy Undersecretary at Turkey's Ministry of Energy and Natural Resources, also used the bridge metaphor, pointing out that Turkey "forms a natural energy bridge to transport hydrocarbons from Central Asia and the Middle East to world markets".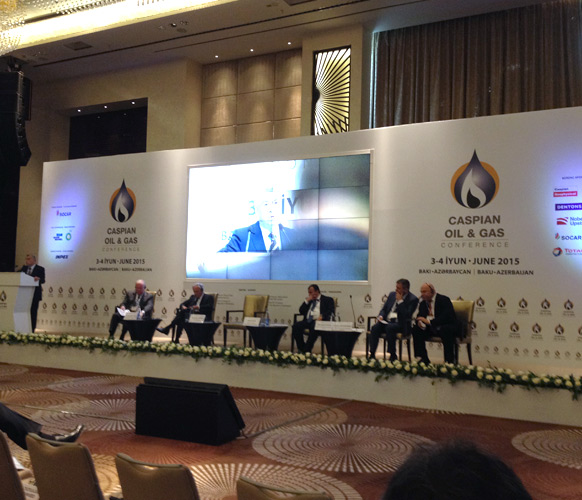 Azerbaijani Minister of Industry and Energy Natiq Aliyev believes his country can play the role of a bridge between East and West when it comes to energy security.
TANAP – a natural gas pipeline from Azerbaijan that connects to Europe through Georgia and Turkey – will form a key part of the Southern Gas Corridor, which is a European Commission-led initiative for gas supply from the Caspian and Middle Eastern regions to Europe. The pipeline, which had its ground-breaking ceremony in Turkey in mid-March, will connect with the Trans Adriatic Pipeline to connect the Shah Deniz field to European markets.
After BP and its partners decided in December 2013 to go ahead with the Stage Two development of Shah Deniz, the field will see some 565 billion cubic feet of gas per year carried more than 2,100 miles through Georgia, Turkey, Bulgaria and Italy. But both Aytekin and Aliyev pointed out that TANAP will also help to boost the development of other gas regions in the Caspian and Middle East regions.
"The TANAP project will facilitate the realization of other projects within the Southern Gas Corridor," Aytekin said.
"In the long term, initial gas… via the Trans-Caspian Gas Pipeline could also be delivered by the TANAP system to Europe. And Iraqi gas has great potential to enhance Turkey's and European countries' energy security."
Aliyev also noted that several countries are in discussions to become involved in the project.
"Today, there are talks going on about Turkmenistan joining the project. Iran can also join the Trans Anatolian Pipeline project in other ways," he said, referring to Iran's recent interest in purchasing a stake in TANAP.
There could even be room for natural gas from the recent giant gas discoveries offshore Cyprus and Israel "if they are willing to use our infrastructure through Turkey", Aliyev added.
Also speaking at the conference, was former UK Energy Minister Charles Hendry, who is now chairman of advisory group Eurasia Partners.
Hendry said that the UK recognized the strategic importance of what is being achieved with TANAP and the development of the Southern Gas Corridor.
"This is not just about Azerbaijan making the most of its extraordinary natural resources, or indeed of the… role being played more generally across the Caspian region of such a geopolitical and significant location," he said.
"But it is also about delivering long-term energy security to Europe more generally. As Energy Minister for the United Kingdom I spoke with my European counterparts often about the 'Energy Trilemma': the need for low carbon, the need for affordability and the need for security of supply. And for me there was no doubt that the fundamental building block for that was security because if you don't have energy security you will not be going low-carbon and you certainly won't be affordable."
While recent years have seen the UK government pursue energy policies connected to new nuclear power generation, an expansion of the role played by renewables and other technological developments such as carbon capture and storage for coal-fired power plants, Hendry pointed out that "there was not a single scenario which was credible which did not involve a very long-term role for gas".
"It was Winston Churchill who said more than a hundred years ago that 'security in energy comes from diversity and diversity alone', and the infrastructure which is being put in place in this region and towards Europe is an integral part of achieving that," he added.
"What we're seeing now, with Shah Deniz 2 and with TANAP and TAP, is one of the greatest engineering projects of the 21st Century.
"Even though the gas molecules may never physically reach the United Kingdom from Azerbaijan, we recognize that those pipes will enhance the energy security of the whole of Europe and therefore we are entirely supportive of its construction and wish it to move ahead with all possible speed."