Just a few months following his appointment, oil industry veteran Brad Simmons could have been excused for questioning a decision to come out of retirement to join Australian-based junior Titan Energy Ltd. as CEO.
After taking the position late last year, Simmons, who has more than 30 years of U.S. Gulf Coast drilling and operational experience, watched on as market conditions changed dramatically before he was barely comfortable in the role.
"When I came back into the oil business, oil's value started at around $100 a barrel," Simmons recalled in an interview with Rigzone.
It was downhill from that point for oil as it rapidly fell to about half that value, a position it has sat around for much of 2015.
As these market conditions took hold, industry analysts were open about the increasing risks confronting junior companies.
Geoffrey Cann, Deloitte Australia's National Director for Oil and Gas, explained to Rigzone that the environment would cause capital to become scarce now that the "real risks" of the industry were becoming apparent.
"Once that happens, only the very best oil and gas prospects are going to receive funding. The consequence is that we will progressively start to see pressure on the services industry to bring their costs down to match the new netback pricing that the producers want to achieve," Cann said.
GOOD TIMING
Almost fortuitously for Titan, these growing risk considerations developed into areas of strength as it completed a restructure that shifted the company's focus from its Australian assets to its properties in Texas.
In addition to the appointment of Simmons, Titan has undergone substantial change over the past six months following a company-wide review.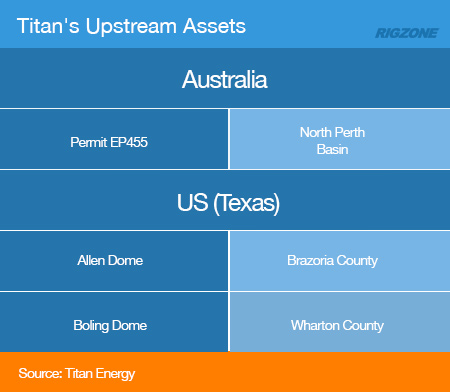 Most significantly, Titan announced a $50 million joint development agreement with a U.S.-based fund for its exploration work in Texas to cap off the restructure.
According to Simmons, the three-year package will allow the company to fully explore its Texas assets, which include the Allen Dome salt dome in Brazoria County and the recently acquired Boling Dome in Wharton County.
"At three times our market capitalization (the funding) was very extraordinary for the oil and gas industry at the moment, especially on the terms we have which are essentially to receive a one third carry on everything drilled on the project," Simmons said.
"It was fashioned like that because we are not exactly undercapitalized but we certainly are not capitalized to the power to step up on this project without serious dilution to our shareholders."
FUNDING IMPORTANCE
With this funding, Titan finds itself well positioned to take advantage of a new look and lower cost environment while many of the company's peers have been forced into survival mode.
"I've said before that I would rather build an oil company with oil at $40 or $50 than trying to kick it off in the 100s," Simmons said.
"There is limited upside at that level and a whole lot of downside – where we are is the opposite of that. It was just perfect timing for us getting together and seeing the intense commitment the board had, [which is what] what brought me out of retirement."
Titan launched a multi-well drilling program at Allen Dome in March and has been making the most of lower drilling costs, which have also dropped by as much as 50 percent per well in Texas, Simmons explained.
"The timing of this is excellent for not only building a base of long-term wells but also for building relationships which I believe will see the funding capabilities committed to Titan exceeded," he said.
HARD WORK PAYS OFF
Despite seeing an element of luck in Titan's situation, Simmons believes the company has worked hard to be in a favorable strategic position.
He noted that other Australian-based junior companies could benefit to look abroad to foreign jurisdictions in an effort to find attractive investment opportunities in this market environment.
With development prospects rare in Australia, he said Texas was shaping as a prime target in a buyer's market for companies with international scope.
"With small independent companies there could not be a better time (in Texas). That's because their dollar right now has a multiplier effect compared to a year or two ago – it's just a matter of watching your expenditures closely," he said.
"It is potentially going to be a great year ahead for companies with capital, or accessibility to capital, to acquire properties and take a direction that is going to impact the potential of your business for many years ahead."