Fast expanding Asian economies, with rising energy needs, will emerge as a key driver for demand growth in the global liquefied natural gas (LNG) market over the next few years, with China accounting for the bulk of the increase. The LNG demand growth in Asia comes at a time when producers – in North America, East Africa or Canada – cast their eyes on potential markets in the region.
SOARING ASIAN LNG DEMAND
Global natural gas demand is expected to rise by 20 percent from 2013 to 2019, Jerome Ferrier, president of International Gas Union (IGU) and senior vice president for Corporate Security at Total S.A., told the 6th World LNG Series – Asia Pacific Summit in Singapore last month.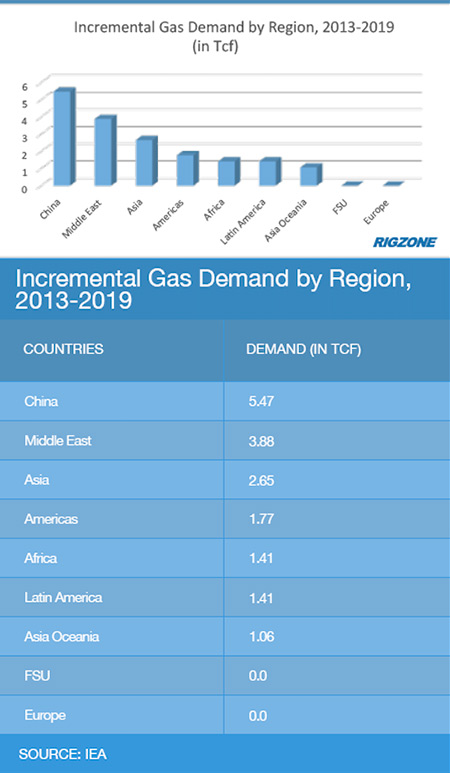 Incremental gas demand by region, 2013-2019
China alone accounts for around 31 percent of global gas demand growth during this period, according to data from the International Energy Agency (IEA), while Asia – including China and Oceania – will collectively contribute 52 percent of the increase. IEA forecast that natural gas demand worldwide will grow around 17.66 trillion cubic feet (Tcf) or 500 billion cubic meters (Bcm) from 2013 to 2019.
"Global natural gas demand is expected to increase by 20 percent over 2013-2019 with Asia – primarily China – growing the fastest while European demand is expected to stay below 2010 levels. Global gas demand grew by 17.66 Tcf (500 Bcm) over the period which is equivalent to European Union's natural gas consumption in 2013," Ferrier said in his speech.
Strong demand for energy to power the world's second largest economy coupled with a desire to improve air quality are expected to raise China's consumption of clean fuels such as natural gas. Gas is poised to play a bigger role in China's primary energy mix, with the fuel's share rising from 4.5 percent in 2011 to 7.5 percent in 2015 under the 12th Five Year Plan.
The U.S. Energy Information Administration (EIA) expects Chinese gas demand to increase to 7.8 Tcf in 2020 and 17 Tcf by 2040. Beijing is expected to continue with gas imports through LNG and via new and proposed import pipelines from neighboring countries, including Russia, which penned a $400 billion deal in May to supply gas to China.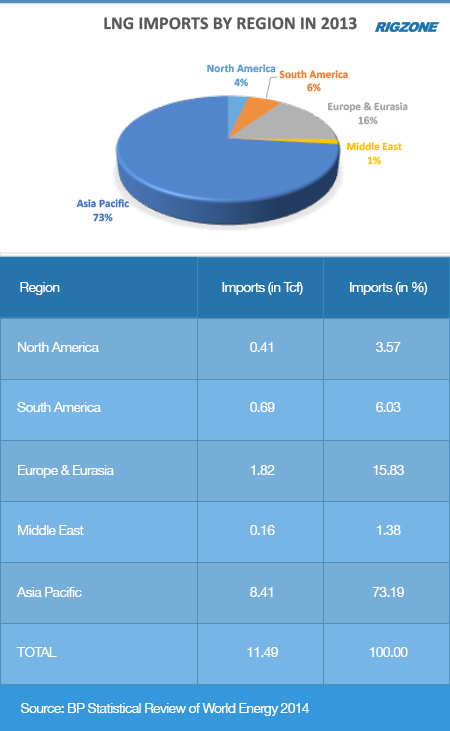 LNG Imports by Region in 2013
"China is becoming the largest gas consumer in the region, almost doubling its consumption between 2010 and 2018 … [while] Asia has overtaken Europe as the world's largest gas importer accounting for 46 percent of global LNG trade," the IGU president commented.
Natural gas trade in Asia Pacific is now dominated by LNG and the region is likely to secure further supplies from the 4.59 Tcf (130 Bcm) that will be produced from 12 ongoing LNG projects currently under construction, Ferrier added.  
LNG SUPPLIERS EYE MARKETS IN ASIA
Growing Asian demand and stagnant European consumption have encouraged potential gas suppliers, including those in North America, to seek new markets in Asia Pacific. The North American shale gas boom has substantially changed the landscape shifting the continent from an LNG import play to an LNG export one, the IGU observed.
In the United States, several firms benefiting from the shale gas boom are keen to export LNG as foreign buyers pay more for the fuel. Last year, North American gas price "continued to trade at a deep discount to European and Asian markets … In economic terms, the Asian destinations seem more attractive for U.S. LNG producers than the EU ones," Ferrier added.
Some U.S. companies have already secured several LNG supply deals. In early 2012, Indian and South Korean firms agreed to purchase .423 Tcf  (12 Bcm) of LNG annually from the U.S. Gulf Coast beginning 2015/2016, while a few Japanese trading houses and utilities agreed to acquire a little over .706 Tcf (20 Bcm) yearly from three U.S. LNG export projects – Cameron LNG, Cove Point LNG and Freeport LNG.
In Canada, Malaysia's national oil company Petroliam Nasional Berhad (Petronas) hopes to make a final investment decision (FID) on the Pacific Northwest LNG (PNW LNG) project in British Columbia by mid-December. Petronas intends to develop shale gas assets under the project and build an LNG export terminal in British Columbia to ship supplies to Asia.
Whether Petronas proceeds with development of the PNW LNG project will hinge on the firm making the FID by the stipulated timeline. The company is now working with government agencies to advance the regulatory process and clarify the fiscal framework associated with the LNG industry in Canada, Petronas said in an Oct. 8 press release.
"The reality of the global LNG market is that we are facing potential overhang and decreasing demand that creates downward pressure on LNG prices. In this market environment, the ability to secure market and customers is paramount … Coupled with softening crude prices, there is a need for … Petronas to seriously prioritize and reassess our investments," Shamsul Azhar Abbas, Petronas president and Group CEO said.
North American LNG exports from the United States and Canada to Asia may reach as much as 1.76 Tcf (50 Bcm) per year in 2025, with the volume meeting around 14 percent of the region's total demand. However, most of the new LNG supplies to Asia will come from Australia, which is expected to provide a quarter of the region's requirements in 2025, with additional supplies coming from East Africa, including Mozambique.
SINGAPORE PREPARES FOR A BIGGER LNG ROLE IN ASIA
Singapore is leveraging on its geographical location in Asia and existing role as a major oil trading center to position itself as the region's LNG hub. The Singapore government, which funded construction of the Singapore LNG Terminal that commenced operations in May 2013, revealed plans to build additional infrastructure to support the island-state's ambition to be Asia's LNG hub.
In this regard, Singapore LNG Corporation Pte Ltd. (SLNG) – the government-owned operator of the terminal located on Jurong Island – inked a $560 million (SGD 700 million) engineering, procurement and construction contract in August with Samsung C&T Corporation. The contract, involving the addition of a fourth LNG storage tank and regasifcation facilities, will expand throughput capacity at the terminal to about 11 million tons per annum (Mtpa) in 2017, up from an existing 6 Mtpa.
"We are … turning the next page of the Singapore LNG story, as we build up the Terminal's capacity to allow Singapore to respond to new business opportunities in the regional or global LNG markets," John Ng, CEO of SLNG said in a company announcement.
Earlier in February, Singapore Prime Minister Lee Hsien Loong outlined plans to construct the country's second LNG terminal in the eastern part of the country to enhance energy security, grow the local LNG industry and support the development of ancillary services like LNG trading, bunkering and vessel cool-down services. 
"The Jurong Island LNG terminal … is the only terminal in Asia that can reload cargoes … thus supporting the emergence of Singapore as a major Asian trading hub and market place … with its unique location between producers such as Indonesia, Malaysia, Australia, the Middle East countries and consumers such as China, India, Japan, Korea and Thailand," Ferrier said.
But Singapore faces competition from Japan – the world's largest LNG importer – in its quest to become an Asian LNG hub.
"Japan will take the lead in developing an Asian LNG Hub. Discussions on the establishment of LNG futures market in Japan have begun … [while attempts are being made to address issues such as] improvement in the reliability of prices, and increase in the volume of physically traded LNG [which] is essential to the development of such markets," Tatsu Nishimura, deputy-director, Oil & Gas Division at Japan's Ministry of Economy, Trade and Industry told conference participants.
Looking ahead, the "sharp inflation in the unit cost of liquefaction projects between 2008 and 2014 – a period when oil prices have been stagnating – is hampering the decision making process of the new grassroot eastern African and eastern Mediterranean LNG development projects," Ferrier observed. 
Liquefaction unit cost of construction for projects like Gorgon LNG in Australia rose to $1,800 a ton of capacity per year in 2014, compared to around $400 for Qatargas 3 project in 2010, the IGU noted, citing data from the Oxford Institute for Energy Studies.
Still, LNG projects in East Africa and East Mediterranean are progressing gradually.
In East Africa, Anadarko Petroleum Corp. is working to develop a commercial LNG project in Mozambique to export gas produced from the country's deepwater Rovuma Basin's Offshore Area 1 Block in 2018. The Area 1 block has an estimated reserves of 50 to 70 Tcf of recoverable natural gas. 
Meanwhile, Noble Energy Inc. submitted a preliminary development plan for the eastern Mediterranean Sea's Leviathan natural gas project to Israel's Energy Ministry for approval Sept. 30. The Leviathan project, which a Reuters report indicated would cost around $6.5 billion to develop, contains gas reserves of around 21.96 Tcf (622 Bcm).