Acquisition interest in Asian oil and gas blocks remains fairly strong in the energy hungry region as the pace of transactions that commenced in 2013 accelerated in 2014, leading to almost $5 billion worth of producing petroleum assets changing hands.
Not surprisingly, the firms making these upstream acquisitions were mostly based in Asia including national oil companies (NOC) such as Indonesia's PT Pertamina and Thailand's PTT Exploration and Production Public Co. Ltd. (PTTEP) – companies seeking to add to their existing petroleum asset base and new ventures in the upstream sector.
DRIVERS FOR UPSTREAM ASSET ACQUISITIONS IN ASIA
Strong energy consumption in Asia resulted largely from economic growth in the region over the past few decades, particularly from large economies like China, India and Indonesia, which expanded by 7.7 percent, 4.7 percent and 5.8 percent, respectively in 2013, World Bank's estimates showed.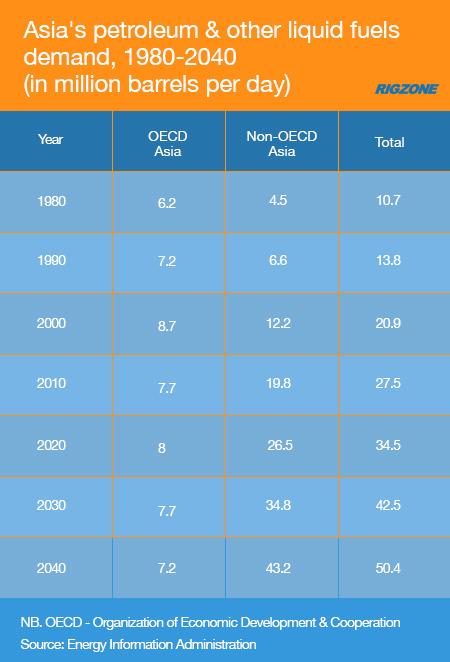 Asia's petroleum & other liquid fuels demand, 1980-2040
Growing Asian economies are expected to increase demand for petroleum and other liquid fuels, with consumption projected to rise 83.3 percent to 50.4 million barrels of oil per day (MMbopd) in 2040, compared to 27.5 MMbopd in 2010, the U.S. Energy Information Administration (EIA) reported in its 2014 edition of International Energy Outlook (IEO2014) that was released in September.
"Petroleum and other liquid fuels consumption in OECD Asia is expected generally to decline over the long term, from 7.7 MMbopd in 2010 to 7.2 MMbopd in 2040 … the other countries of OECD Asia – South Korea, Australia, and New Zealand – experience modest growth in liquids fuels use," the IEO2014 added.
In contrast to OECD Asia, the IEO2014 report noted that non-OECD Asia is anticipated to post the "largest growth in liquid fuels consumption worldwide … at 23.4 MMbopd from 2010 to 2040, with China accounting for 10.7 MMbopd of the total increase."
NOCS GRAB LARGER SLICE OF ASIA'S UPSTREAM ACQUISITIONS
Under pressure to maintain or reverse falling oil production at their maturing fields, Asian NOCs see upstream acquisitions as a quicker way to boost supplies, particularly from nearby blocks. Such an approach would facilitate convenient access to crude oil for these firms, compared to shipping them from their upstream assets located faraway such as in Algeria, where Pertamina has an equity stake in an oil block.
Pertamina made the largest petroleum asset acquisition in Asia this year, when it agreed in September to pay $2 billion for a 30 percent interest in the Malaysian upstream assets belonging to U.S. independent oil firm Murphy Oil Corp. This is expected to increase Pertamina's oil production from its foreign upstream assets beyond last year's 63,000 barrels per day.
"We expect an increase this year because we will complete the acquisition of the Murphy Oil block this month or in mid-December," Pertamina Upstream Business Development chief Danie Tampubolon said, as quoted in a Nov. 18 Reuters report.
Murphy's upstream assets in Malaysia, where it commenced operations in 1999, accounted for more than 40 percent, or about 86,000 barrels of oil equivalent per day (MMboepd), of the firm's total net production in 2013.
Murphy has majority interests in seven separate production sharing contracts (PSCs) in Malaysia: Block K, Block H, Block P, SK 309, SK 311 and SK 314A, and three gas holding agreements in PM 311. The firm has booked total proved reserves of 125 million barrels of oil and 406 billion cubic feet in Malaysia, data from the firm's website indicated.
Regional interest in the Malaysian assets was strong, with Pertamina reportedly fending off competition from rival NOCs including Vietnam Oil and Gas Group (PetroVietnam) and India's Oil and Gas Corp. Ltd. (ONGC), with both firms believed to have tabled bids of $1.8 billion and $1.5 billion, respectively.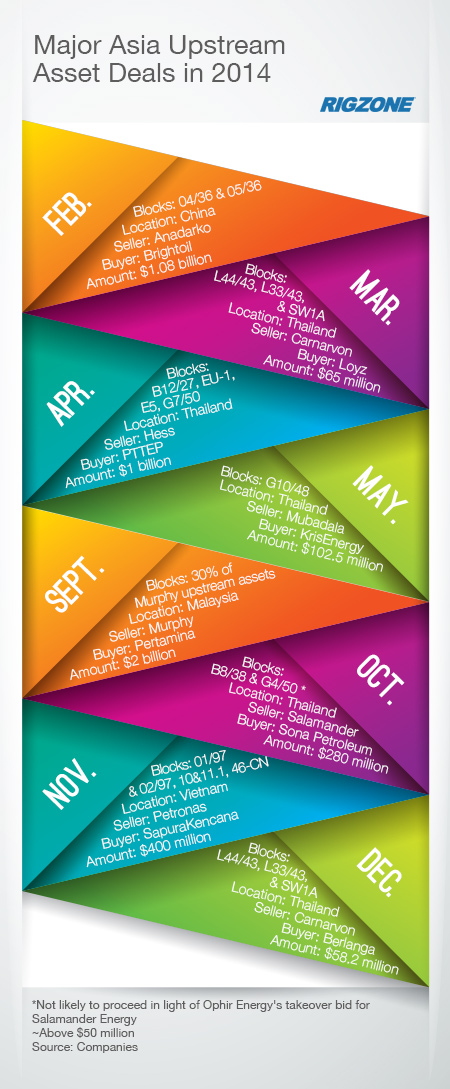 Major Asia Upstream Asset Deals in 2014
On its part, PTTEP acquired onshore and offshore assets in Thailand from two subsidiaries of Hess Corp. – another U.S. independent oil company – for $1 billion in April.
Through the transaction, the Thai oil firm gained access to offshore Block B12/27 of Contract 4 Project, comprising mainly petroleum fields including Pailin, Morakat and Ubon. PTTEP also acquired interest in onshore Block EU-1 and Block E5 North of the Sinphuhorm Project as well as offshore Block G7/50 of Contract 4 Project.
Contract 4 Project is a natural gas field in the Gulf of Thailand, covering an area of 1,203 square miles, with total proved and probable reserves (2P) of 461 million barrels of oil equivalent (MMboe). Current production is around 387 million cubic feet per day (MMcf/d) of natural gas and 17,528 barrels per day of condensate. The latest deal increased PTTEP's interest in the Contract 4 Project to 60 percent.
Sinphuhorm Project is a natural gas field located in Udon Thani and Khon Kaen provinces in northeastern Thailand, covering 89.4 square miles and with total proved and probable reserves (2P) of 45 MMboe. The project, in which PTTEP will hold 55 percent operating stake, currently produces approximately 113 MMcf/d of natural gas and 496 barrels per day of condensate.
"The acquisition of Hess Corporation's interests in Contract 4 Project and Sinphuhorm Project is a strategic fit to PTTEP's Growth Strategy of adding producing assets that contribute immediate revenue stream, accretion of volume growth and reserves, and enhance our position in Thailand," PTTEP CEO Tevin Vongvanich Tevin said in a press statement.
ASIA DOWNSTREAM PLAYER BRIGHTOIL MOVES UPSTREAM
Hong Kong-listed oil trader Brightoil Petroleum Holdings Ltd. was the last Asian firm to make a $1 billion upstream asset acquisition in the region this year. The company, which has been searching for upstream investment opportunities for several years, inked a $1.075 billion agreement in February to acquire Anadarko Petroleum Co.'s assets in China's Bohai Bay. The transaction provided Brightoil with 11,000 barrels of oil.
"The acquisition is an important step for the group" to turn itself into an integrated oil and gas company with both upstream producing business as well as oil trading, Brightoil said in a filing with the Hong Kong stock exchange.
Brightoil's Bohai Bay acquisitions may not be its last in Asia. The company is planning to submit a formal bid to purchase the China upstream assets of Newfield Exploration Co. – consisting of a 12 percent interest in Bohai Bay Block 05/36 and a 49 percent stake in Pearl River Block 16/05.
"The Group will boost its oil and gas reserves and production if we win the bid and the Proposed Acquisition materializes … Going forward, we will continue our upstream expansion strategy to enlarge our oil and gas assets so as to deliver greater returns to shareholders and investors," Dr. Sit Kwong Lam, chairman of Brightoil said in a Nov. 4 press release.
OTHERS JOIN THE FRAY TOO
Two relatively new regional-based firms in Asia's upstream oil sector – Malaysia's SapuraKencana Petroleum Berhad and Singapore's KrisEnergy – made acquisitions to boost their asset base in 2014.
SapuraKencana, which entered the upstream oil and gas business with the purchase of Newfield's Malaysian assets for $898 million in October 2013, acquired Blocks 01/97 & 02/97, Blocks 10 & 11.1 and Block 46-CN from Malaysia's NOC Petroliam Nasional Berhad (Petronas) last month for $400 million.
"The transaction gives SapuraKencana Petroleum an immediate foothold in the promising oil provinces offshore Vietnam with cash generating assets that will be earnings accretive to the group," Shahril Shamsuddin, president and Group CEO, said in a press release.
In the Gulf of Thailand, KrisEnergy purchased a 75 percent stake in the offshore G10/48 license from Mubadala Petroleum for $102.5 million in May, with the deal giving it 100 percent interest in a block that contains three oil discoveries – Wassana, Niramai and Mayura.
"This transaction provides additional contingent resources for us to transform into 2P reserves as the project progresses," Chris Gibson-Robinson, KrisEnergy's director Exploration & Production said in reference to the transaction.
Australia's Carnarvon Petroleum Ltd. attracted two new entrants, Singapore's Loyz Energy Ltd. and Dutch-based Berlanga Group, into Thailand's upstream sector when the firm sold its stakes in three onshore blocks – SW1, L44/43 and L33/43 – in the Phetchabun Basin for a total of $123.2 million.
Carnarvon first sold a 20 percent interest in the three onshore concessions in Thailand to Loyz in March for $65 million, with this transaction followed by the sale in November of its remaining 20 percent interest in the same blocks to Berlanga for $58.2 million.
The one deal that appears unlikely to be completed is Malaysia's Sona Petroleum Berhad's acquisition of a 40 percent stake in the B8/38 concession containing the Bualuang oil field and the surrounding G4/50 concession, both located in the Gulf of Thailand, from Salamander Energy plc for $280 million in July .
The transaction was put in jeopardy after Ophir Energy plc made a $418 million takeover bid for Salamander in November. Salamander's board accepted Ophir's bid, which was however conditional on the former terminating its Thai upstream asset sale to Sona.
Looking ahead, industry watchers believed that more Asian upstream petroleum assets might be available for sale next year.
Noble Energy is understood to be trying to dispose of its 57 percent stake in Chengdaoxi field in northeastern China, while Canada's Talisman Energy Inc. may sell its upstream assets in Asia Pacific in Indonesia, Malaysia and Vietnam.