Throughout his 35-year career with BG Group plc, Martin Houston worked in 40-plus countries and was instrumental in helping BG launch projects that have made the UK-based integrated company a global player in the liquefied natural gas (LNG) industry. Houston may have retired from BG last November, having attained the dual role of chief operating officer and executive director, but he is just getting started making yet another mark on LNG.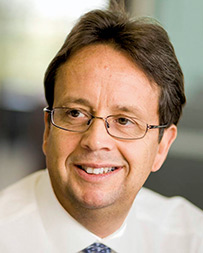 "It is invigorating to do something new and I am thrilled to lead this new partnership that offers over 100 cumulative years of LNG experience," Houston said of his recent formation of Parallax Energy, which is developing LNG projects and a natural gas supply and trading business. Working with upstream firm Millennial Energy and "world class industry operators," the founding partner and chairman of Houston, Texas-based Parallax is capitalizing on his belief that the days of LNG mega-projects are numbered.
"We have some exciting things planned that I think, once again, will change the industry," Houston told Rigzone. "Watch this space."
Read on for more of Houston's conversation with Rigzone in which he recalls his career with BG, his insights on the evolving LNG industry and how he aspires to make each of Parallax's LNG plants analogous to a common kitchen appliance.
Rigzone: You've been involved in the LNG industry for more than three decades and you've worked in 40 countries. You've witnessed the highs and lows of the sector from a number of different vantage points. What is the key difference about the LNG industry now versus when you first entered it, and what's remained constant?
Houston: When I first started in the industry, no supply came into the market without a firm buyer. Trade was sleepy. The turning point was when the 

Atlantic LNG project in Trinidad and Tobago

started up in 1999 and brought new supplies for which there was no dedicated market. This eventually led to a new reservoir of overflow supply for Asia and a backup supply for Europe. BG Group changed everything because we were one of the first market intermediators – we were both a buyer and a seller. The market became dynamic and it is increasingly so today. Recently, with the U.S. getting ready to become an LNG exporter again – remember Alaska has been exporting LNG from 

Kenai

 for decades to Asia – and with it a rapid growth in flexible LNG volumes, the industry is evolving again. The majors have figured out how to play in the marketplace. However, the barriers to entering the industry – high capital cost and management of long-term price and volume risk – can be broken down with a bit of ingenuity, so we will see other new players as well. What has remained constant in the industry is change, and that will continue.
Rigzone: You were instrumental in building BG Group's LNG business. When you look back at what you and your colleagues did at BG, what do you consider your proudest accomplishment? What impact did it have on the LNG industry?
Houston: We created a perfect portfolio and we dragged the oil industry into gas. The legacy of me and many others at BG is that we helped make gas more fungible and also gave gas the opportunity to be a better fuel for the environment. Gas advocacy had lost its voice and we helped get it back.
Rigzone: Until several years ago, the prevailing opinion was that the U.S. would increasingly rely upon LNG imports. Then the shale revolution gained momentum in a big way. At what point did you realize that the previous assumptions about the global LNG trade were outdated?
Houston: As has been noted many times, it is clear that no one saw the shale revolution coming. I have always said that "we have a global market for gas but it is not globalized." In my view, LNG prices will continue to be driven by market fundamentals – the cost of supply, the cost of alternatives and demand, which means regional markets with differences in price and pricing mechanisms. The danger now is the buyers are using the putative U.S. LNG supply as leverage, but they have picked the wrong time to do so. Unlike others, I don't believe the world is awash in gas, I think we are structurally short. U.S. exports are not a complete solution, and we will need new conventional projects to ease market tightness.
Rigzone: How optimistic are you that large-scale commercial tight oil and shale gas development will take off outside North America, particularly in places such as Mexico, UK, Poland, Brazil and Argentina?
Houston: The U.S. has many significant advantages over other potential shale producers. There is a long-established oil and gas industry, many service providers, significant installed midstream infrastructure and, above all, landowners vested in the industry's success as owners of the mineral rights. It will be hard – not impossible – to replicate this elsewhere and at pace, so my own view is that we will see modest inroads over time.
Rigzone: Do you see any of these countries becoming major LNG exporters?
Houston: It is difficult to say, but again I think Mexico may be a player in exports, given their recent legislative change and the clear commitment that both President Peña Nieto and (Petroleos Mexicanos CEO) Emilio Lozoya have shown toward making Mexico a real player in the LNG space. I also would keep an eye on eastern Canada.
Rigzone: In regard to your latest venture, why do you believe that now is a good time to start a gas supply and marketing business?
Houston: We see an increase in gas demand and price volatility, and with that comes opportunity. This business likes volatility and I don't think gas will be at $4.00 (per million British thermal units) forever, that price just isn't sustainable. The banks are almost out of the space due to new and complex regulations, but the industry majors are still in. I like the notion of an integrated business model, just on a smaller scale, so with Parallax Energy, we join all – or most of – the pieces of the chain together to create real incremental value.
Rigzone: What types of LNG projects is Parallax developing?
Houston: Parallax is developing mid-scale projects – 1½ to 2 million tonnes per annum, that we can deliver at a low cost, striping back into what is really necessary. As I've always explained, an LNG plant at its simplest is just a giant refrigerator, and therefore the technology can be – and should be – really simple. Over-complicating these projects just adds costs and we are not going to do that. We've got the right technology and world-class contractors. Our philosophy is "design it once, build it many times." In our view, the customers are what really matter, and customers now want to buy smaller LNG incrementally, so our projects are designed to facilitate that marketplace.
Rigzone: Looking several years ahead, as large-scale U.S. liquefaction projects go online, what are the key trends you see emerging for the global LNG industry?
Houston: Well, I think you're going to see the emergence of companies just like ours – the days of the mega-projects are over. As we've seen, there is some delusion in the marketplace where project developers have set unrealistic dates for final investment decision and first LNG for major projects. That creates an imbalance in real supply and demand. In addition, projects need to pay attention to their license to operate or risk further project delays and cost creep. Keeping it small and simple alleviates these issues, most especially when you do what we do – replicating a world class, low-cost and right market-sized plant.